Tronsmart, well-known for innovating premium affordable audio products, launches its first hybrid dual drivers true wireless earbuds-Tronsmart Onyx Prime. Adopted with a powerful dynamic driver and meticulously tuned balanced armature driver, Tronsmart Onyx Prime Wireless Earbuds deliver detailed high-end audio with an expansive frequency range(10Hz-25kHz). Natural, resonant bass and mids integrate with clear melodious treble through precise tuning and a seamless crossover. Tronsmart Onyx Prime is now available on Tronsmart Official Store for favourable price of $69.99. There is currently 29% Off available on Aliexpress from Nov. 11th to Nov. 12th, gaining the earbuds $49.99 ONLY! Come on! Get the most favourable price now!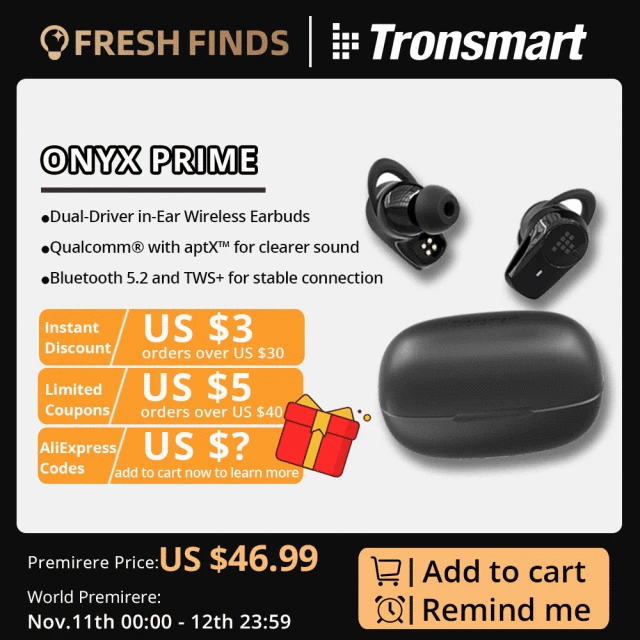 Besides, there are still any super sales on Nov.11th ranging from Headphones to Speakers (Up to 58% off). Here it comes! The Best selling Hybrid Active Noise Cancelling Earbuds-Apollo Air, which eliminates up to 35dB in low, mid and high frequencies. There are three ANC modes available: cVc 8.0 noise cancellation which allows users to focus on their music, ANC off so users can listen to the music without being completely isolated with the earphones simply blocking out noise and ambient mode, which enhances surrounding outdoor noises making it the ideal setting for cycling or running whilst staying safe and aware. Would like to try? 58% Off available on Aliexpress for $39.19 ONLY.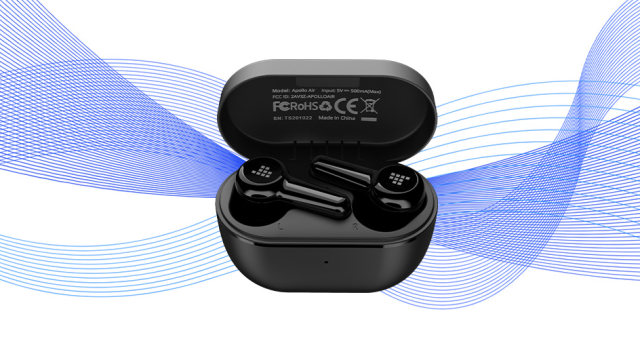 Tronsmart has released the first Gaming true wireless earbuds-Battle this year. Gaining the sense of achievement & honour from games, it is a brand-new audio series made for gaming and the ultimate companion for any gamer. Featured with ultra low-latency gaming mode, it allows you to play games in a stable transmission with nearly zero delays. Optimal for playing STG Games such as PUBG, CODM & FORTNITE. Now you could gain 54% discount now for $22.99 on Aliexpress.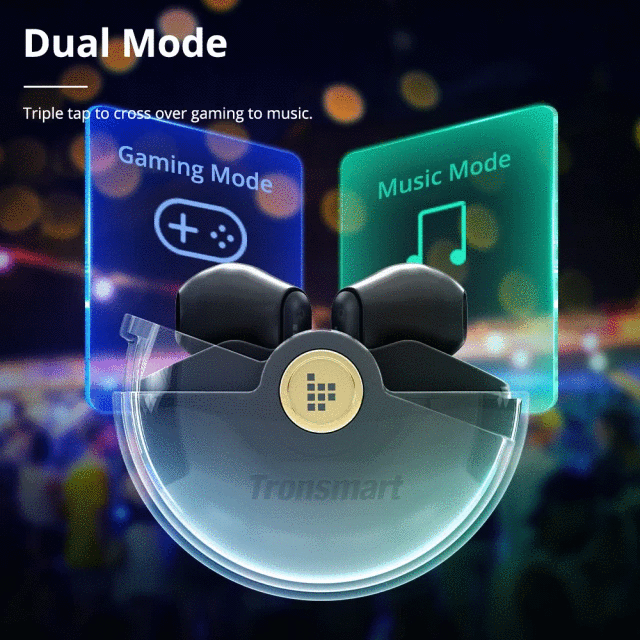 Hot sales sports headphones-Onyx Ace, which is engineered with a more ergonomic semi-in-ear design that gives a pressure-free wearing experience. It packs an advanced quad-microphone system, true Qualcomm® chip and high-quality drivers, Onyx Ace aims to deliver ultra-clear call quality, high fidelity audio and a perfectly comfortable listening experience. Any Discount? Yep, it is 58% off on AliExpress. $25.19 ONLY Now!!
When comes to Bluetooth speakers, Mega Pro satisfies all your music needs. Switch among three modes by pressing EQ button for catering to your musical taste. Pairing two speakers via advanced True Wireless Stereo technology for spacious 120W powerful 3D stereo sound which is promoted with 30% off on Aliexpress. Hurry up to buy at $83.99 ONLY!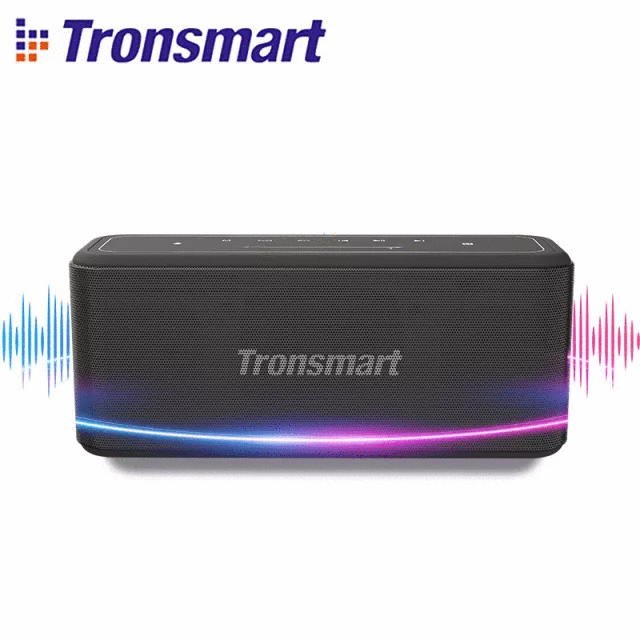 Thus, we recommend you could select based on your music genres. Add to cart now and prepare for these special offers! Please note that super sales last for 2 days ONLY! Enter the Aliexpress official store for more products in sale and grab the chance to participate in this activity!
Read also: Tronsmart Onyx Apex true wireless stereo ANC earbuds is launched