When the Korean company announced the Samsung Galaxy S21 series of phones, its time came with the Android 11 operating system and One UI 3.1 interface, and now we get new leaks that reveal the date of the arrival of the One UI 3.1.1 interface to the series phones. Let's get to know all the details together.
One UI 3.1.1 update will arrive later this year 2021, and there is a possibility about the arrival of the Galaxy Z Fold 3 and Galaxy Z Flip 3 with this version of the Samsung interface.
As usual, Samsung will then bring the latest version to existing devices. The Samsung Galaxy S21 series has always been expected to be the first to get the One UI 3.1.1 update, and the Samsung forum moderator has confirmed it, along with giving us a time frame for when the update will arrive.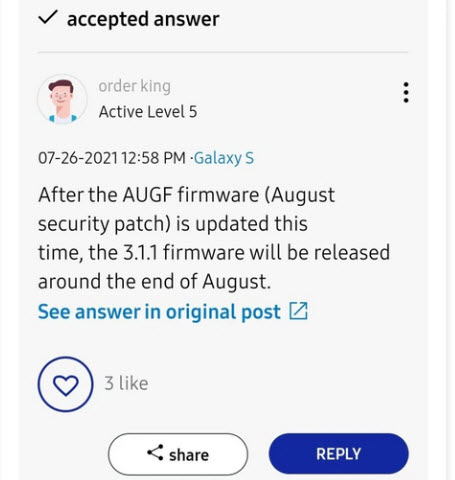 When will the One UI 3.1.1 update come to the Galaxy S21 series?
The launch of the Samsung interface update version to the Galaxy S21 phones coincides with the launch of the Galaxy Z Fold 3, as One UI 3.1.1 for the Galaxy S21 series will begin at the end of August, as soon as the security patch is released next month for these phones. This coincides with the release date of the new foldable devices from Samsung, and it is expected that these new foldable devices will be officially unveiled between August 20 and August 27.
Read also: Samsung Galaxy A30 receive Android 11 Based on One UI 3.1