Even though virtually all mobile phones offer multi-SIM and dual standby, many individuals opt to utilize two mobile phones so that they may keep their personal and professional lives distinct. It is always necessary to have two chargers to have your phone charged simultaneously, which is not only hard to carry but also takes up more plugs, which is quite unpleasant. If you have two cell phones, it is always necessary to have two chargers. Most of us find it intolerable that the original charger does not often have the form of a folding plug, and it is also simple to scratch other objects when carried in a bag.
Buying Link

You can Buy AOHI 40W Fast Charger on Amazon for only $29.99
AOHI 40W Fast Charger Features: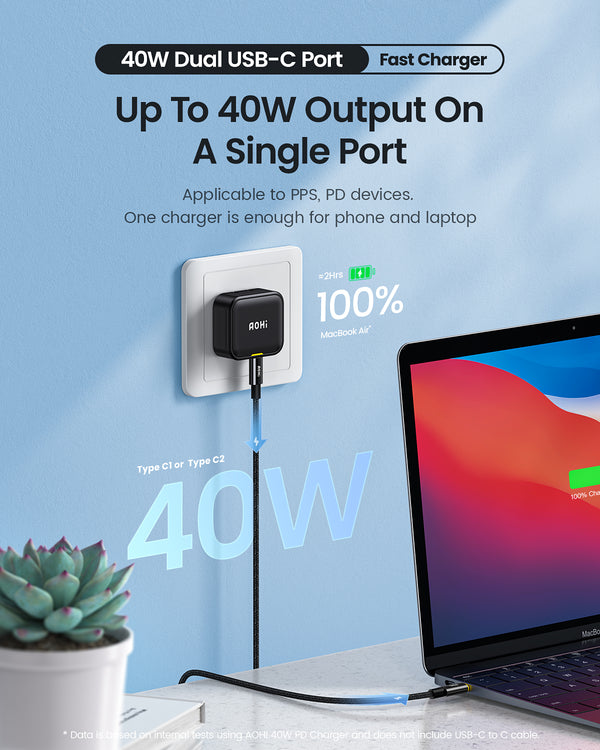 A single port supports 40W output and PPS fast charging, dual ports support 20+20W power distribution, and dual ports support fast charging. The AOHI Company recently introduced a 40W dual-port PD fast charging charger. It is equipped with folding pins and supports fast charging on both ports. You may get the optimal level of rapid charging with Android or an Apple mobile phone since both accept this charging and are compatible with it. This USB C quick charger has a design that is both ultra-compact and lightweight, with folding prongs that allow for optimum mobility wherever you go. It is an ideal accessory for use at home, in the workplace, and traveling.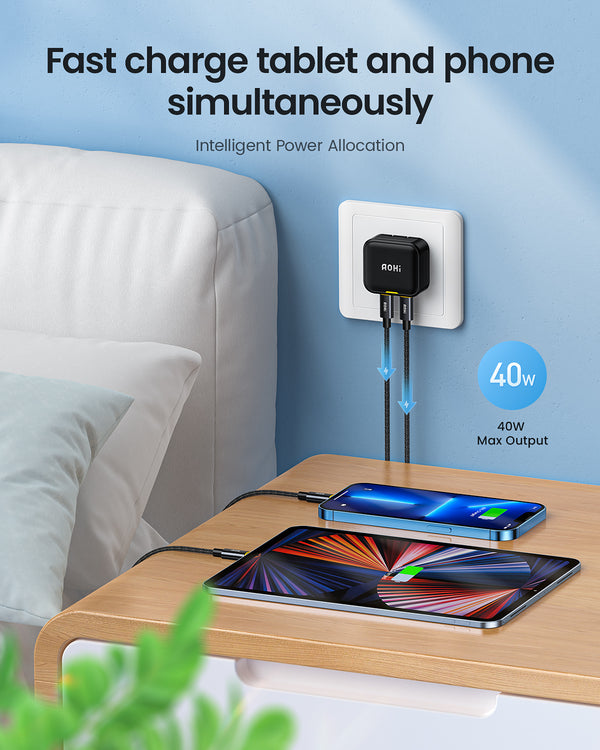 Powered by PI technology, it offers comprehensive protection to any device you attach to while charging. This charger is equipped with a 3-stage charging function; the output power can be adjusted according to the power of the device being charged, and the color of the indicator light enables you to monitor the charging state at a glance. The dual-port Power Delivery (PD) power adapter uses intelligent power allocation technology, automatically identifying and optimizing the power supply. It ensures that the connected devices always get the best possible charge. It can concurrently charge an iPad and an iPhone 13 or one iPhone 13 and one iPad at full speed.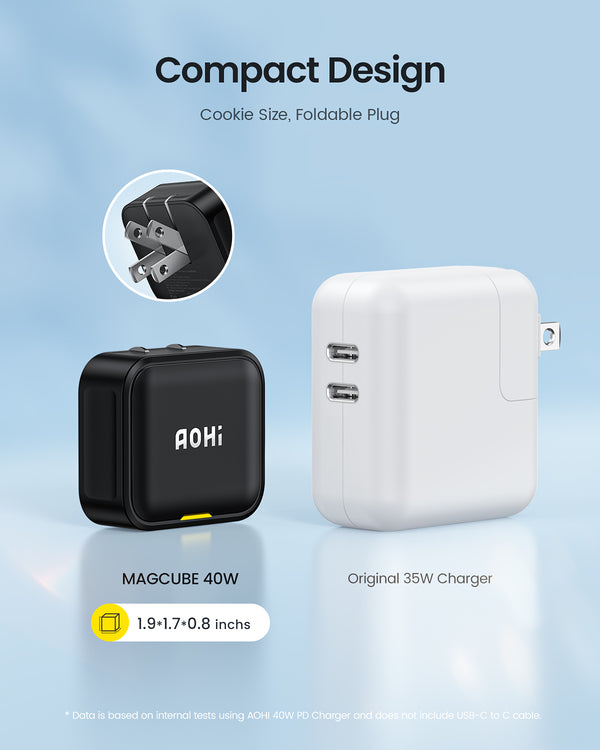 Overall, the AOHI 40W dual-port charger is compact and elegant, and the fact that it folds up and has a thickness of just 23 millimeters makes it extremely convenient to transport. It removes the need to carry folding pins, which may be a hassle, and the necessity to utilize two chargers, which can be a nuisance. The charger can support five sets of fixed voltage gears, including 9V3A, 12V3A, 15V2.67A, and 20V2A, in addition to a set of 3.3-11V3A PPS output. It is compatible with the quick charging systems used by most modern mobile phones.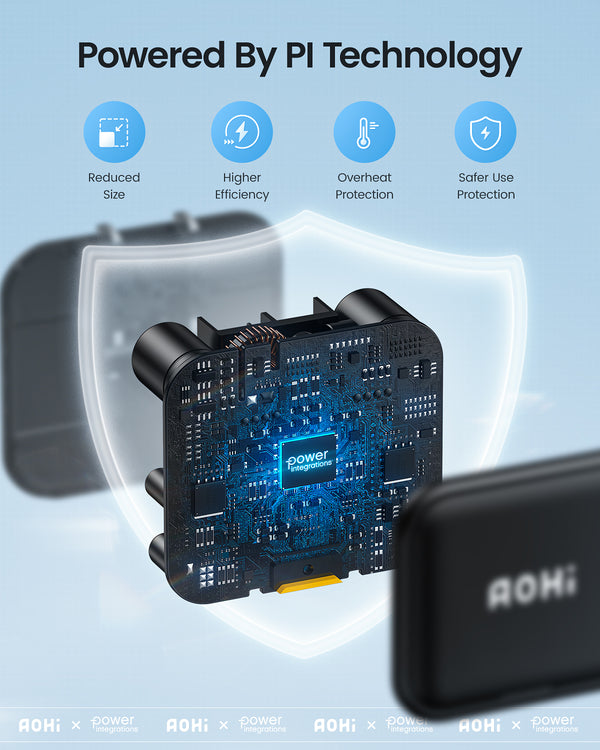 Power levels up to 40W are available for quick charging. Support for up to 40W of fast charging when using a single port; this enables charging of a MacBook Air from 0% to 100% in approximately 2 hours; this charging method is both quick and efficient; it can be used for charging laptops, tablets, and mobile phones. Support for up to 40W of fast charging when using a single port; this enables charging of a MacBook Pro Air from 0% to 100% in approximately 2 hours. Distribution of Intelligently Distributed Power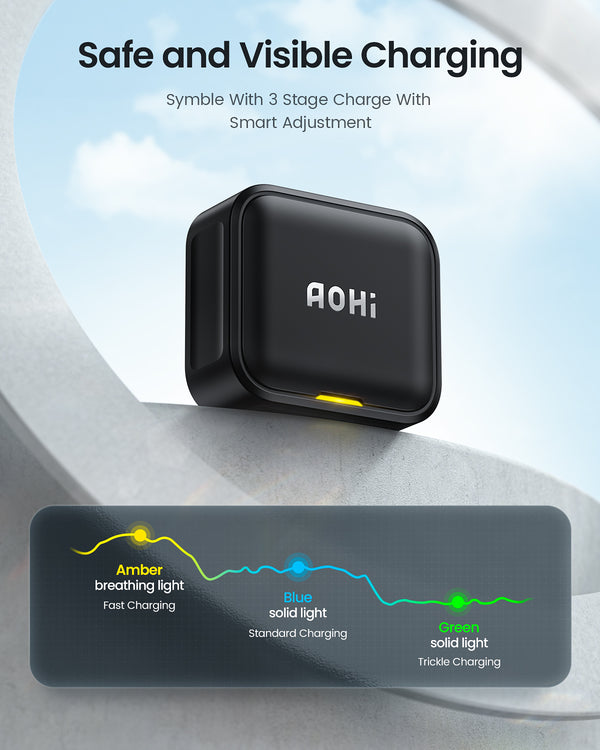 Due to the presence of two USB-C ports, it can simultaneously provide rapid charging to two iPhone 13 or one iPhone 13 and an iPad. This USB C fast charger is just 1.9 by 0.7 by 0.8 inches, making it one of the most portable devices on the market thanks to its folding prongs and ultra-compact, lightweight design. It is ideal for use at home, in the workplace, and traveling.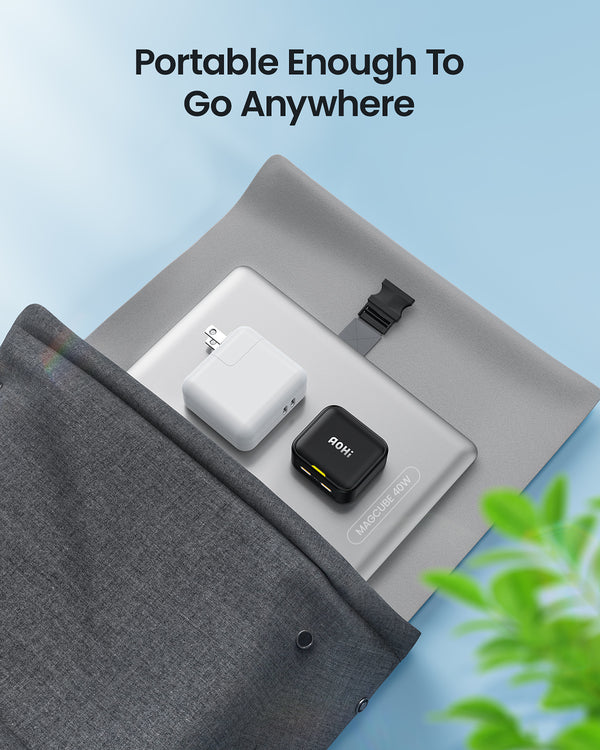 It is compatible with the MacBook Air, iPad Pro/Air/Mini, iPhone 13/13 Pro/13 Pro Max/13 Mini/12/12 Pro/12 Pro Max, Galaxy S21/S20/S10, Pixel 3 / 3XL / 4 / 4XL / 5, Switch, and a variety of other USB-C computers, tablets, and smartphones. Decide first What You Get to Enjoy 1*Magcube PD 40W 2-Port Wall Charger, User Manual, and Warm and Friendly Customer Service (cable not included).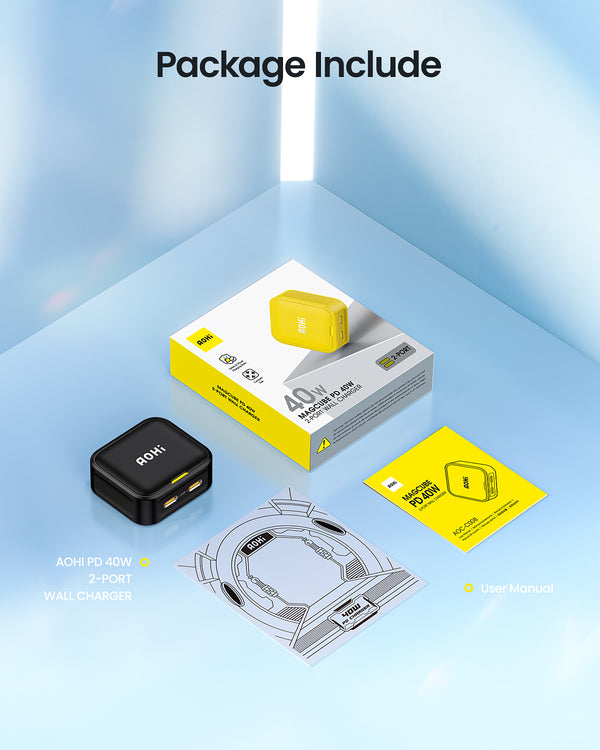 If you wanted to, you could easily slip it into one of your pockets because of how compact it is. When the gadget has reached its maximum capacity, the indicator will light up to let you know it is ready to use. Using both of these chargers, you timed a charge from 0 to 100 percent on your surface. The original one came with (a 65W Magnetic connection). The AOHI charger finished the race around 4.5 minutes ahead of the other competitors. The construction seems strong, unlike the charging bricks of the past, which gave the impression that they would disassemble if you carried them about loosely in a bag. I want to use it for a considerable amount of time, supposing that the components inside it are reliable.
Buying Link

You can Buy AOHI 40W Fast Charger on Amazon for only $29.99
Read also: AOHI Magcube 30W PD Mini Fast Charger for only $24.99