Nowadays, it is very easy to 100% charge your smartphones and other compatible devices in lesser time with the use of a fast charger. Power delivery chargers have become very small over the past few years, and there are many fast chargers from various manufacturers available in the market, AOHI Magcube 30W PD Mini Fast Charger is one of them. It is one of the smallest 30W wall chargers, and being the size of a quarter is insane. The great features of this smallest fast charger make it one of the preferred choices of fast chargers. This one of the smallest mini chargers can charge headphones, tablets, toothbrushes, smartwatches, and many other chargeable devices.
Buying Link

Buy Aohi Magcube Fast Charger on Amazon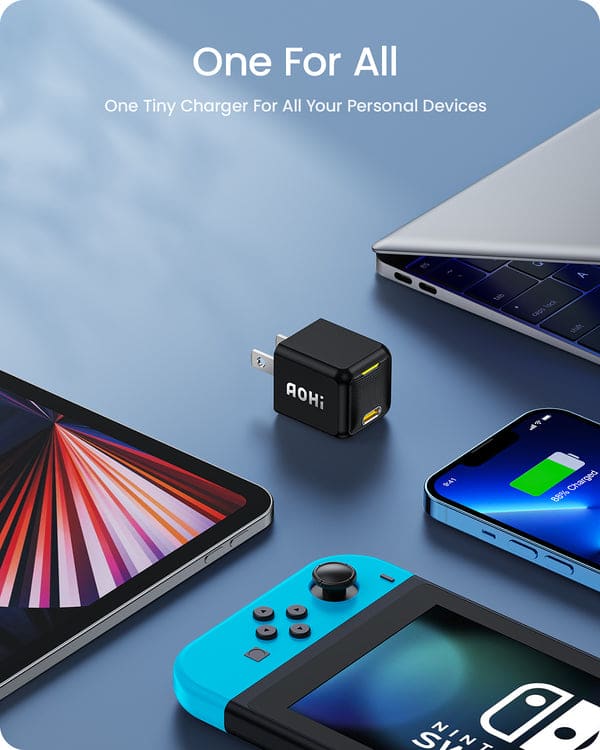 It also has the power to charge different models of smartphones such as iPhone 13, 13 Pro Max, iPhone 12 Pro Max, Samsung Galaxy S21, iPhone Pro 11/12.9, iPad 7, 8, 9, iPad Air 4, 5, and continuing.
It is one of the most powerful mini chargers that can charge almost every chargeable device. AOHI Magcube 30W PD Mini Fast Charger has many amazing features that make it the number one choice for many users. This short guide gives you complete information about this great charger that you may need to know. This mini power charger comes with the latest GaN+ technology, increasing its performance.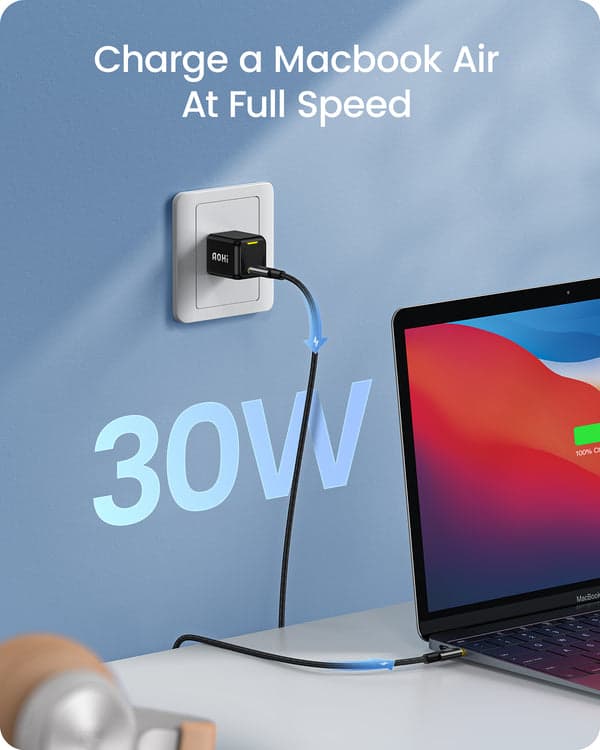 AOHI Magcube 30W PD Mini Fast Charger is small but not small in performance. It is very efficient in power transmission as well as energy dissipation.
The size of the AOHI Magcube Mini Charger is one of the best when combined with a 30W charging speed. The reason is that it has just 1-inch dimensions and weighs only 0.09lbs. In addition, the size and weight make it a very compact mini charger that you can easily put in your pocket or bag for daily use. AOHI Magcube charger has a very different design as compared to other chargers. The front of the charger has a heavy engraving pattern design and doesn't have a foldable plug. It has a LED status indicator that shows three different charging statuses. Your charger is on fast charging mode when the light flashes in yellow. Similarly, if it flashes blue, it indicates that it is normal charging.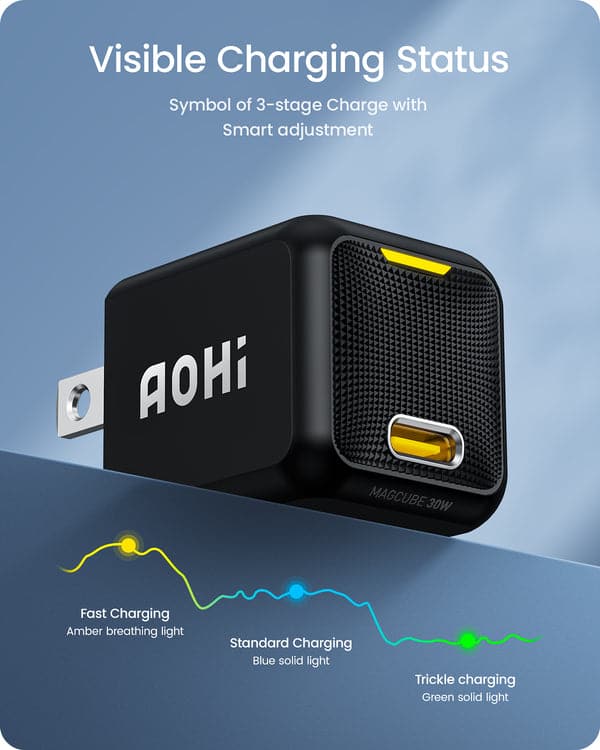 The indicator light flashes green, showing the low current charging state. This LED indicator light is also compatible with a matte surface, and the brightness is moderate, so the light is even and will not dazzle in the dark. Moreover, it has a great build and doesn't get damaged even if you put it into your bag and other belongings. It is the most reliable mini charger for USB-C chargeable laptops and smartphones that need fast charging. AOHI Magcube 30W PD Mini Fast Charger is handy when charging a tablet at maximum speed. Although, the very small size of it is perfect if you want a charger that you have to keep track of. The features of this mini fast charger make it the preferred choice of fast chargers.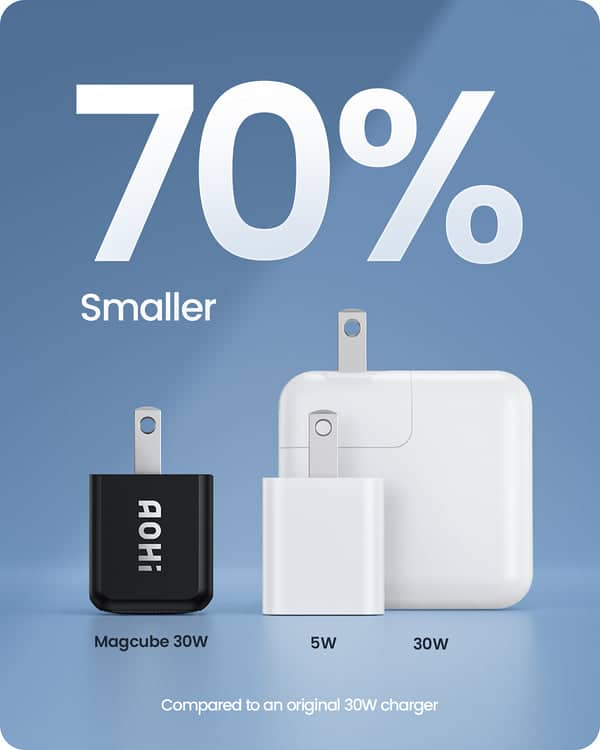 Apart from its great features, there are several benefits of using the AOHI Magcube 30W PD Mini Fast Charger. The USB-C power delivery rapidly charges smartphones and other compatible devices in lesser time. It provides better power transmission and energy dissipation. The PI chip and creative 3-stage intelligent technology provide quality protection and 3 different charging current for various statuses. It is compatible with numerous fast charging protocols and provides suitable voltage and power to different digital devices. AOHI Magcube 30W PD Mini Fast Charger comes with a hassle-free 18-free warranty and friendly customer service. It supports a maximum of 6 times power. AOHI Magcube 30W PD Mini Fast Charger is good to support trickle current mode that helps you to charge wireless earbuds and smartwatches.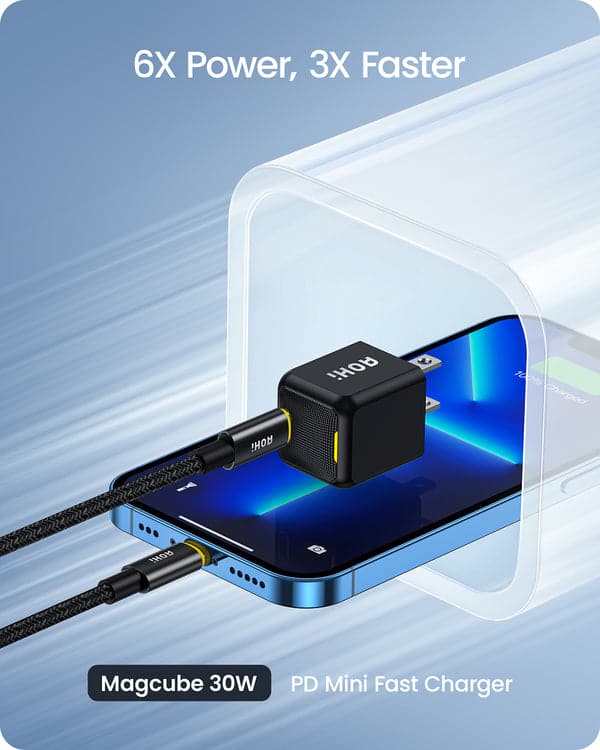 AOHI Magcube 30W PD Mini Fast Charger is the most satisfying mini charger in terms of performance, size, compatibility, and appearance. In the list of the entire well know brand chargers, it is considered to be the most balanced design. It is especially good for those with certain power requirements and who want an ultra-compact charger. The PD protocol of this smallest and super-fast charger can fast charge various devices at a time. However, it is not suitable for all USB-C laptops but can charge most and fast charge tablets and smartphones. This charger makes it possible to carry it anywhere you want easily.
Buying Link

Buy Aohi Magcube Fast Charger on Amazon
Read also: Mibro C2 Sports Smartwatch with Heart Rate Monitor for only $19.99 On Aliexpress