FilmoraGo Editing app
Are you searching an application to edit your videos aesthetically? FilmoraGo is a multi-featured app that can add diverse functions and creative charm to your videos. From adding a pleasant soundtrack in the background to enhance the feel, coupled with a plethora of filters and effects, to formulating engaging captions, FilmoraGo customises your videos efficiently.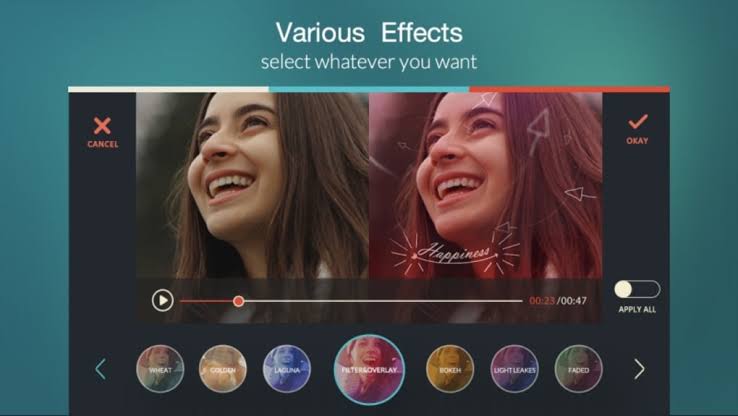 Apart from possessing a professional touch, the application helps your videos to fare well in all forms of social media through the Export option. Besides, the app is free of cost, thereby easing your access.
Features of FilmoraGo
FilmoraGo has a clean and friendly user-interface. You can choose a black or a dark-grey option for accessing through 4 modes.

• Action Cam mode consists of Fix, Speed, and Color features. The fish-eye lens correction, denoise, and stabilisation belong to the tools of Fix. Freezing frames, Speeding Up, Repeats, and Slowdown are the features of Speed. You can modify the brightness and contrast through Color. The disadvantage of the Action Cam Mode lies in the ability to import one file at a time. Furthermore, it does not include an Auto-Save feature, and you need to click the EXPORT option for opening a new file explicitly.

Full Editor mode is similar to other video editing applications. Overlaying and syncing of tracks is a standard feature. Besides, there is no trouble experienced in loading multiple clips. There are 100 transitions available, but you have to add them manually. The trimming of the clip is available only at the start or the end, unlike most video editors.
 Instant Cutter mode serves the simple purpose of trimming and merging. The Merge sub-mode allows the multiple dragging of clips. However, the Trim Mode is reserved exclusively for the ends of a clip, and you can only trim one clip at a time. You can create a new clip from your trimming through the Add Segments option, yet you cannot split a clip.
Easy Mode lets you perform Theme selection, Music selection, adding Texts, Overlaying, and Transitions to create amusing clips. However, the options for each are limited to four or five. Moreover, you cannot use the clip of your Easy Mode in the Full Editor mode.
 The app has a lot of fun filters and effects synonymous with Instagram. You can utilise the features to create distortions like ripple effects, lighting overlays; however, motion tracking is barred, unlike other apps. There are more popular show effects in the Color section. Unlocking the premium option provides more templates and filters.
Animations and designs of the Text templates are quite attractive and are editable further. A video cannot feature in the Text template, but a photo can for enhancing the feel. Apart from text, objects and shapes can feature in your movie.
Your music collection from your iPhone complements the limited number of tracks in the Music section. Adjusting the volume and panning of each track through a full audio mixer is possible. Nonetheless, acoustic effects or advanced music effects are lacking that are present in other apps. However, recording voiceovers and adding them to your videos is a plus point.
Wondershare's FilmoraGo is a decent video editing app for your daily usage. The app performs at a reasonable speed without crashing. However, the lack of advanced editing features and limitations in specific modes stop professional editors from downloading this application.
Read also : How to download videos from Reddit 2020