Tronsmart, the brand known for releasing high-quality affordable audio products, is offering unbeatable discounts on all their products from Mar, 28 to Apr 1st. To grab these great deals before they're gone, visit Tronsmart's Official Website
Tronsmart Trip perfect speaker for outdoor activities
LONDON 28th March 2022: Consumer technology expert, Tronsmart is pleased to announce the arrival of its Trip Waterproof Portable Speaker. Besides being fully IPX7 waterproof and boasting stylish external characteristics, Trip offers some very interesting technical features that many people would be interested in like its dual passive radiators with dual drivers which deliver a full-range sound with tonal balance and penetrating bass and Bluetooth 5.3 enhanced wireless streaming that ensures exceptionally smooth and robust connection for instant listening. Despite the Tronsmart Trip's modest size, consumers can enjoy 20 hours of playtime on one single charge thanks to its powerful battery. Specially made with lanyards, the outdoor speaker could be hung on the backpack, pants or bicycle bracket. Ready for outdoor adventure, hiking, rock climbing or other activities.
Buying Link

Buy Tronsmart Trip Speaker for only $17.99 on Official Store
Earbuds with active noise canceling Tronsmart Apollo Air and Air+
One of the best-selling earpieces of the last year Apollo Air and Air+ both feature hybrid ANC noise cancellation which eliminates up to 35dB in low, mid and high frequencies. There are three ANC modes that users can choose from to suit the individual's needs: ANC On that blocks any surround sound; ANC Off that allows you to focus on the music, and of course, Ambient Mode – enhancing the ambient sounds around you while listening to music without being fully isolated from the outside world.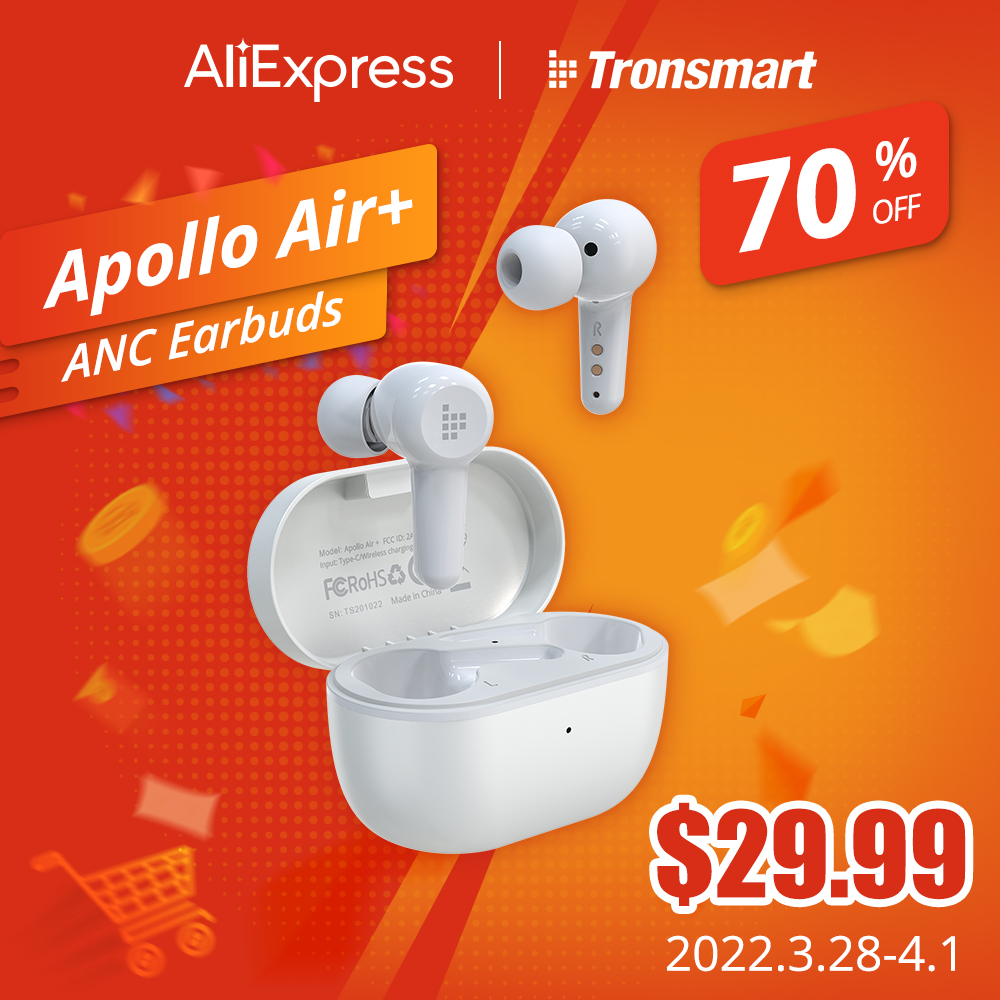 Qualcomm's flagship QCC3046 chip makes listening to music in your earpieces an incredible experience while TWS+ synchronous transmission technology ensures a faster transmission and lower latency to deliver an immersive personal audio experience whilst reducing battery consumption. One of the most impressive features of the earbuds is the smart app control. You can use the app to personalize the equalizer however you like, so if you prefer more treble in your mix or less bass, it's very easy to adjust with this app.
The Tronsmart Apollo Air+ however has some extra tricks up its sleeve. As well as the fantastic features above, Air+ also comes with an instant in-ear detection feature that will pause your music when you remove them from your ears, making them a good accessory to have at the office and on the go. The charging is made easier on the go because they can be charged wirelessly on compatible charging pads, making it even better than ever to ensure they never run out of battery.
Buying Link

Buy Tronsmart Apollo Air & Air+ for $25 and $29 on Tronsmart Official Store
Super loud 60W speaker for parties – Tronsmart Bang Speaker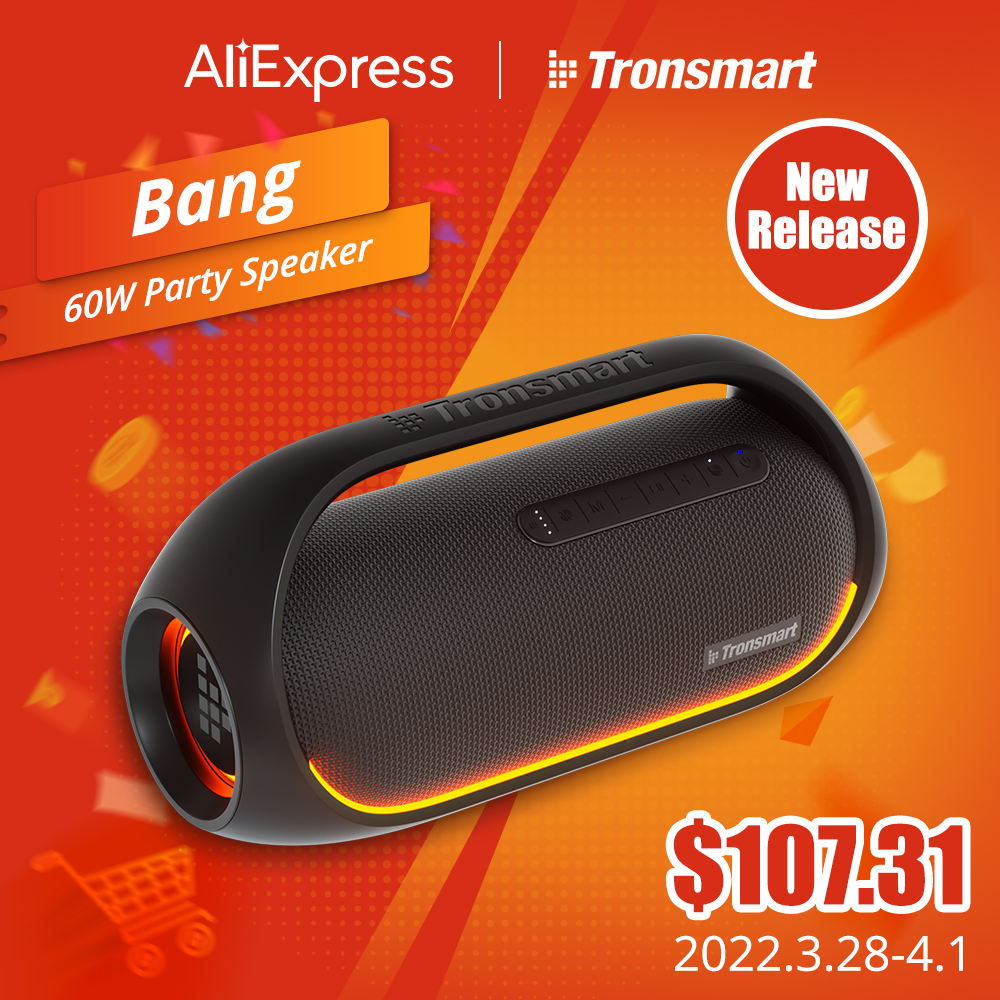 The Tronsmart Bang Speaker is an affordable 60W portable speaker that packs a lot of punch and can deliver nice stereo sound, via a couple of tweeters and two large woofers. Featuring SoundPulse technology, the Tronsmart Bang is designed to deliver a louder sound level than the average Bluetooth speaker can manage. With its impressive size, it is a beast of a speaker with an inbuilt handle for easy transportation. The Bang produces an immersive, beat-driven light show using multi-colored LEDs that phase, pulse and shine to the music. The speaker can also be synced with up to 100 other Tronsmart Bangs and they will all pulse and play together. By taking advantage of an IPX6 water-resistant rating, Bang is capable of handling anything that comes it's way including being splashed with liquids as well as dust, snow and even rain. The Tronsmart Bang has up to 15 continuous hours of battery life at 50% volume and will fully charge in 4.5 hours. It can also be used to power your smartphone instead of plugging it into a wall while you're on the go. Moreover, the Tronsmart smartphone app includes a graphic equalizer that enables the user to switch between a choice of tonal pre-sets as a user-customizable setting.
Buying Link

Buy Tronsmart Bang Speaker for $107.31 on Official Tronsmart Store
Enter the Aliexpress official store for more products in the sale and grab the chance to participate in this activity!
About Tronsmart:
Established in 2013, Tronsmart is a tech brand that designs and manufactures world-class tech accessories which have been recommended by Qualcomm, Forbes, Yahoo, and many other big companies and media. It also signed Luis Suarez as the official ambassador in 2018.  The company has rapidly expanded and sold its products to over 70 countries in many regions including North America, South America, Europe, The Middle East and Asia and has over 40 patents including its SoundPulse® technology.  The core value of Tronsmart is to make life easier by providing customers with high-tech, high-quality and high-performance products.
The founder of Tronsmart, Eric Cheng, is an electronic enthusiast who in 2008 used his first paycheck to create a small laboratory, where he disassembled tech products in order to grasp a greater understanding of their inner components. Located in Shenzhen, Asia's Silicon Valley of hardware, he would find components in the local market and assemble his own unique electric devices. Eric took this self-acquired understanding of electronics and used it to create a wide range of cost-effective gadgets. After assembling a trusted team, Eric managed to bring his self-made electronics to mass production; thus, creating the brand "Tronsmart" in 2013.
Read also: Tronsmart Bang Speaker Launches With TuneConn™ Technology