Vivo revealed this evening its new foldable phone, the second of its foldable phones, called Vivo X Fold+, Let's check the details and Vivo X Fold+ Wallpaper.
Vivo X Fold+ Details
The phone comes with dimensions of 162.01 length and 74.4 width when folded, 144.8 mm when unfolded, 14.5 mm thick when folded and 6.28 mm when unfolded.
The foldable internal screen comes with a size of 8.03 inches, and the external screen is 6.53 inches. The internal screen represents 89.45% of the phone's size, and the external screen represents 88.75% of the phone's size when folded.
The two screens are AMOLED, while the internal foldable refresh rate is 120 Hz, while the external refresh rate is 60-120 Hz, and the fingerprint sensor is integrated into the internal and external screen.
The Vivo X Fold Plus works with the new processor from Qualcomm, the first generation Snapdragon 8 Plus, an octa-core processor with a frequency of up to 3.2 GHz, with a 4 nm architecture, and an Adreno 730 graphics processor.
The rear camera is made up of 4 lenses, the main with a resolution of 50 megapixels, with support for optical stabilization technology OIS, a 48-megapixel lens with a very wide angle of 114 degrees, a 12-megapixel lens for isolation and portrait, and an 8-megapixel telephoto lens that supports optical zoom up to 5x.
The rear camera comes in cooperation with Zeiss lenses, and the phone also supports capturing 8k video clips at 30 frames per second with electronic stabilization technology support.
The front camera comes with a hole in the middle of the external screen and a camera in the internal screen as well, and they are 16 megapixels, and supports HDR technology with 1080p video capture.
The phone runs Android 12, paired with 12 GB RAM, 256 and 512 GB internal storage.
The phone comes with a battery with a capacity of 4730 mAh, and supports fast charging of 80 watts, which is fully charged in 35 minutes, according to the company, and the phone supports fast wireless charging of 50 watts, and reverse charging of 10 watts.
Vivo X Fold+ Wallpaper
Vivo has launched its latest foldable smartphone – Vivo X Fold+ with 11 new background images. There are only two new wallpapers available on the Plus version, the other wallpapers are the same as those available on the original Vivo X Fold.Smartphone makers design butterfly wallpapers to flaunt the foldable design of their foldable phones and Vivo X Fold is no different, it carries some aesthetic butterfly wallpapers. If you want to check out these wallpapers before downloading, check out the preview of Vivo X Fold+ Wallpaper.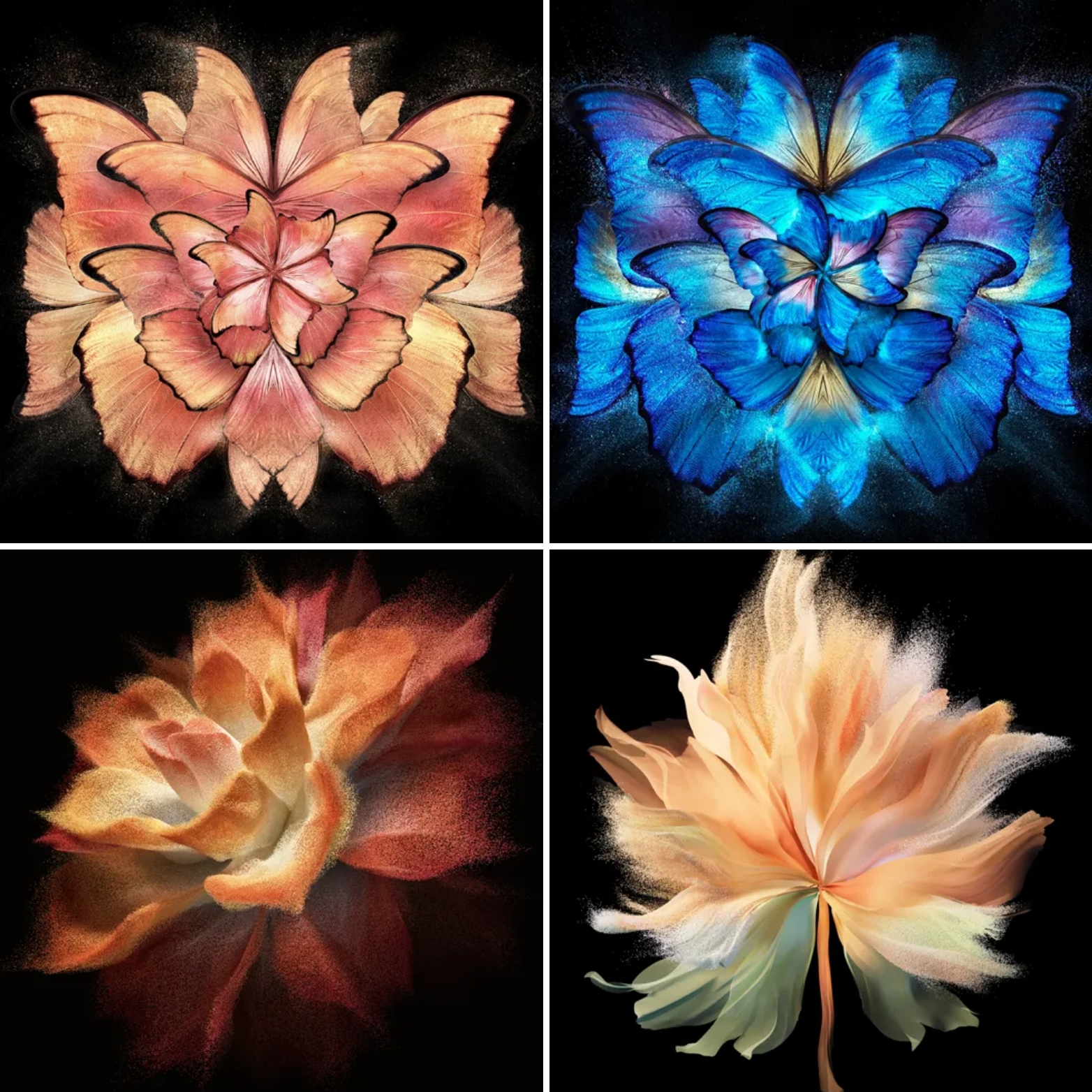 Download Vivo X Fold+ Wallpapers full resolution
If you like those wallpapers, please share it with other communities and forums. Don't forget to join our telegram group for more wallpapers, Themes, Ringtones Update.
Read also: Download Samsung Galaxy Z Fold 4 Wallpaper full resolution FHD+