It is a fact that lasers are cool. Laser pointers, measuring tools, medical tools, and engraving and cutting tools are just a few of their applications. Many people don't know how cool it would be to have an engraving and cutting machine that will allow them to create personalized items and gifts. One of the most popular laser cutter and engraver manufacturers, Two Trees always try to offer something new and different. In addition, their entry-level offering of the TTS is the company's latest creation. It comes in 2 variants, the TTS-25, and TTS-10, running at 2.5 W and 10 W, respectively. This cutting and engraving machine is a no-frills tabletop Diode Laser with enough power to cut through an 8mm thick sheet of light plywood.
It also allows you to engrave different kinds of wood, leather, cardboard, acrylic, etc. Like traditional power tools, you must purchase additional safety gear before operating the Two Trees TTS-10 Laser Engraver 10W. It is an open-frame device with stepper motors mounted at the sides and belt to drive the X and Y movements. Moreover, there is no screen or buttons beyond the on/off switch. Therefore, you will need to hook it up to a computer running software. In this article.
Buying Link

Buy Two Trees TTS-10 Laser Engraver with on Black Friday

COUPON : MID50 ($50 OFF)
Two Trees TTS-10 Laser Engraver Features:
you will not only learn the top features of it but also get to know the benefits as well as the drawbacks of the TTS-10 laser engraver.
Modularity in Design: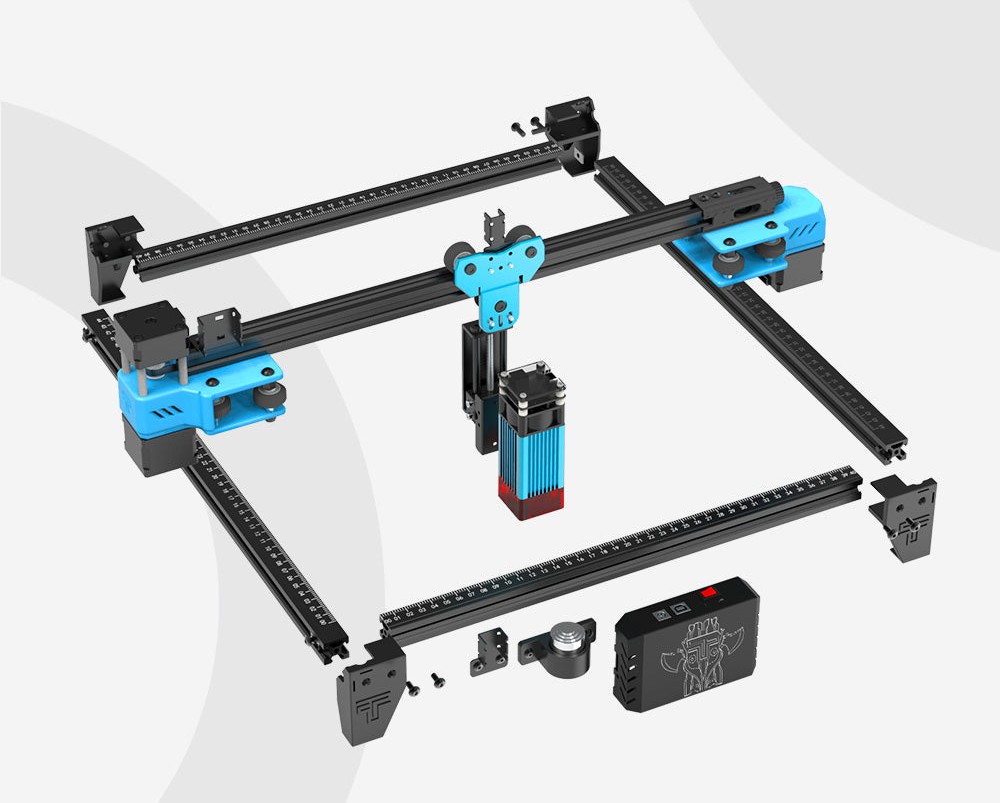 The modularity in the Two Trees TTS-10 Laser Engraver 10W can be independently replaced or exchanged. However, the lightweight filter hood features a modular magnet-attached, easily removable design. It has supers suction for enhanced robustness and greatly simplified design and installation complexity.
Support Offline Engraving: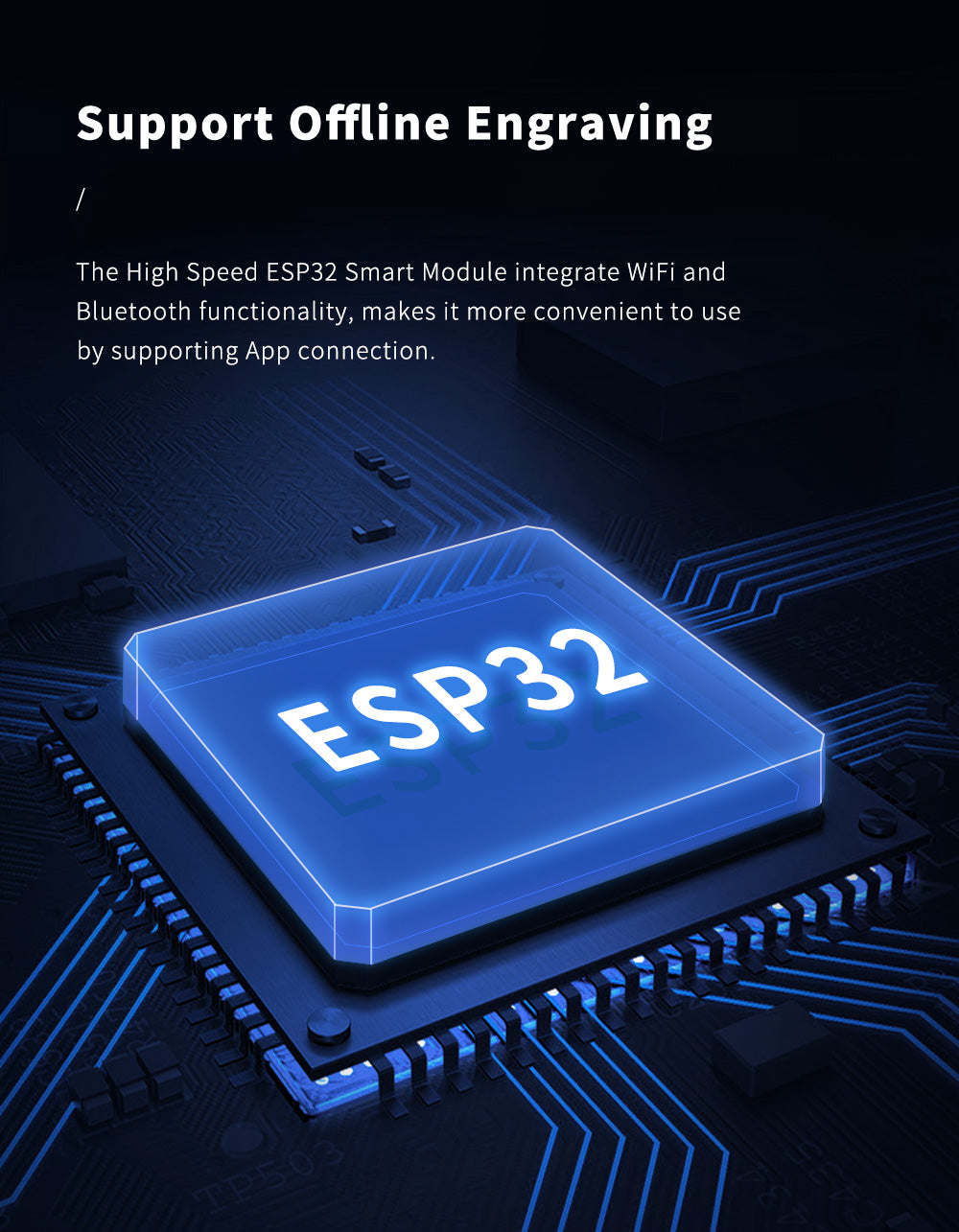 One of the greatest features of this laser engraver is that it has a high-speed ESP32 Smart Module. It allows you to integrate Wi-Fi and Bluetooth functionality. It will make it more convenient and easy to use by supporting an App connection. Furthermore, most engraving software is compatible with Two Trees TTS-10 Laser Engraver 10W . The machine's motherboard uses a 32-bit dual-core MCU with a quick processing rate. However, the engraving speed of the machine is 10000mm per minute. It has a TF card that will allow you to use it online and offline using a laser.
Latest Laser Beam Shaping Technology: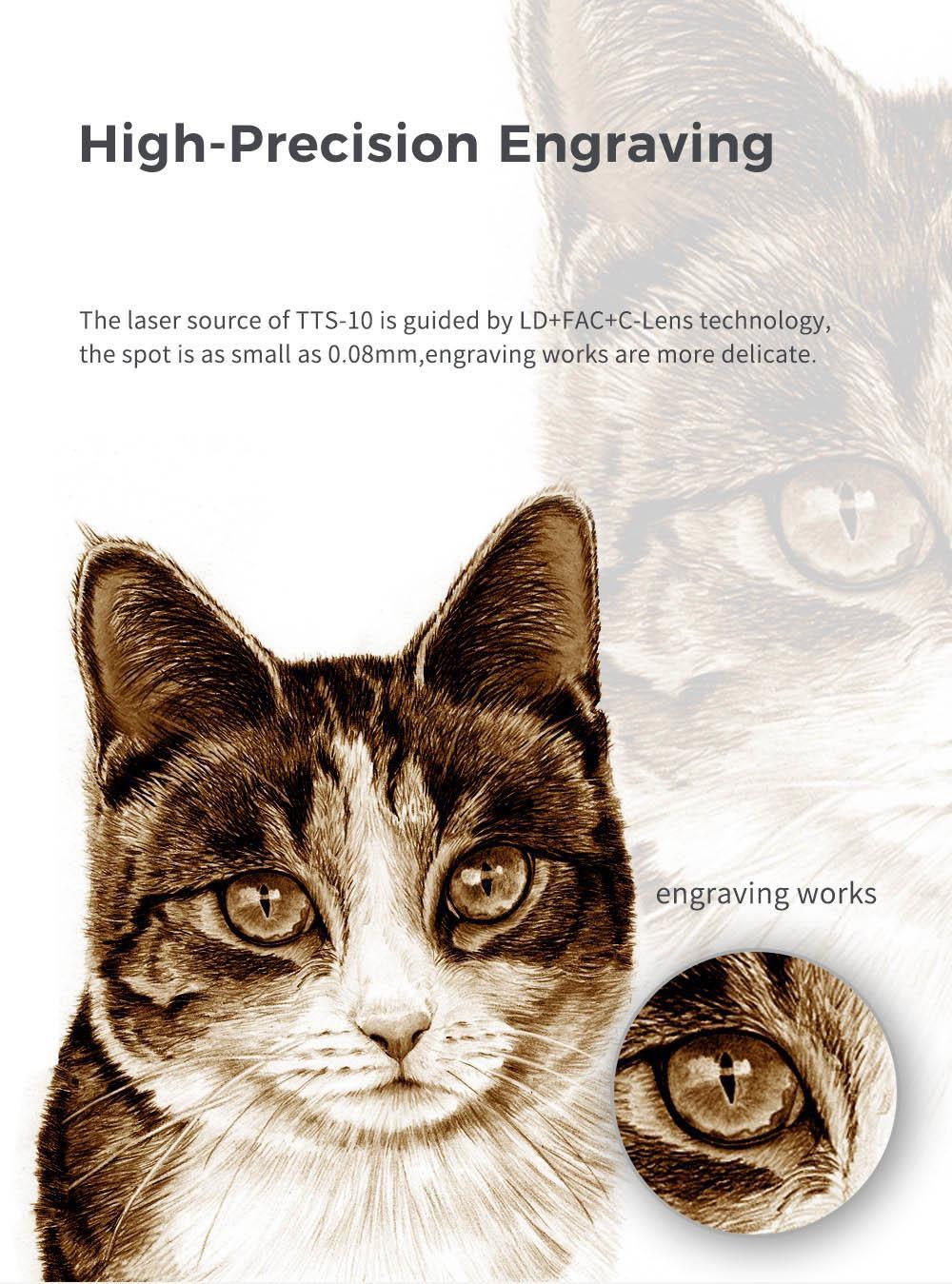 This series of TTS laser engravers use the latest 10W laser beam shaping technology, Diore laser. Additionally, it also has an ultrafine 0.08mm sharp laser focus. There is also a super-cutting penetration and precision that can cut up to 8mm thick plywood, 5mm acrylic, crave ceramics, and stainless steel.
Square Measuring Ruler:
The frame of TTS-10 Laser Engraver 10W contains a precise scale line. It will make it convenient for you to measure the size of engraving objects very fast.
Independent App Connect:
There is no need to connect it to the computer. Instead, it is supported by app control, a Wi-Fi connection, or a USB connection. Most engraving software is compatible with Two Trees TTS-10 Laser Engraver 10W. Wood, plastic, paper, leather, alumina, stainless steel, and many others can also be engraved with this laser engraving machine.
Easily Expand Engraving Area:
The extension kit of Two Trees TTS-10 Laser Engraver 10W lengthens the Y-axis. However, this feature makes the most cost-effective large areas of laser engraving. The maximum extension area of 420mm x 400mm.
Safety:
It doesn't come with an enclosure. Therefore, it is suggested to use it in well-ventilated or outdoor areas. However, it will come with rather fetching protective glasses. They will help to keep your peepers safe.
Fast Focus Design: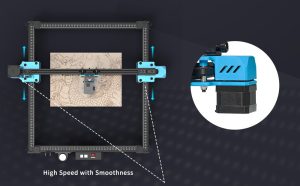 There is a fixed focus lens and a knob to adjust the height of the machine. In addition, you need to turn the knob to focus. It has a fixed focus column that makes it very easy to use.
Advantages of Two Trees TTS-10 Laser Engraver 10W
The Two Trees TTS-10 Laser Engraver 10W is so much fun. The engraving and cuts are precise and beautiful. Apart from this, there are several benefits of using this laser engraver. It engraves and cuts well. The engraving and cutting are precise and beautiful. Even very small text turned out beautifully. It is super cool to take images and turn them into an engraving with Two Trees TTS-10 Laser Engraver 10W. Assembling the machine is very easy and quick. Compressed lasers provide you to get faster and deeper cuts.
The Two Trees TTS-10 Laser Engraver 10W is an excellent entry-level laser for the low cost of $350. It offers a great mix of quality and budget-friendliness. Moreover, it is a great starter laser engraver for training a new Etsy business proposal or creating fun projects around the house.
Buying Link

Buy Two Trees TTS-10 Laser Engraver with on Black Friday

COUPON : MID50 ($50 OFF)
Read also: (Black Friday) Two Trees TS2 Laser Engraver 10W with $100 OFF Coupon