A laser-cutting engraving machine is essential for at-home gift personalization to take your business to the next level. It is a fact that the laser curing and engraving market can be confusing to navigate. Therefore, one of the best laser cutters and engravers that fit your budget is Two Trees TS2 Laser Engraver 10W . A Laser Engraver is a type of laser machine with a Computer Numerical Control (CNC) system. It adopts Fiber/UV/CO2 laser beam.
It will help to cut and engrave 2D or 3D letters, numbers, texts, patterns, photos, pictures, signs, and logos on the surface of different materials. Two Trees TS2 laser Engraver 10W is currently the flagship DIY laser engraver model from the TS series. This laser cutter and engraver sport a very interesting layout for stepper motors. In addition, it also ensures better stability, despite the size of the working space. There are also several interesting features you don't usually see on a laser engraver in this price range.
Buying Link

Buy Two Trees TS2 Laser Engraver 10W on Black Friday

TS2 Coupon code: MID100 ($100 OFF)
Two Trees TS2 10W Diode Laser Engraver Features: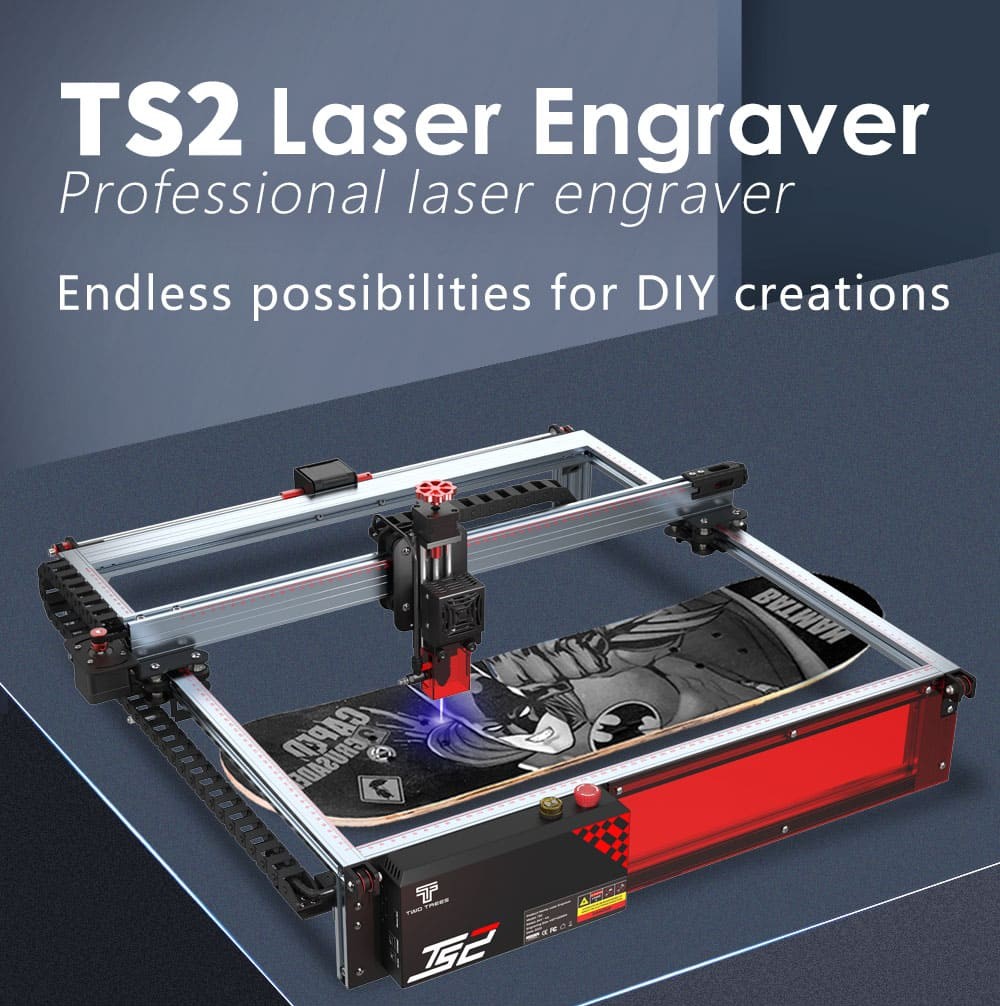 This device has a large emergency stop button, a sensitive flame-detecting sensor, and a drag chain for cable management. Fortunately, you can either directly hook the TS2 10W Diode Laser Engraver – Two Trees to your computer through USB cables or even use Wi-Fi. The manufacturer of this device promise that it is powerful and quick enough to go above the hobbyist level of use. Here are some of the greatest features of Two Trees TS2 Laser Engraver 10W.
Fast Engraving Speed: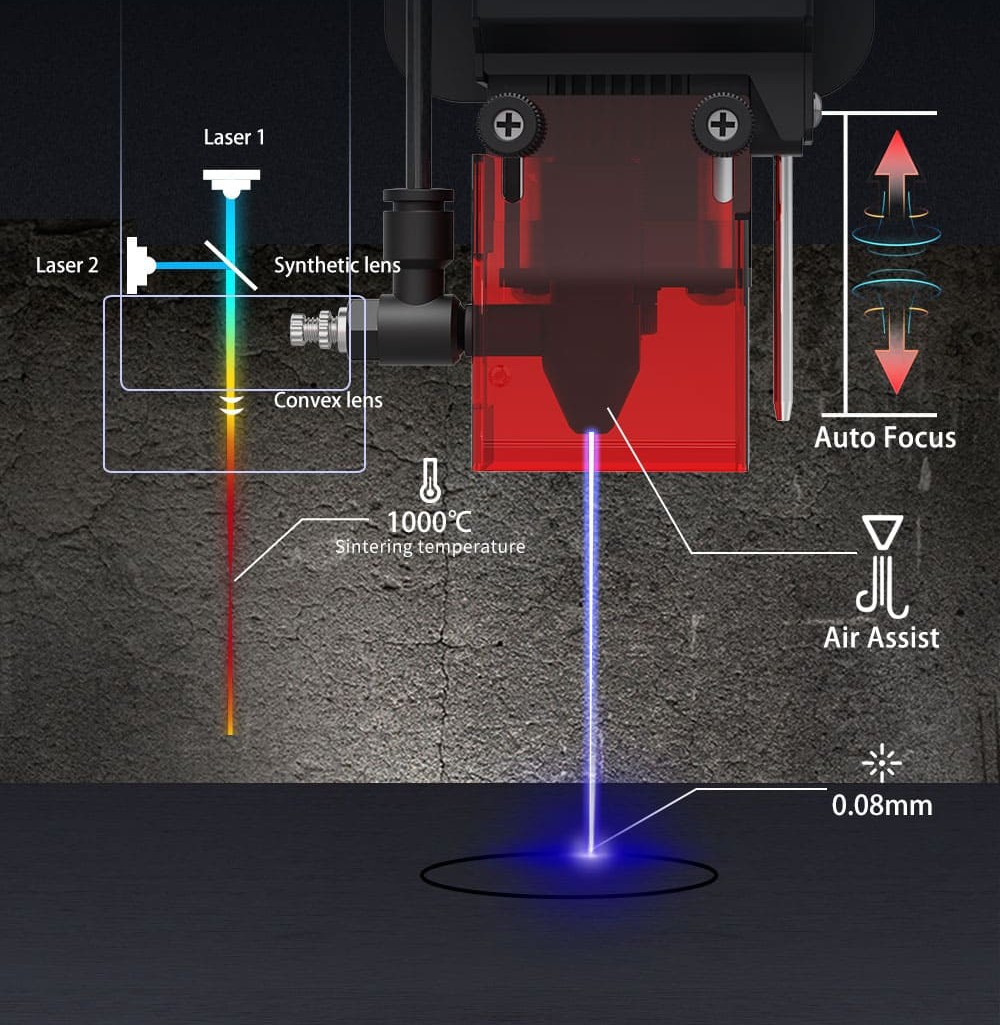 For the first time, the manufacturer incorporates the ESP32-DOWD-V3 chipset and a 32-bit LX6 microprocessor in their latest TS2 10W Diode Laser Engraver – Two Trees. This feature allows it to engrave at 10,000mm per minute speed. It is a relatively normal level. Like most other manufacturers, 10W refers to the laser put it, while this unit has an electrical power output of 96W and can cut 8mm, pine boards. Furthermore, the laser module uses compressed spot technology to help provide an accuracy of 0.08mm. It is a fact that the smaller the laser spot, the higher the engraving PPI, which is just like a cell phone screen pixels.
Guaranteed Multiple Security: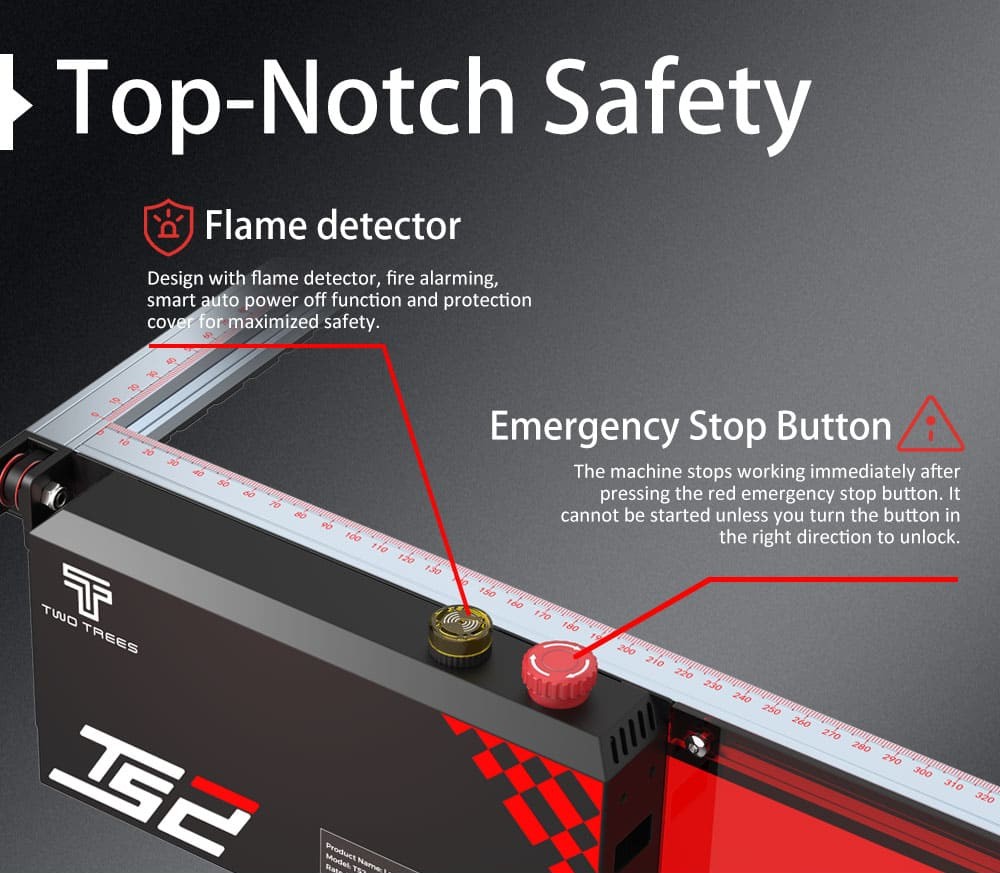 As a laser device, no one can deny the importance of safety. Luckily, the TS2 10W Diode Laser Engraver – Two Trees has a flame detector. When the machine is working, if infrared light with a wavelength of 760 to 1000 nanometers is detected, it will immediately stop and send an alarm via a buzzer. Additionally, it also has a gyroscope. When the machine tilt angle of more than 15°, the laser head automatically stops glowing. There is also a red emergency button. It means that you can always allow it to stop working.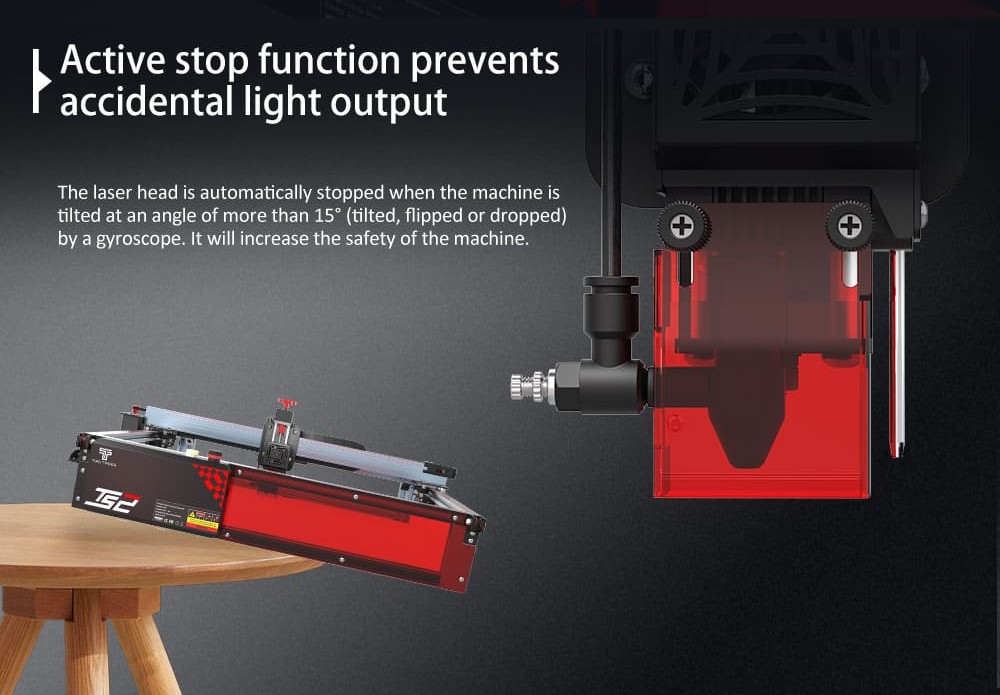 Rich Accessories Ecology:
One of the greatest features of TS2 10W Diode Laser Engraver – Two Trees has the largest working area compared to any other 10W machine, which is 450 x 450mm. A great air assist is also essential to decrease the adhesion of smoke particles generated during the engraving or cutting process. This will makes the cut and engraving lines cleaner. It would help if you connected this machine to your computer with a USB cable.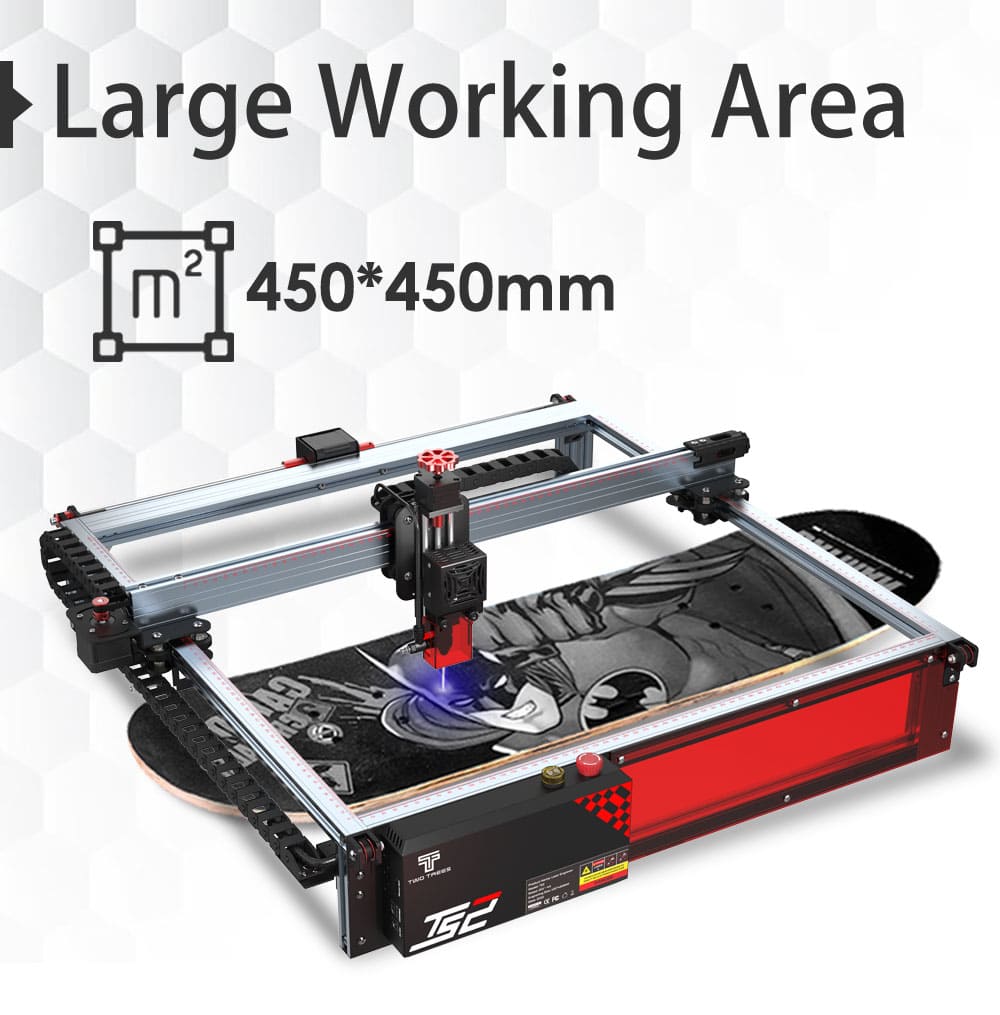 Special Function:
The Z-axis autofocus up and down is the amazing feature of TS2 10W Diode Laser Engraver – Two Trees. Using this feature, you don't need to adjust the focus manually. Moreover, in terms of intelligence, it supports App control on the cell phone, which is very friendly when doing simple graphic engraving.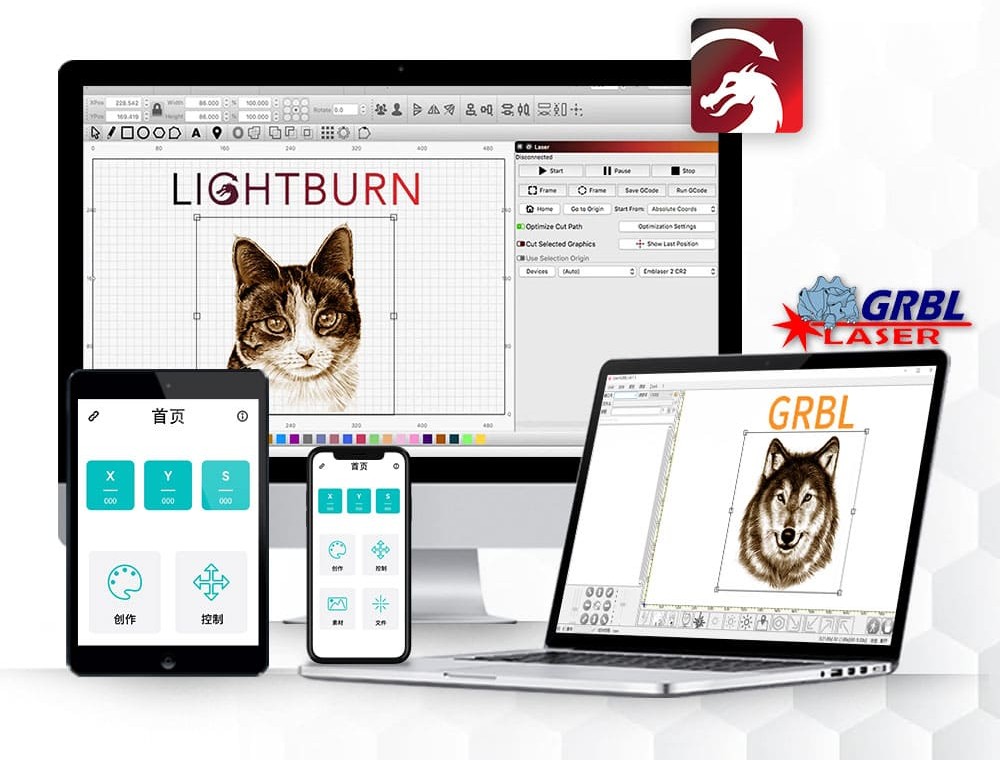 Advantages of TS2 10W Diode Laser Engraver – Two Trees:
There are several great features in this Laser engraver. This will makes it the most efficient device. Despite this, there are also many benefits of using TS2 10W Diode Laser Engraver – Two Trees. Easy to Install. Works efficiently using the app. Provide much cleaner, thinner, smoother, deeper cuts. There is an autofocus feature, so you don't need to adjust manually.
The Z-axis motion structure design ensures its stable and synchronized operation. Multi-safety features make sure the machine and objects operate in a safe situation. It is a very powerful and fast laser engraver. It combines 2 laser beams, can cut thicker materials than your average 5w laser and should be able to engrave twice as fast. The laser cutters of the TS2 Laser Engraver work very much like a 3D printer.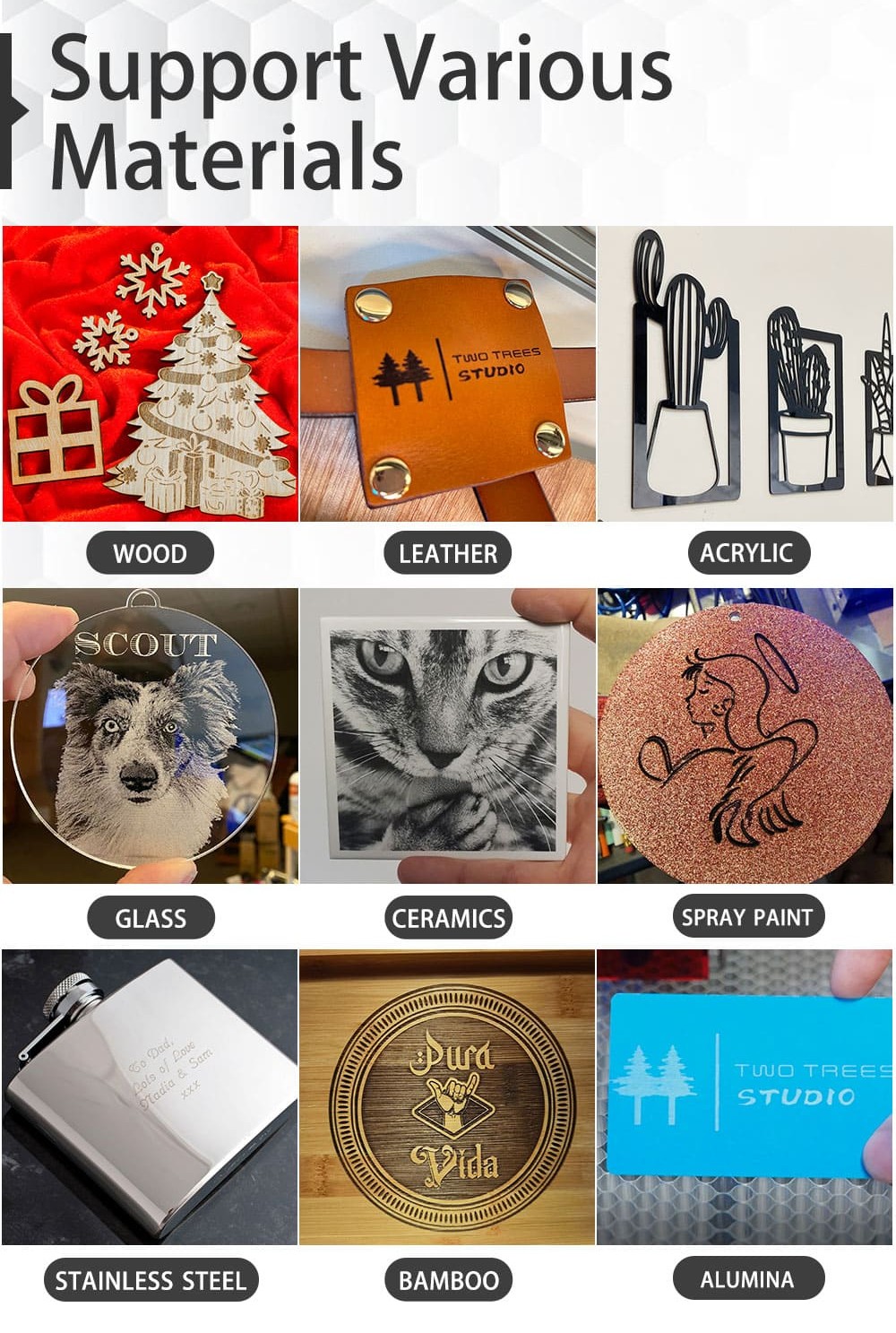 TS2 10W Diode Laser Engraver – Two Trees is a professional laser engraver and cutter. It has 10W laser power and 0.08mm engraving accuracy, allowing it to cut up to 15mm plywood. Moreover, laser engraving also supports stainless steel and acrylic board, which allows you to make beautiful gifts for anyone and turn your ideas into reality efficiently.
Buying Link

Buy Two Trees TS2 Laser Engraver 10W on Black Friday

TS2 Coupon code: MID100 ($100 OFF)
Read also: LONGER RAY5 10W Laser Engraver for only $559.99 on LONGER Official Website