Engraving is an art. It is a technique of making prints from metal plates into which a design has been incised with a cutting tool. A sturdy engraved sign can last for decades without any noticeable degradation. Therefore, branding is great for long-term signage. When most people think of engraving, they think of metal, but the truth is that you can engrave all kinds of materials. You can engrave wood, rubber, plastic, acrylic, and other materials using the right laser.
Moreover, you can also use a laser to make complex custom cutouts for arts and crafts, but to get nest quality engravings, you need a well-designed engraving machine, just like LONGER RAY5 10W Laser Engraver. It is a very powerful 10 W laser that can etch almost any material; it even can cut wood panels' in a single pass. The Longer RAY5 is a compact laser engraving designed to cater to hobbyists and home enthusiasts. It is the first laser engraver that comes with a built-in touch screen. It works quickly at up to 10,000 per minute. LONGER RAY5 10W Laser Engraver is a complex machine with many different features.
Buying Link

Buy LONGER RAY5 10W Laser Engraver for only $559.99 on LONGER Official Website
LONGER RAY5 10W Laser Engraver Features:
Touch Screen and Offline Carving: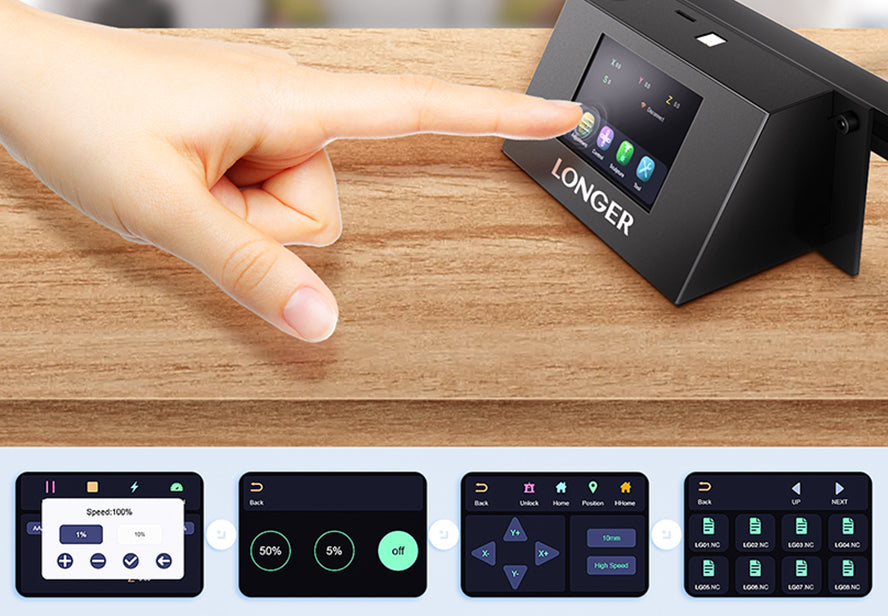 Longer RAY5 has a built-in 3.5-inch touch screen and a friendly user interface. Moreover, it also has a built-in controller, and no computer must always connect the laser engraver. You can save your file to a TF card and use it to run the RAY 5 for engraving or cutting.
Safety Protection: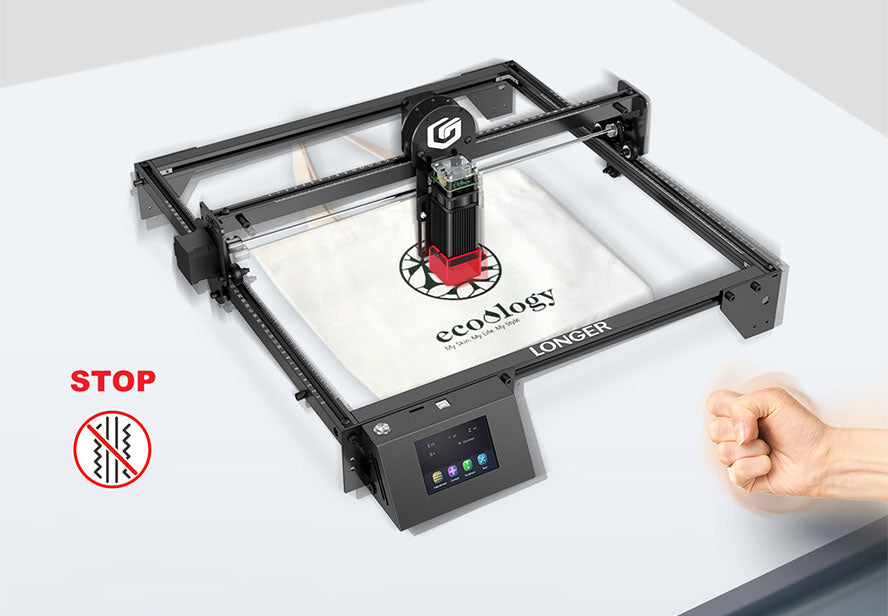 The Longer RAY5 is specially designed with move protection and thermal protection functions. If the machine is moved during working, the move protection function will initiate auto-shutdown for personal safety. On the other hand, Thermal protection initiates an auto shutdown if a flame is monitored.
Ultrafine Laser point and Powerful Laser Module: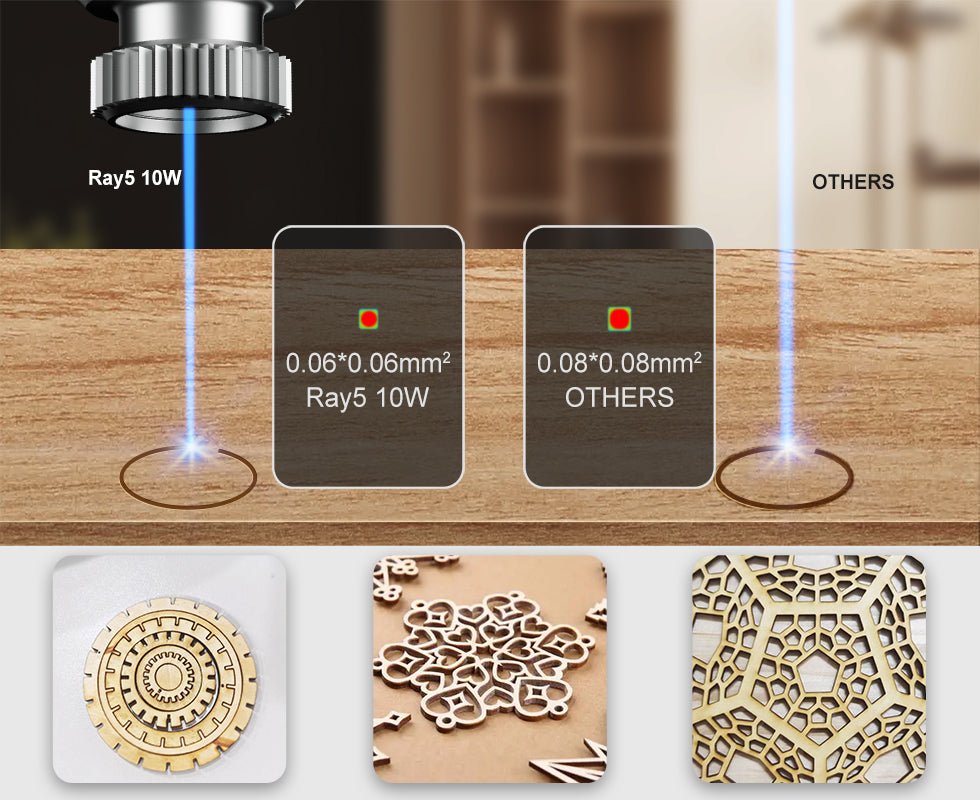 LONGER RAY5 10W Laser Engraver comes with the latest FAC technology for compressed laser points. The size of the point is just 0.06*0.06mm; this smaller size of the point provides more focused energy. It will allow the engraving or cutting to be much stronger. However, the output power of the laser modules reaches 10W.
Power Button and Eye Protection:
Longer Ray5 has a power switch to turn the power on or off. The laser module has an acrylic cover that shields the laser and helps to protect your eyes. For more protection, it is suggested that you wear eye protection for laser scatter.
32-Bit Chipset and Wi-Fi Connections: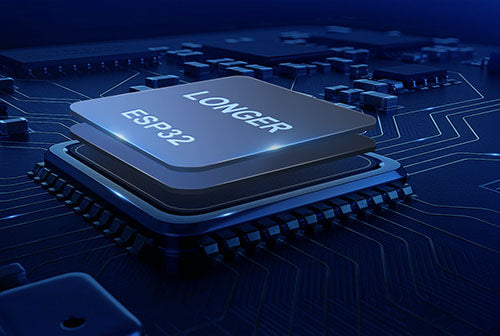 One of the most amazing features of the LONGER RAY5 10W Laser Engraver is its built-in ESP32 chipset and a Wi-Fi connection for the engraver router. This 32-bit chipset runs at 240 MHz, making it faster and more powerful than any comparably equipped machines with 8-bit chipsets. Additionally, it supports Wi-Fi connections through the web page or app to control engraving and cutting.
Engraving Performance:
The working area of the LONGER RAY5 10W Laser Engraver is 400mm*400mm, which works out to 15.75*15.75 inches, which is a fairly generous area. With the help of this machine, you can easily engrave large plagues or complex artwork without being constrained by a small frame. The laser is capable of engraving at the rate of 1000 per minute. However, the exact speed will vary depending on how dark the image is.
Replaceable Engraving Head:
It is a multi-purpose machine that comes with a replaceable engraving head. It will allow you to replace the engraving head according to your needs, which is convenient and saves money.
Pros of LONGER RAY5 10W Laser Engraver:
The great features of the LONGER RAY5 10W Laser Engraver make it the perfect option. Apart from its features, there are also many advantages of using this engraving machine. This 10W laser module is surprisingly powerful.  It is easy to learn and easy-to-use engraving machine. The 10W laser head of the LONGER RAY5 10W Laser Engraver is very powerful. The unit is very powerful as you can compare it to competitors in its class. LONGER RAY5 10W Laser Engrave has a large working area of 400*400mm. It has a touchscreen, so you can control it online or offline.
Longer RAY5 offer good performance on both metal and wood. It is easy to install. The laser module of the LONGER RAY5 10W Laser Engraver is upgradeable. There are some safety precautions along come with Longer RAY5.
It is one of the better laser engravers on the market, with powerful laser and easy-to-use controls. LONGER RAY5 10W Laser Engraver is capable of offline printing and offers excellent resolutions and a fast working speed. It will help you to create detailed engravings quickly.
Buying Link

Buy LONGER RAY5 10W Laser Engraver for only $559.99 on LONGER Official Website
Read also: LONGER LK5 PRO FDM 3D Printer for only $329.99 on LONGER Official Website