ACMER P1 Laser Engraver
Customizing products has always been a popular activity, and there is no better way to do it than with the ACMER P1 Laser Engraving. This innovative tool lets you create personalized products quickly and easily without needing special skills or equipment. Plus, thanks to its cutting-edge technology, your products will look amazing! The ACMER P1 10 laser engraver machine is a high-powered, portable machine that can quickly and easily create personalized products for your loved ones.
With easy-to-use controls and precision cutting, the ACMER P1 is perfect for creating unique gifts or personalizing products like T-shirts, mugs, and more. Place your desired design onto the product surface, position the product over the laser pointer, and press start. The machine will quickly etch your design into the product's surface, reminding you of your special moment.
Buying Link

Buy ACMER P1 Laser Engraver for only $449

Coupon : ACMER50 ($50 OFF) 
ACMER P1 Laser Engraver Features:
Are you looking for a way to personalize your products? Look no further than ACMER P1 laser engraving! With this innovative and easy-to-use technology, you can create custom products that are perfect for any occasion. Here are the top features of ACMER P1.
Great Module Expansion Capability: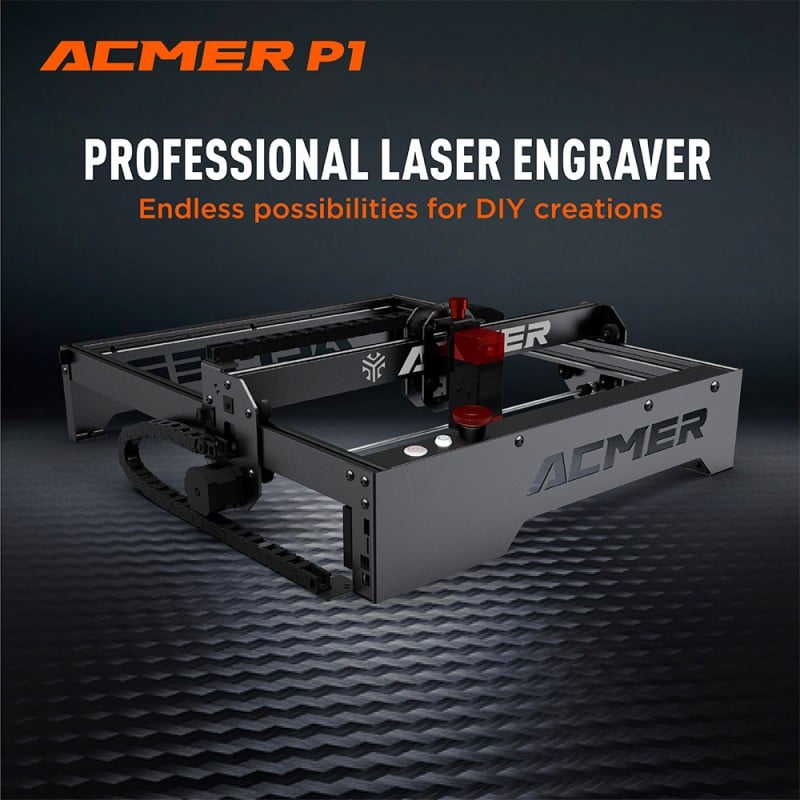 From T-shirts and mugs to keychains and figurines, ACMER P1 laser engraving is the perfect way to add a touch of individuality to your inventory. Our versatile platform lets you choose from various designs and fonts, making it easy to create something truly unique. Our fast turnaround times make it easy to get your products into customers' hands quickly. Whether you want to add a little extra flair to your products or create something special for a loved one, ACMER P1 laser engraving is the perfect option.
High-Pressure 10W Laser Beam: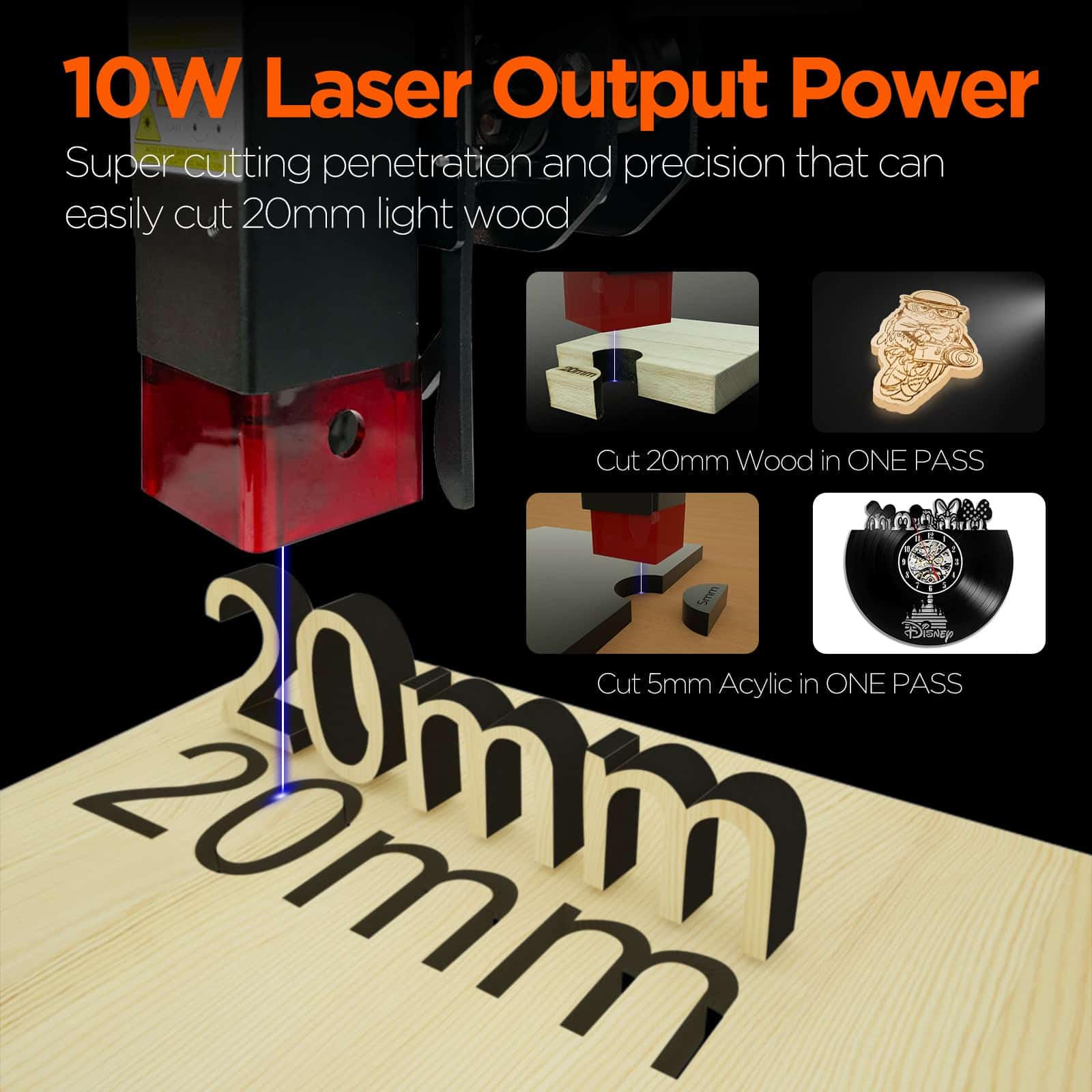 The ACMER P1 Laser Engraver 10W is outfitted with technology that enables it to form laser beams and reach a spot size of 0.06 x 0.08 mm as S9 in its engravings. It is made possible by the device's ability to shape laser beams. In addition to having a greater energy density, the P1 can cut deeper and engrave more elaborate patterns directly from this feature's inherent capabilities.
High-Speed Powerful Air Assist: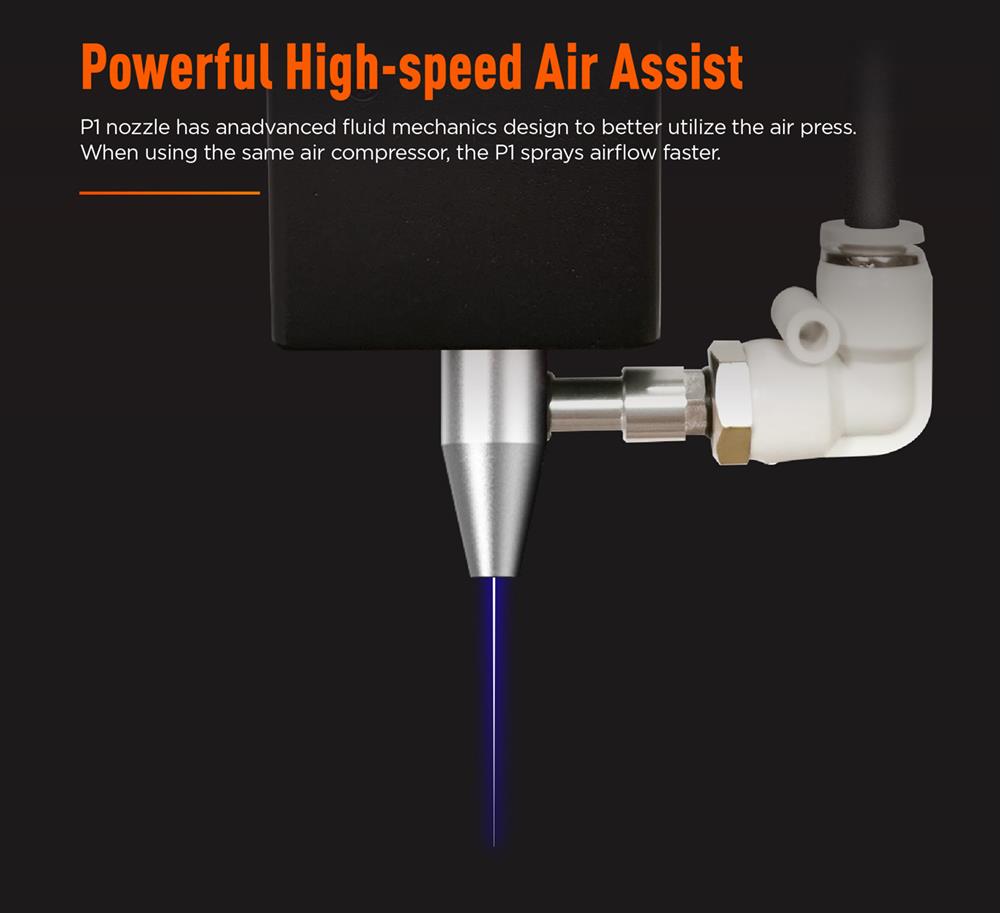 The P1's one-of-a-kind air-assist and high-power laser can speed up the burning of materials and the elimination of residue. Significantly enhance cutting performance, making it feasible for laser cutting to be quicker and cleaner than it was previously able to be, ACMER P1 is easy to reach 16m/s high-speed airflow with cheap 30L/min & 0.03Mpa air compressor.
Stable, Durable and Easy to Assemble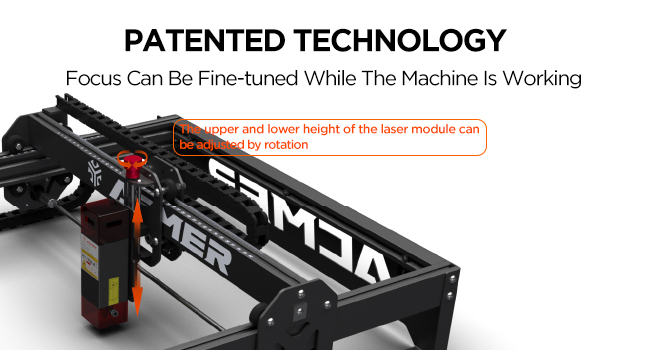 The industrial-style aluminum alloy frame structure makes the cutting machine stable in structure and stable in operation. The wiring of the tank chain keeps the engraving machine clean and tidy, and no cables are exposed to avoid safety problems caused by cables falling off. The patented Z-axis laser head adjusts focus while the machine is in operation. Parts are 90% pre-loaded and it only takes 15-20 minutes to assemble the machine, for the replacement of different items to be carved, the use of Z-axis slide table with knife brake is easy to quickly and accurately focus the laser head, to eliminate the laser head fixed focus is not accurate and lead to rough engraving or failure.
Solid Architecture, Working Area Measuring:
The structure of the ACMER P1 laser engraver is based on the 2040 profile, which is long-lasting and has a smooth operation; the premium track, linked with a strong motor, enables more fluid engraving and carving of the object being engraved or carved. Furthermore, the large working surface, measuring 400 mm by 410 mm, caters to a wide range of engraving requirements.
Greater Cutting and Penetration Strength:
In addition to using lasers with a high energy density, using a P1 high-speed air assist is another method that may be used to increase the cutting penetration. It is possible to cut more materials with this laser, and it also has an easier time dealing with high-density woods such as MDF and Walnut, both of which offer issues for conventional lasers to work with. This laser can cut through both of these types of wood.
Upgraded ESP32-bit Motherboard: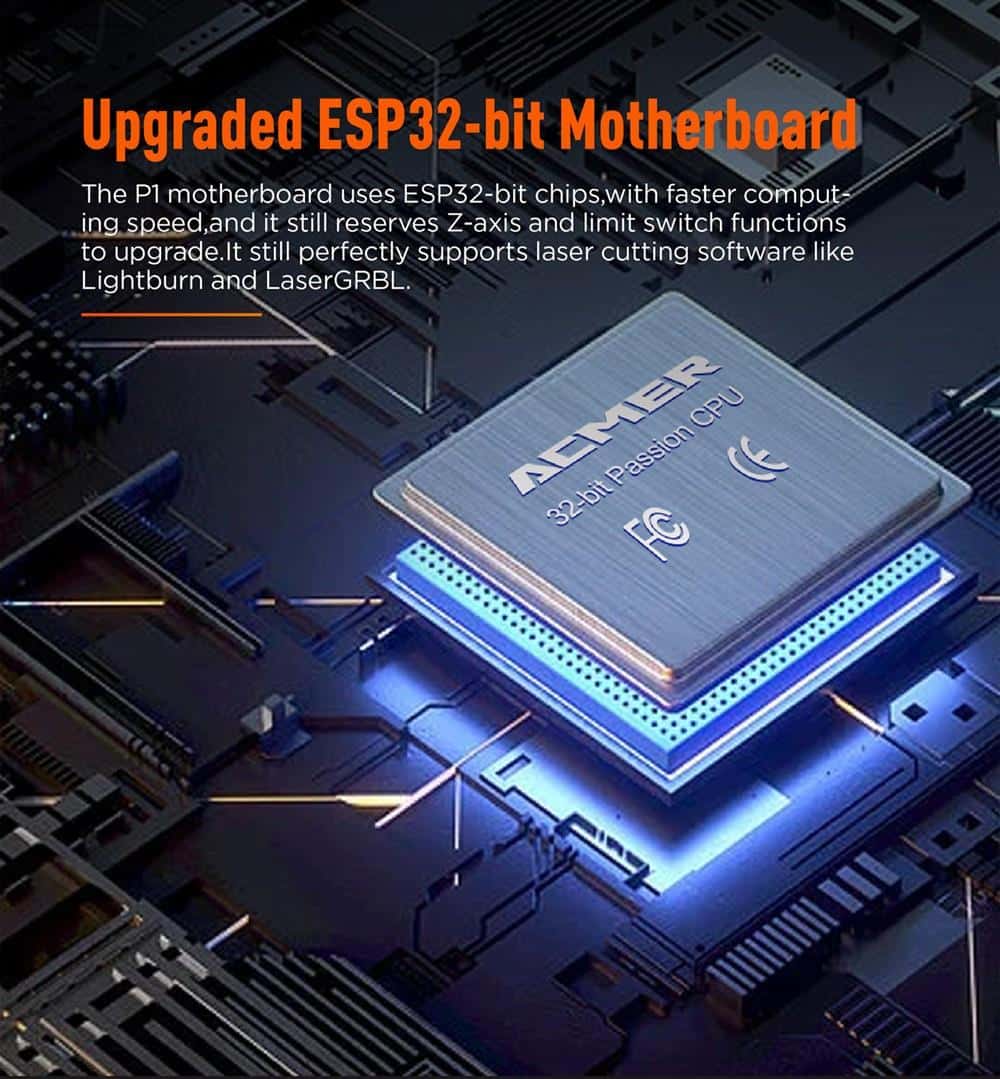 In addition to already having a built-in 32-bit LX6 CPU and an ESP-32-DOWD-VS chip, the device also allows operation via WiFi, TF cards, and USB connections. It also has an ESP-32-DOWD-VS chip. Additionally, it is capable of reading and writing on SD cards. Suppose an irregularity is discovered in the carving. In that case, the built-in emergency stop switch and anti-tilt protection system of P1 will immediately end any more work being done.
App Operation Support: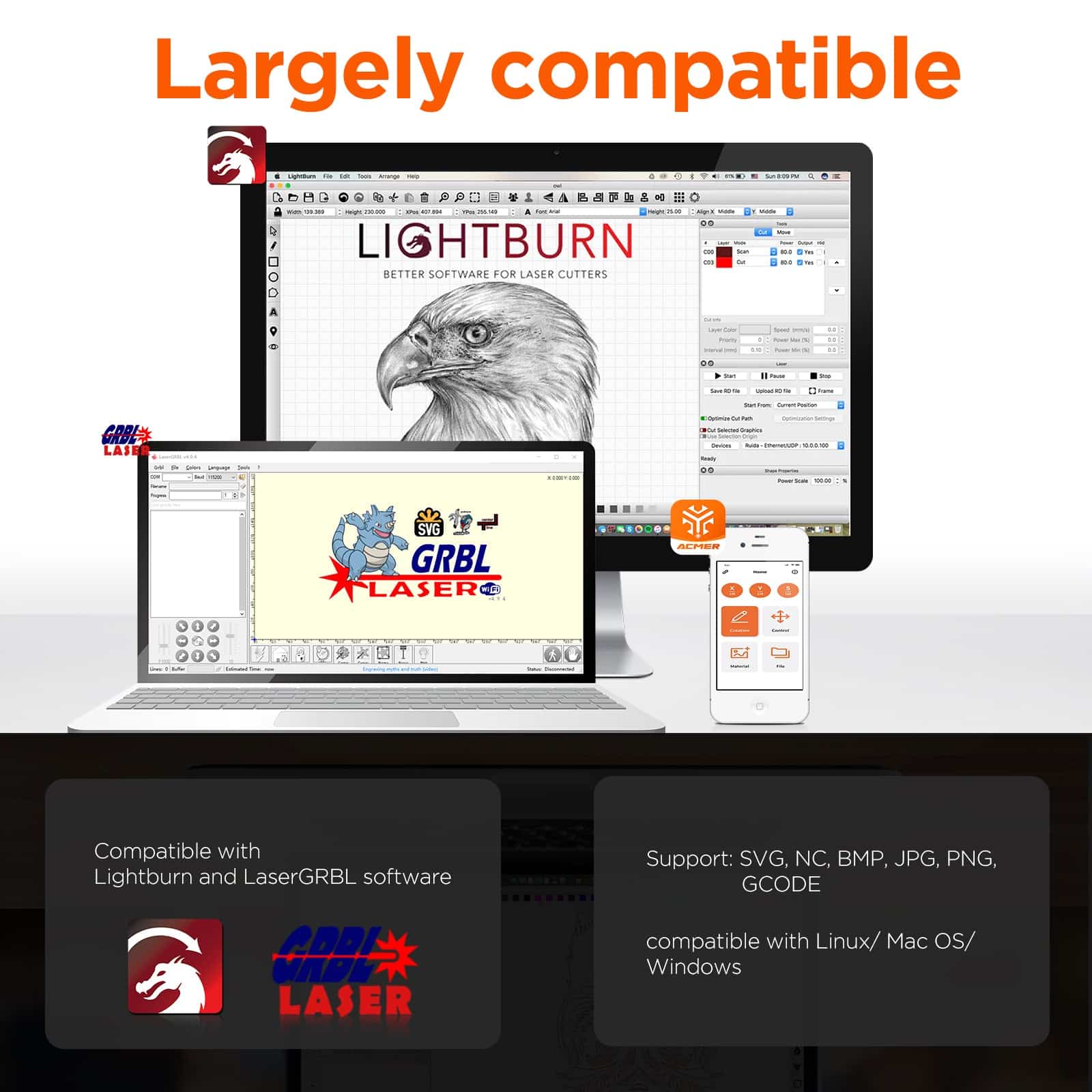 This piece of hardware may be used with the macOS, iOS, and Android operating systems, in addition to LightBurn and LaserGRBL, all of which are software packages. In addition, it can process engraving files that are saved in various formats, including SVG, NC, BMP, JPG, PNG, and others.
Pros of ACMER P1 Laser Engraver:
ACMER P laser engraving is the perfect way to personalize jewelry, nametags, and more. In minutes, this technology lets customers add a unique message or design to any object. The ACMER P laser offers high-quality, easy-to-read, and understandable results. It makes it a great option for both small and large projects alike.
There are many customization options available with the ACMER P laser engraving machine, so customers can get what they need. From font styles to color choices, there is something for everyone. Besides personalization, the ACMER P offers other benefits like speed and accuracy. It makes it an ideal tool for businesses that need quick turnaround times for their products. Overall, the ACMER P laser engraving machine is an excellent choice for those looking for quality personalization options without all the hassle.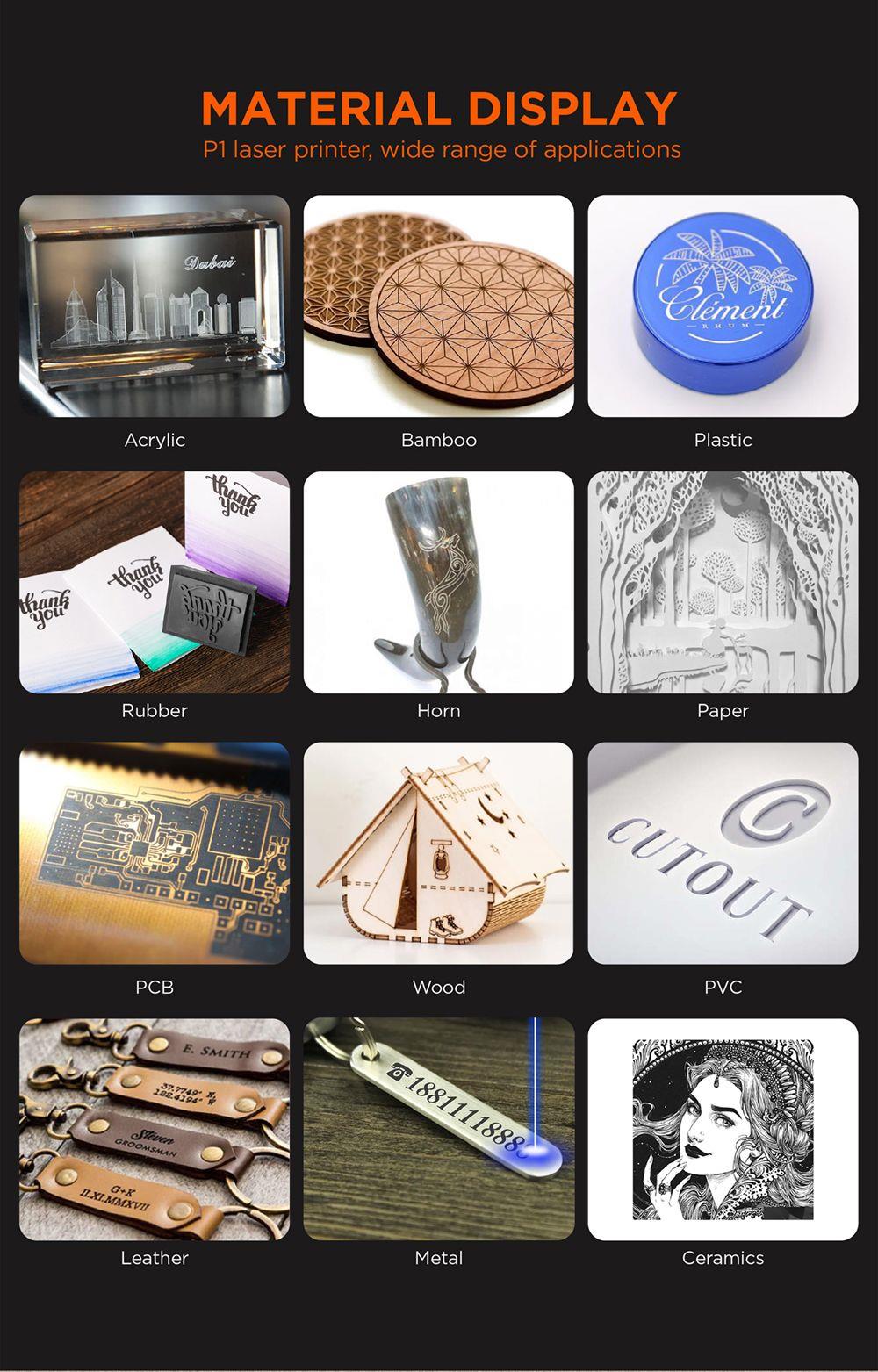 If you want to add a personal touch to your products, look no further than ACMER P1 laser engraving. Our machines can easily create personalized labels and tags that will highlight the unique qualities of your product and make it stand out from the rest. With so many options available, something is sure to suit your needs perfectly. Give us a call today, and let us help you get started.
Buying Link

Buy ACMER P1 Laser Engraver for only $449

Coupon : ACMER50 ($50 OFF) 
Read also: (Black Friday) Two Trees TTS-10 Laser Engraver 10W with $50 OFF