CIn the ever-evolving world of 3D printing, the Creality K1 Max emerges as a game-changer, pushing the boundaries of what's possible in the realm of additive manufacturing. This cutting-edge 3D printer boasts an array of remarkable features that elevate it to a league of its own. In this comprehensive article, we will delve deep into the Creality K1 Max, exploring its capabilities, groundbreaking technology, and the unparalleled advantages it offers to 3D printing enthusiasts.
Features of Creality K1 Max 3D Printer
Crazy 600mm/s Printing Speed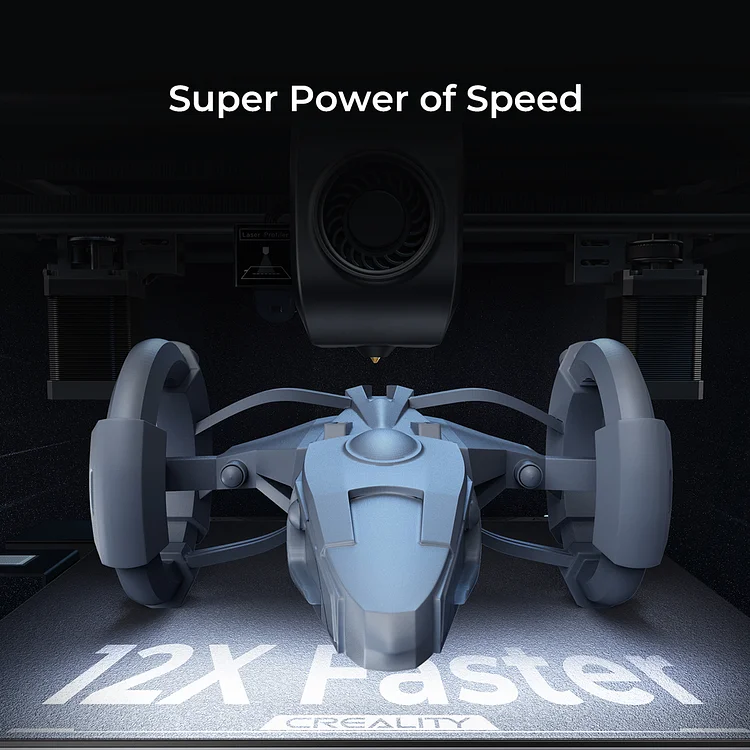 At the heart of the Creality K1 Max's exceptional performance lies its astounding printing speed. With a nimble Core XY system and a lightweight 190g printhead, this machine accelerates to a mind-boggling 600mm/s in a mere 0.03 seconds, all thanks to its impressive 20000mm/s² acceleration. To put this into perspective, it's a staggering 12 times faster than your typical 3D printer. The K1 Max's speed is further bolstered by a powerful dual-core CPU and the latest Creality Print slicer, developed in-house. The result? Productivity that can rival several 3D printers combined.
32mm³/s Flow & Dual Cooling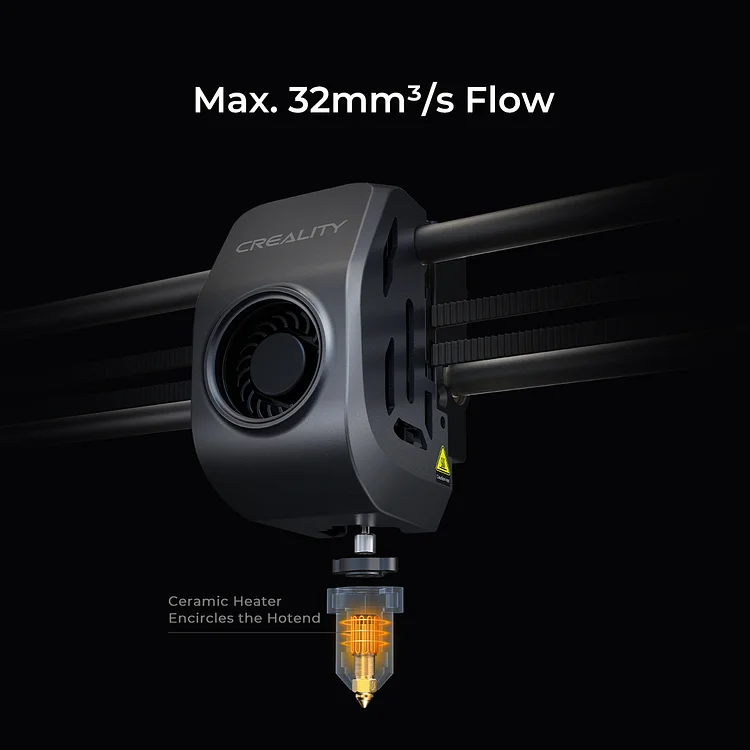 The Creality K1 Max redefines filament feeding with its new ceramic heater surrounding the hotend, capable of instantly melting various filaments. Coupled with a dual-gear direct drive extruder and a titanium alloy heatbreak, it ensures a continuous 32mm³/s full-blast feeding flow even at temperatures up to 300°C. What sets it apart is its dual cooling system, with one fan strategically positioned on the printhead featuring directional air ducts and another inside the build chamber. This dual cooling setup ensures rapid cooling of freshly printed models, preventing issues like stringing and warping from occurring.
AI-assisted Carefree Printing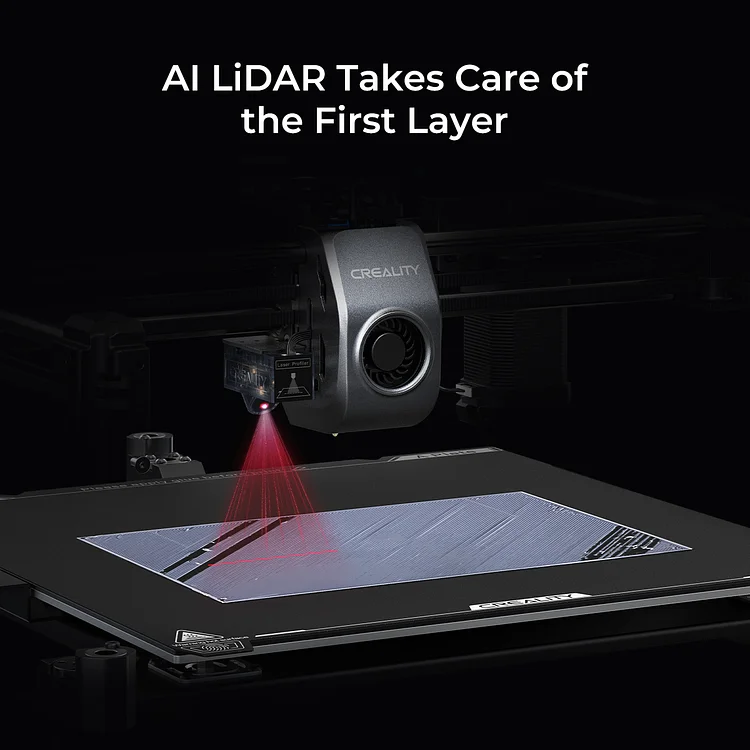 The Creality K1 Max introduces AI technology to the 3D printing world. Its 1μm resolution LiDAR scanner autonomously scans the first layer of your print, immediately pausing and alerting you to any anomalies. Additionally, the K1 Max employs an AI camera to monitor the print for potential issues such as spaghetti failure, foreign objects, or debris. Real-time monitoring and the creation of shareable time-lapses further enhance the user experience, providing peace of mind and convenience.
Trustworthy Print Quality
Print quality is where the Creality K1 Max truly shines. It incorporates a G-sensor in the printhead to measure and mitigate resonance frequencies during high-speed printing, eradicating issues like ghosting or ringing on your prints. Accurate Z-axis positioning reduces Z-banding effectively, resulting in consistently high-quality prints. The robust aluminum alloy frame, constructed with unibody die-cast parts, ensures stable printing at high speeds, delivering excellent print quality consistently.
Minimal Operations Required
Creality understands that user-friendliness is paramount. The K1 Max arrives at your doorstep pre-assembled and calibrated, accompanied by a boot-up quick guide. One-tap self-testing means you can start printing right out of the box. Strain sensors in the heatbed provide hands-free leveling, while the AI LiDAR scans the bed at millions of points, ensuring precise leveling. The heatbed itself heats up to 60°C in just 90 seconds, and a flexible build plate simplifies print removal, minimizing user effort.
Print Right Out of the Box
To emphasize its user-centric design, the Creality K1 Max is not just assembled and calibrated before shipment; it also includes a built-in boot-up quick guide. This means you can begin your 3D printing journey the moment your K1 Max arrives. With a generous printing size of 300x300x300mm, this printer empowers you to bring your most ambitious creations to life.
The Creality K1 Max 3D Printer represents a true leap forward in the world of 3D printing technology. Its unmatched speed, innovative features, AI assistance, and exceptional print quality make it a standout choice for both beginners and experienced enthusiasts. With minimal setup required and a focus on user convenience, the K1 Max sets a new standard for what a 3D printer can and should be. Whether you're an artist, engineer, or hobbyist, the Creality K1 Max is poised to revolutionize your 3D printing experience, opening up a world of creative possibilities.
Purchase Link

Buy Creality K1 Max 3D Printer for only €794 on TomTop Official Website

Coupon Code : ED6962
Read also: Get SCULPFUN S30 Ultra Laser Engraver for only €669