In the realm of modern technology, laser engraving has emerged as a transformative process that allows for precise and intricate designs on various materials. Among the latest offerings in this field is the SCULPFUN S30 Ultra Laser Engraver, a cutting-edge machine that boasts an array of impressive features. From its expansive engraving area to its advanced safety mechanisms, the S30 Ultra series promises to elevate the art of laser engraving to new heights. In this comprehensive article, we delve into the standout features of this remarkable engraving machine.
Features of SCULPFUN S30 Ultra Laser Engraver
A Spacious Canvas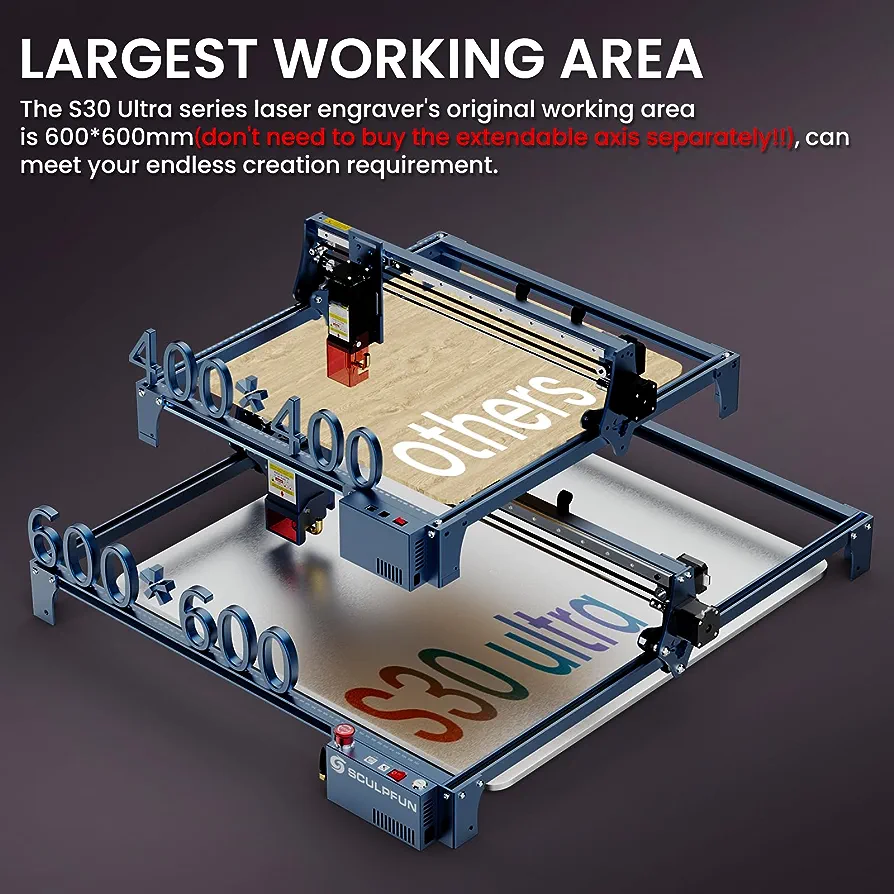 One of the standout features of the Sculpfun S30 Ultra Laser Engraver is its spacious engraving area, measuring an impressive 600x600mm. This generous work area provides artists, hobbyists, and professionals with ample space to bring their creative visions to life. With such a large canvas, projects are not constrained by size limitations, allowing for the creation of intricate and sizable works of art.
Longevity and Flexibility
Safety is a paramount concern when working with any machinery, and the S30 Ultra series addresses this through its professional safety design. Equipped with an emergency stop switch and a safety child lock, the machine ensures a secure working environment. In cases of urgency, tapping the emergency stop switch halts the machine, preventing potential mishaps. Moreover, the safety child lock ensures that the machine cannot be turned on accidentally, offering peace of mind for families with young children.
Future-Proof Upgrades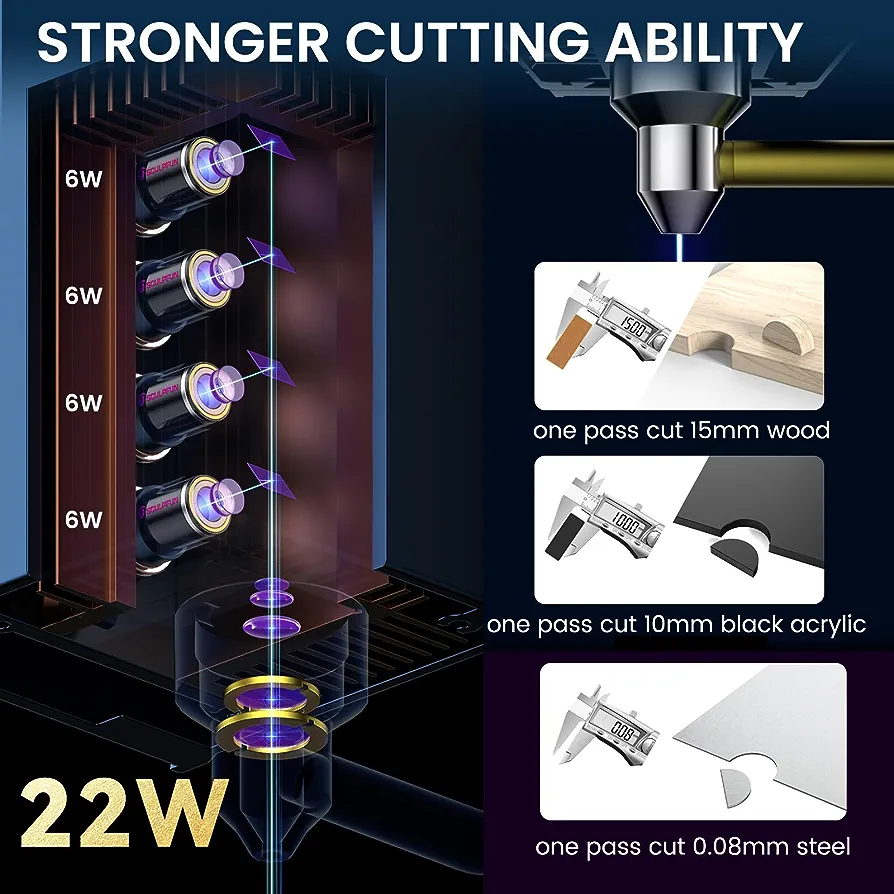 The S30 Ultra series is designed with future adaptability in mind. All models within the series, whether it's the 11W, 22W, or 33W variant, share the same power adapter, structure, and laser cable. This design philosophy ensures high compatibility and easy upgrades. Users can seamlessly transition between different power variants by simply replacing the laser head, eliminating the need for extensive modifications during upgrades.
Tool Organization and Maintenance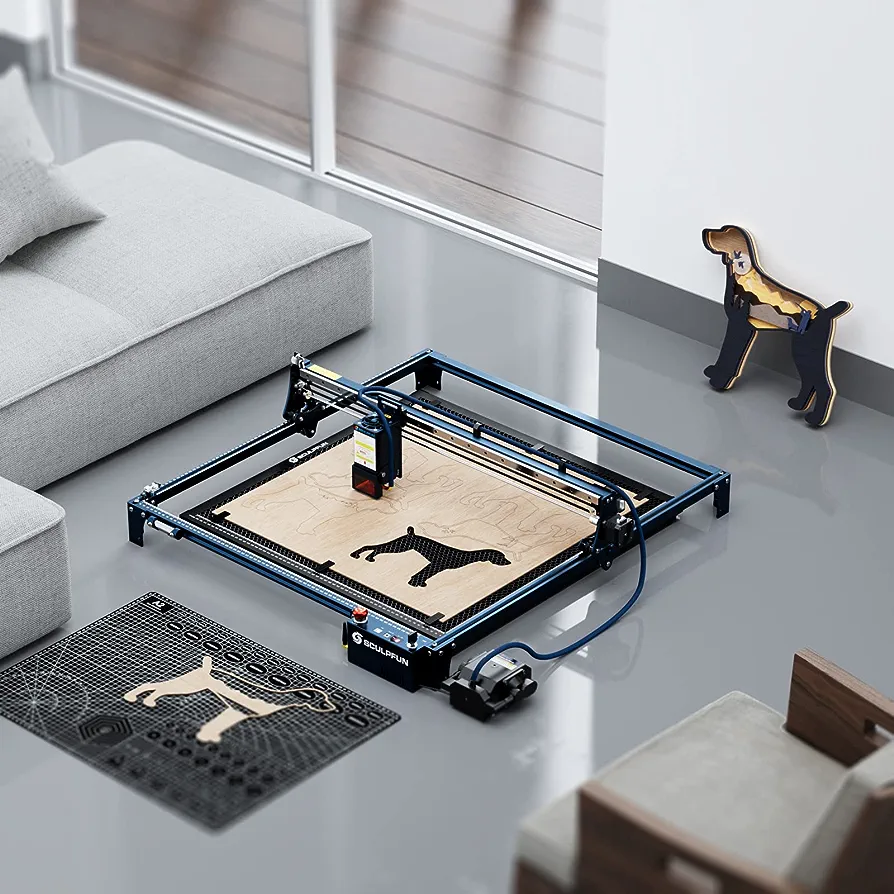 Recognizing the importance of efficient tool management, the S30 Ultra comes equipped with professional tool storage and maintenance boxes. This thoughtful addition includes essential tools like mechanical wrenches, tweezers, and nozzle cleaners, all neatly organized within the boxes. Additionally, a dedicated fixed-focus column storage box is integrated into the machine, offering convenient access to essential components for consistent performance.
Power and Precision
The S30 Ultra series features an enhanced 42-bit stepping motor, providing ample power for high-speed movement. With a torque of 4.2 Kg-cm (compared to the standard 3.1 Kg-cm), the motor ensures smooth and precise engraving even as the laser load increases. This robust motor negates the need for replacements during upgrades, ensuring sustained performance across various applications.
Durability and Longevity
Innovative engineering is evident in the S30 Ultra series' replaceable lens system. Unlike conventional lasers, these lasers offer a lifespan that exceeds 10 times the norm. The option to replace the lens extends the machine's cutting power and longevity. Additionally, the package includes a complimentary lens, and replacement lenses are both affordable and easily accessible from SCULPFUN.
Efficiency and Clean Cuts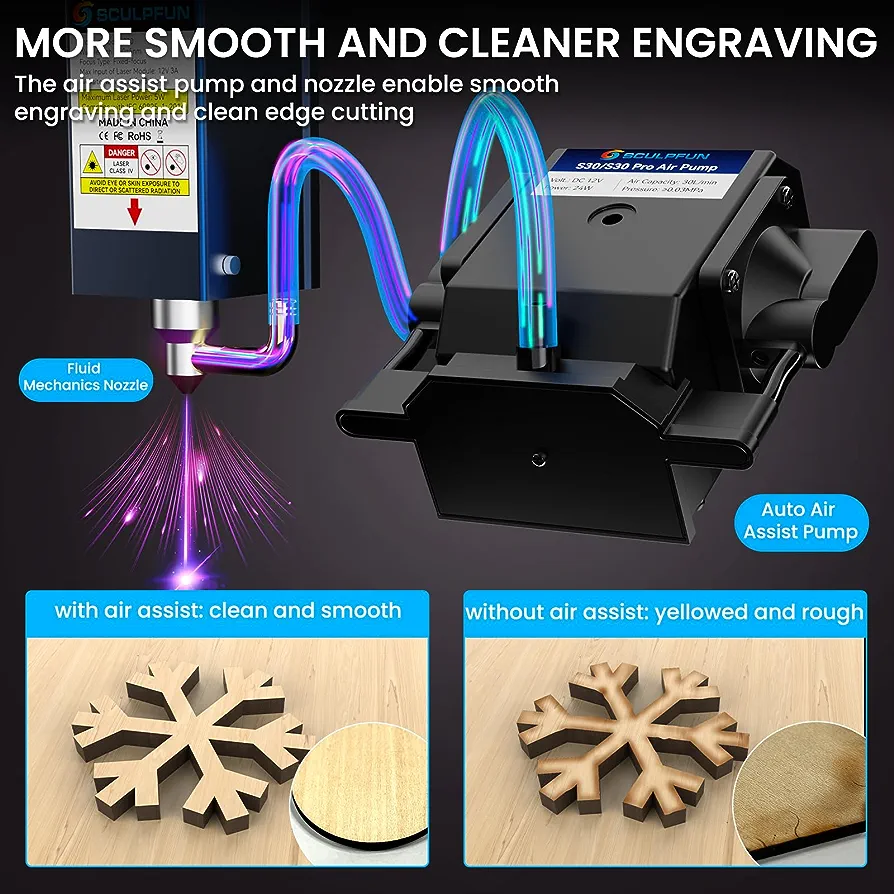 The integration of an advanced high-pressure air-assisted metal nozzle sets the S30 Ultra series apart. This feature harnesses high-pressure airflow generated by an air pump, significantly enhancing cutting efficiency. With cutting speeds more than five times faster than those without air assist, the forceful airflow ensures clean cuts by effectively removing debris and residue from the cutting surface.
Cutting-Edge Control
The S30 Ultra series embraces cutting-edge control technology with its upgraded 32-bit motherboard. This advancement introduces automatic air-assisted control functionality, allowing for seamless wireless BT connectivity. This wireless capability eliminates the limitations posed by USB cable distance, facilitating efficient control and operation.
Precision Redefined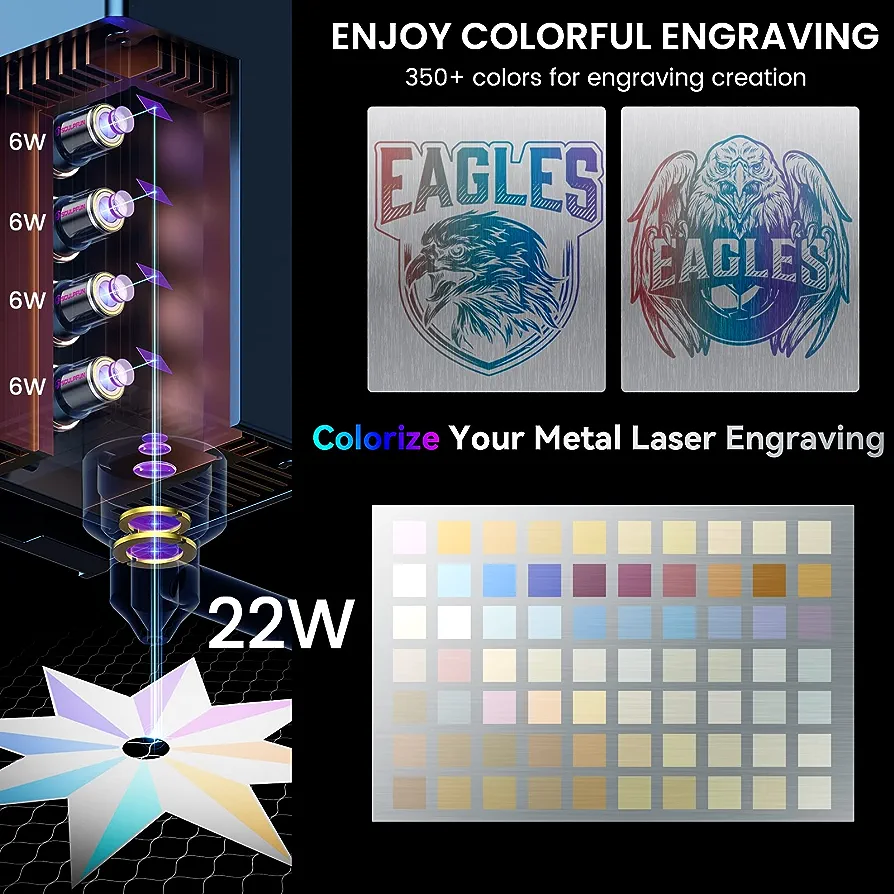 At the heart of the S30 Ultra's precision lies the adoption of a robust 0.005mm high-precision linear slide rail X-axis. This industrial-grade component sets the stage for unrivaled engraving precision. In comparison to standard engraving machines, the S30 Ultra boasts a lack of wavy patterns in small engraving details, ensuring consistent and flawless results.
Clear Vision and Adaptability
The S30 Ultra series introduces a detachable glass eye shield, enhancing user comfort and adaptability. This shield mitigates glare, ensuring optimal visibility even for users without glasses. For added convenience, users have the flexibility to remove the shield when not needed, optimizing their engraving experience.
Unyielding Strength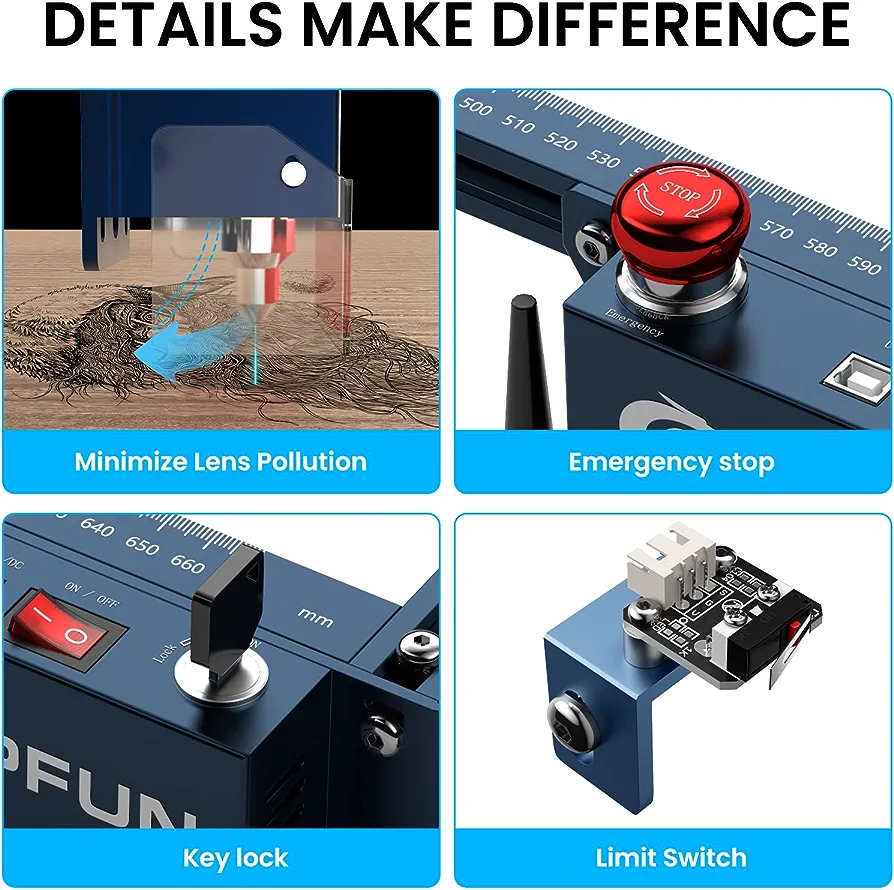 Crafted from high-strength aluminum alloy, the S30 Ultra series showcases a frame that withstands weights of up to 50KG without compromise. This sturdiness guarantees prolonged durability and high precision, even as the machine undergoes upgrades. When upgrades are necessary, the focus is solely on the laser component, illustrating the forward-thinking design approach.
The SCULPFUN S30 Ultra Laser Engraver emerges as a pinnacle of innovation in the realm of laser engraving technology. Its expansive engraving area, professional safety design, future-proof upgrades, and an array of advanced features collectively make it a powerhouse for artists, hobbyists, and professionals alike. With a commitment to precision, efficiency, and adaptability, the S30 Ultra series elevates the art of laser engraving to new dimensions, setting a standard that is sure to shape the industry for years to come.
Purchase Link

Buy SCULPFUN S30 Ultra Laser Engraver for only €669 on TomTop Online Shop

Coupon : EDS30U22W
Read also: DLNRG PPS2400 Portable Power Station for only €138 on TomTop