Samsung launched its new wireless headphone "Galaxy Buds Pro" during the official event to announce the Galaxy S21 series with many features and improvements included.
Where the headphones came with a different design that integrates the designs of the previous company's headphones, Galaxy Buds Live, Galaxy Buds and + Galaxy Buds, with the feature of noise cancellation, clearer sound quality, and a less prominent form of the ear when wearing.
Samsung said that its new headphones come with three microphones to enable the noise cancellation feature; Two outdoor and one indoor can reduce the ambient noise by up to 99%; The feature can be controlled according to what the user deems appropriate through high and low levels.
The headphones also provide four levels of surround sound control, which makes it easier for the user to determine what he wants to hear from the external surroundings, in a gradual process leading to complete isolation.
The headset has been supported with voice recognition, as it automatically switches between the noise canceling feature and the surround sound settings when the person begins to speak with the ability to control the speed of returning the headphones to their previous settings and before starting the conversation.
The Galaxy Buds Pro provides a high-quality experience during calls by isolating noise and unwanted external sounds through the "VPU" feature, which uses the three distributed microphones in it to purify the sound.
In addition to the previous features, the headphones support 360-degree sound settings via Dolby Head Tracking, with which you can sense the direction the sound is coming from in an integrated experience with the company's devices that support the same feature.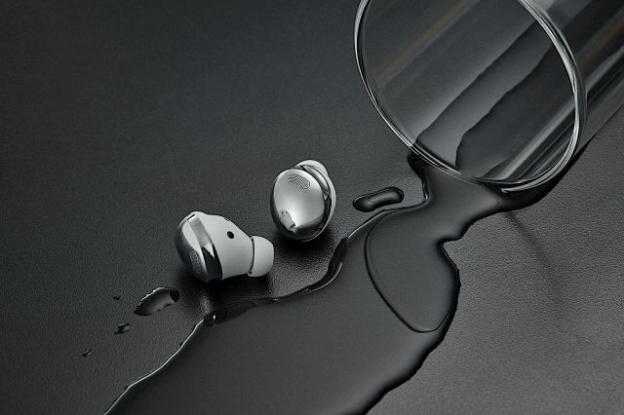 Water resistance and battery life
Speaking of water resistance, the headphones support the IPX7 standard, which is the highest water resistance in the company's headphones of this class; As it withstands to stay underwater for 30 minutes at a depth of 1 meter without any damage.
Regarding the battery, which is an important thing that all users are looking forward to, the company claimed that its headphones can stay for 5 continuous hours, while noise cancellation and voice commands are activated via Bixby; Total time with a container is 18 hours. Whereas if the features are not activated, the headphones last up to eight hours and with the container up to 28 hours.
Price and availability in the market
The headphones are currently available in three colors, namely: black, silver and purple, and can be purchased from the company's website directly at $ 200.
Read also: Lenovo LP1s Best Cheap Earbuds at $13.99 only