OnePlus has been testing the Android 11 beta on the OnePlus 7 series for a while. Finally, it appears that the flagship series from 2019 has started receiving the latest stable update for Android 11. OnePlus this week also released the OxygenOS 11 update based on Android 11 for the OnePlus 7T series. The OnePlus 7 series was also expected to get an update soon. Here you will know what is new in the OnePlus 7 Pro Android 11 firmware update.
The OnePlus 8 series is the first series from OnePlus to receive the stable Android 11 update and that was about half a year ago. OnePlus hasn't been as impressive this year in terms of the updates it used to have until last year. This may be due to the massive change in the user interface which has received both negative and positive feedback from the users. And after finally four successful beta tests, users of OnePlus 7 and OnePlus 7 Pro will also be able to experience the stable Android 11 system.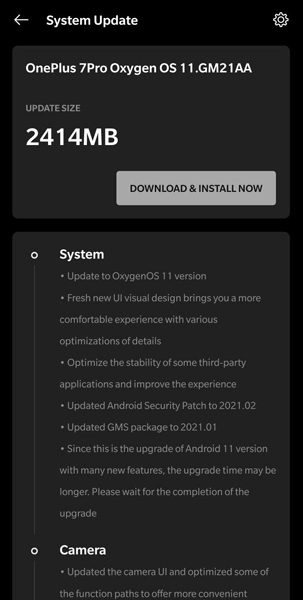 Android 11 update is available for OnePlus 7 Pro users with Oxygen OS version 11.GM21AA and for OnePlus 7, it is available with Oxygen OS build number 11.GM57AA. And since it is a major update, it weighs more than 2GB which is around 2,414MB. The update is recently rolling out but it brings a lot of new features. It also updates the security patch to February 2021. Yes, March 2021 is available for some devices but so far, it's not for OnePlus 7 users.
OnePlus 7 Pro Android 11 Update Changelog
System
Update to OxygenOS 11 version
The new visual design of the user interface provides you with a more comfortable experience with various detail enhancements
Improve the stability of some third-party apps and improve the experience
Android Security Patch has been updated to 2021.02
GMS package updated to 2021.01
Since this is an upgrade to Android 11 version with many new features, the upgrade time may be longer. Please wait for the upgrade to complete
Camera
Refresh the camera user interface and improve some function paths to offer more convenient operation
Newly added HEVC codec to smoothly reduce video storage size, capture more images and capture without compromising quality
Newly added accessibility to a third-party app to share the image by clicking on it and holding the preview
Newly added quick access to the recording mode by pressing and holding the shutter button and by moving the button, you can easily zoom in or out
The display was recently added in interval mode to show the actual shooting time
Ambient width
A newly added Insight watch style is a co-creation with Parsons School of Design. It will change according to the phone usage data (to set: Settings> Personalization> Clock on the surrounding screen)
Newly added Canvas feature which can automatically paint a wireframe picture based on a lock screen image on your phone (Path: Settings – Personalization – Wallpaper – Canvas – Choose preview image and can be created automatically).
Dark Mode
Added shortcut key for Dark Mode, and swipe quick setting down to enable
Support Auto feature and time range customization (Track: Settings – Display – Dark Mode – Auto On – Auto Enable from Sunset to Sunrise / Custom Time Zone)
Game space
Newly added gaming toolbox for Fnatic apt keys. You can now choose three notification methods: text only, notifications and blocking, just for an immersive gaming experience
Newly added Quick Reply feature in small window for Instagram, WhatsApp and Telegram (enable it by swiping down from the upper right / left corner of the screen in Game Mode)
Newly added touch misuse prevention feature. Enable it, swipe down from the top of the screen, tap and the notification bar will appear
Shelves
Newly shelf face design, the interface is more clear
Added weather widget, smarter animation effect
Gallery
Support story function, automatically create weekly videos having photo and video in storage
Improve gallery loading speed, image preview will be faster
The Android 11 update for the OnePlus 7 series is rolling out in batches and it's not region-specific. So, anyone can expect a stable OxygenOS 11 update for OnePlus 7 and OnePlus 7 Pro. Also, at first, the update will only roll out to a limited number of users. But it won't take long to spread it more widely.
Users who have already installed the beta on their OnePlus 7, you may not be able to upgrade to the public version directly. Updating to the stable build will remove the data on your phone so be sure to back up your important data.
The update is available to users over the air and you can expect notification. You can also search for the update manually by going to Settings> System> System updates. Then click the Download and Install button to install the update.
In case the update update is not available on your phone, you can avoid downloading the latest Android 11 zip file. You can follow the steps given below.
Basic requirements:
Charge your phone up to at least 60%
Back up your data
Steps to update OnePlus 7 (Pro) to Android 11
Download the latest OxygenOS 11 Zip file from the OnePlus forum or the Oxygen Updater app.
Copy the downloaded zip file to your phone storage. Keep it outside of every folder.
Now open Settings on your phone and go to System> System Updates.
Tap on the Settings icon and then tap on Local Upgrade.
Browse and locate the OxygenOS 11 zip file and install it.
Restart your phone and enjoy the latest OxygenOS update.
Read also: Android 11 update for OnePlus Nord has been paused due to bugs