When manufacturers roll out updates to their devices, they do so in phases, starting with a small batch first before rolling it out on a larger scale. The reason for this incremental rollout is that they can limit the number of affected users in case there are errors in the update and should be stopped.
OnePlus started rolling out the Android 11 update to its OnePlus Nord smartphone earlier this month, but it has now had to pause the update due to a number of software bugs. A staff member revealed in the forums that they have to pause the update after several users posted, and they had received an update notification earlier before it became unavailable.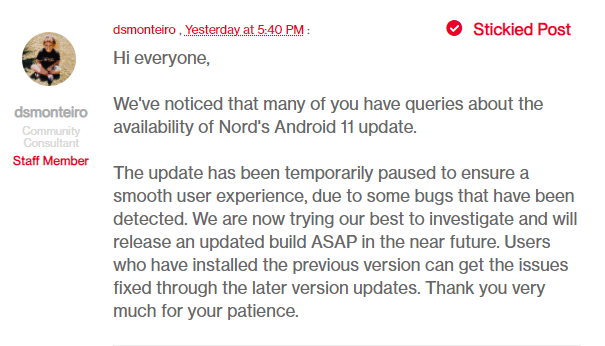 Users who received the update have complained of issues like battery drain, slow charging, and broken app locker preventing them from accessing their locked apps.
We expect OnePlus to fix the issues soon and resume rolling. So if you haven't received the update yet, don't worry or try to get the update from an unofficial source.
OnePlus Nord launched last year with the release of Android 10 out of the box, so this is the first major OS update. OnePlus is also expected to release the Android 11 firmware update for the OnePlus 7 / 7T series soon and hopefully, they won't have to pull the update off when it starts rolling out.
Read also: OxygenOS 10.5.7 Update available for Oneplus Nord N100