AtomIn the ever-evolving world of creative expression and technological innovation, the Atomstack A5 Pro stands as a beacon of excellence, setting new standards for laser engraving machines. With a plethora of remarkable features and capabilities, the A5 Pro empowers both professionals and hobbyists to turn their imagination into reality, crafting intricate designs on a diverse range of materials.
Features of Atomstack A5 Pro Laser Engraver
Unleash Your Creative Potential
The Atomstack A5 Pro laser engraving machine redefines the concept of creative freedom. It boasts the extraordinary ability to engrave a multitude of materials, including metal, wood, bamboo, plastic, leather, PCB boards, aluminum oxide, and lacquered metal. This versatility paves the way for users to bring their ideas to life with unparalleled precision. Whether it's crafting personalized gifts, intricate artwork, or prototypes, the A5 Pro becomes a conduit for turning concepts into tangible masterpieces.
Precision Redefined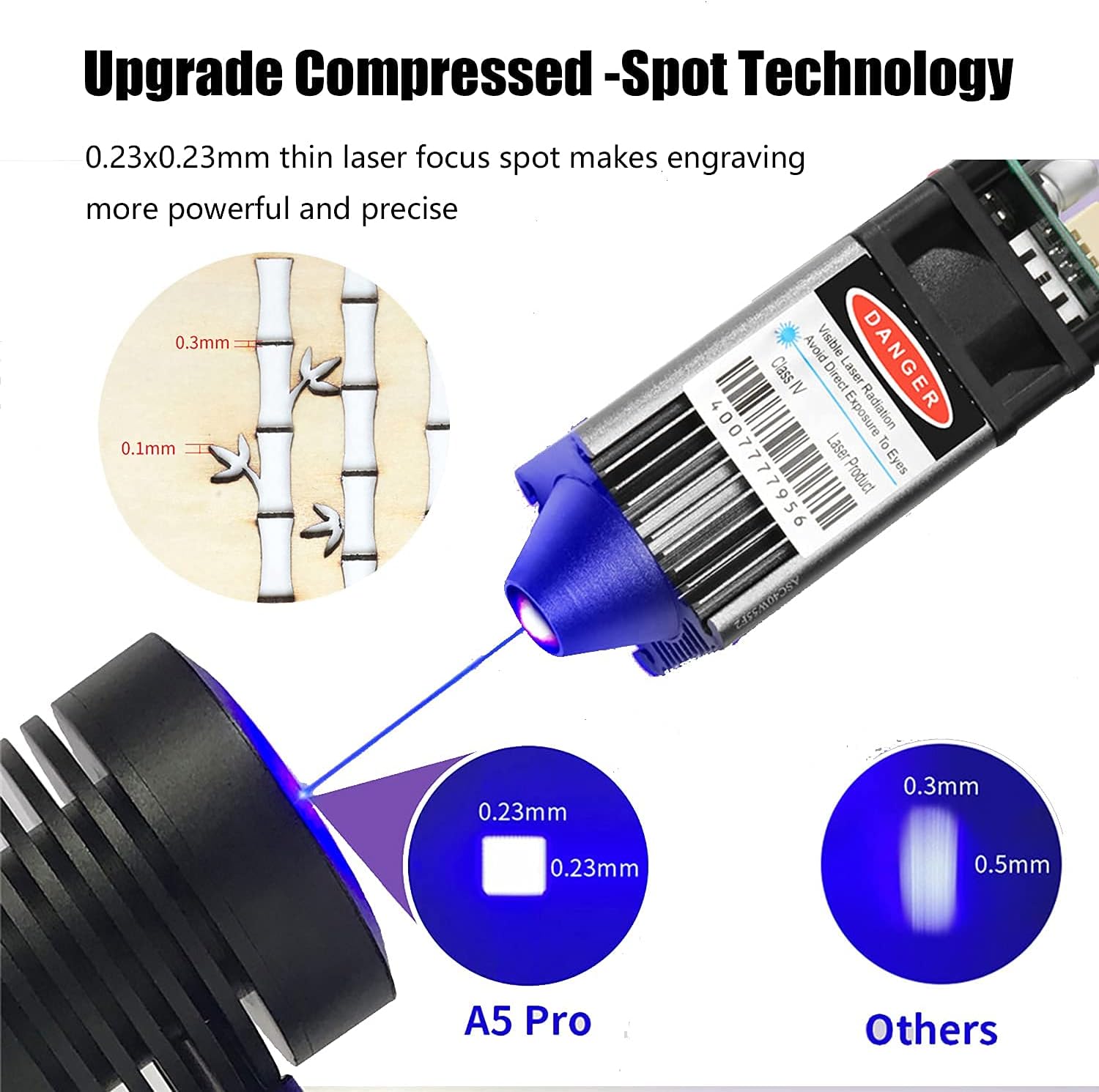 One of the defining features of the Atomstack A5 Pro is its exceptional laser engraving technology. Equipped with an impressive 5~5.5w output power and a 0.16mm ultra-fine compression laser focus area, this machine achieves an astonishing engraving accuracy of 0.01mm. This level of precision allows for the creation of exquisitely detailed designs, whether it's delicate patterns on wood or intricate etchings on acrylic surfaces. The A5 Pro's cutting-edge technology translates into a refined and flawless engraving process.
A Window to Creativity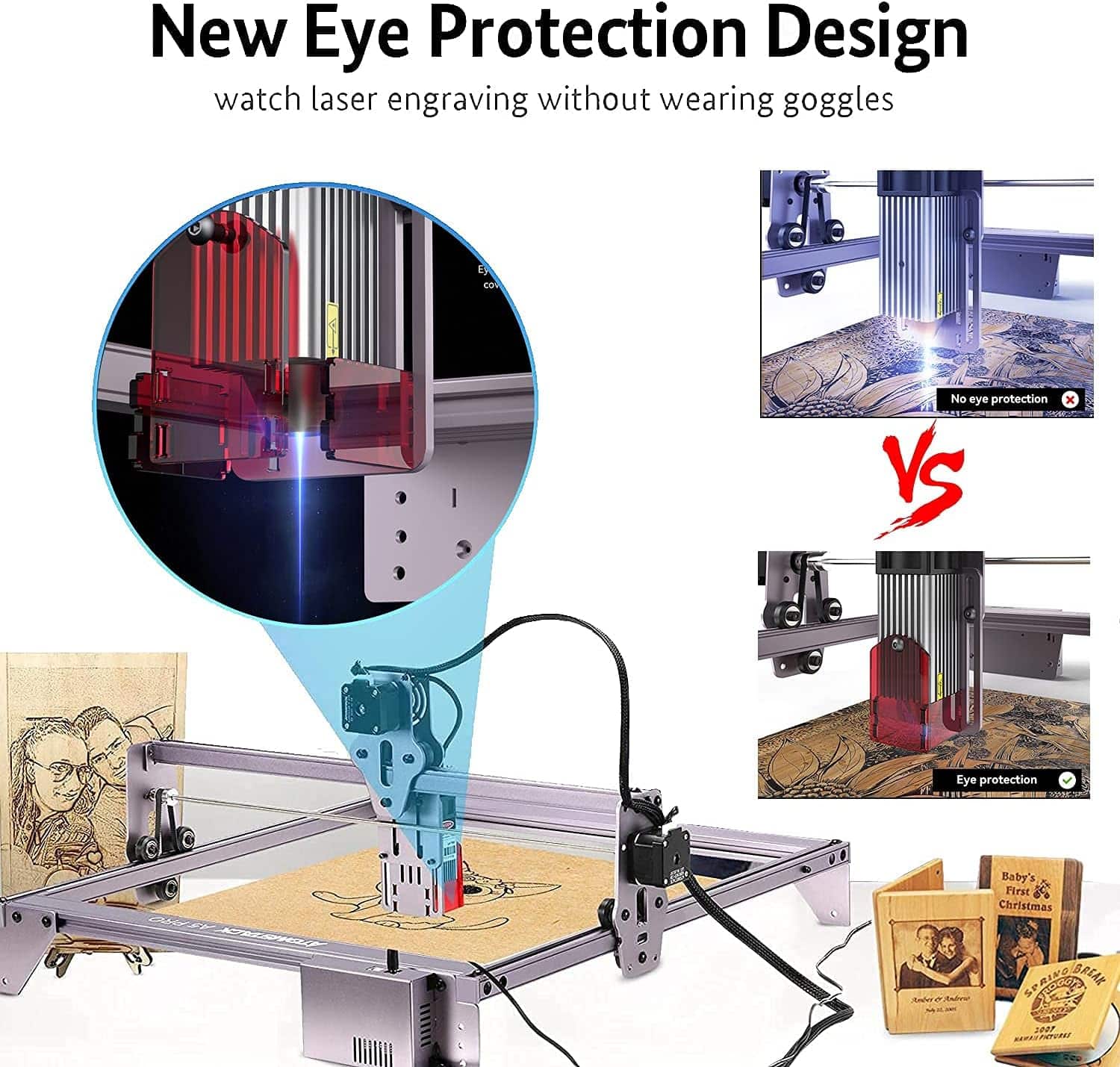 Safety and aesthetics are seamlessly integrated with the A5 Pro's unique 180° panoramic visible design. The laser module features a UV filter-retardant acrylic, effectively filtering out 97% of ultraviolet light. This not only protects the user's eyes but also ensures the safety of those around them. Moreover, the panoramic viewing area provides a front-row seat to witness the mesmerizing process of artwork coming to life. This visual spectacle enhances the experience, making the creative journey all the more captivating.
Engineered for Excellence
The Atomstack A5 Pro's high-performance structure design is a testament to its commitment to excellence. The machine incorporates an integrated screw rod system, enabling it to achieve an impressive running speed of up to 11000/min. This design choice significantly enhances stability and agility, particularly when engraving intricate and complex patterns. As a result, users can effortlessly achieve superior results, even with the most intricate designs.
Seamless Compatibility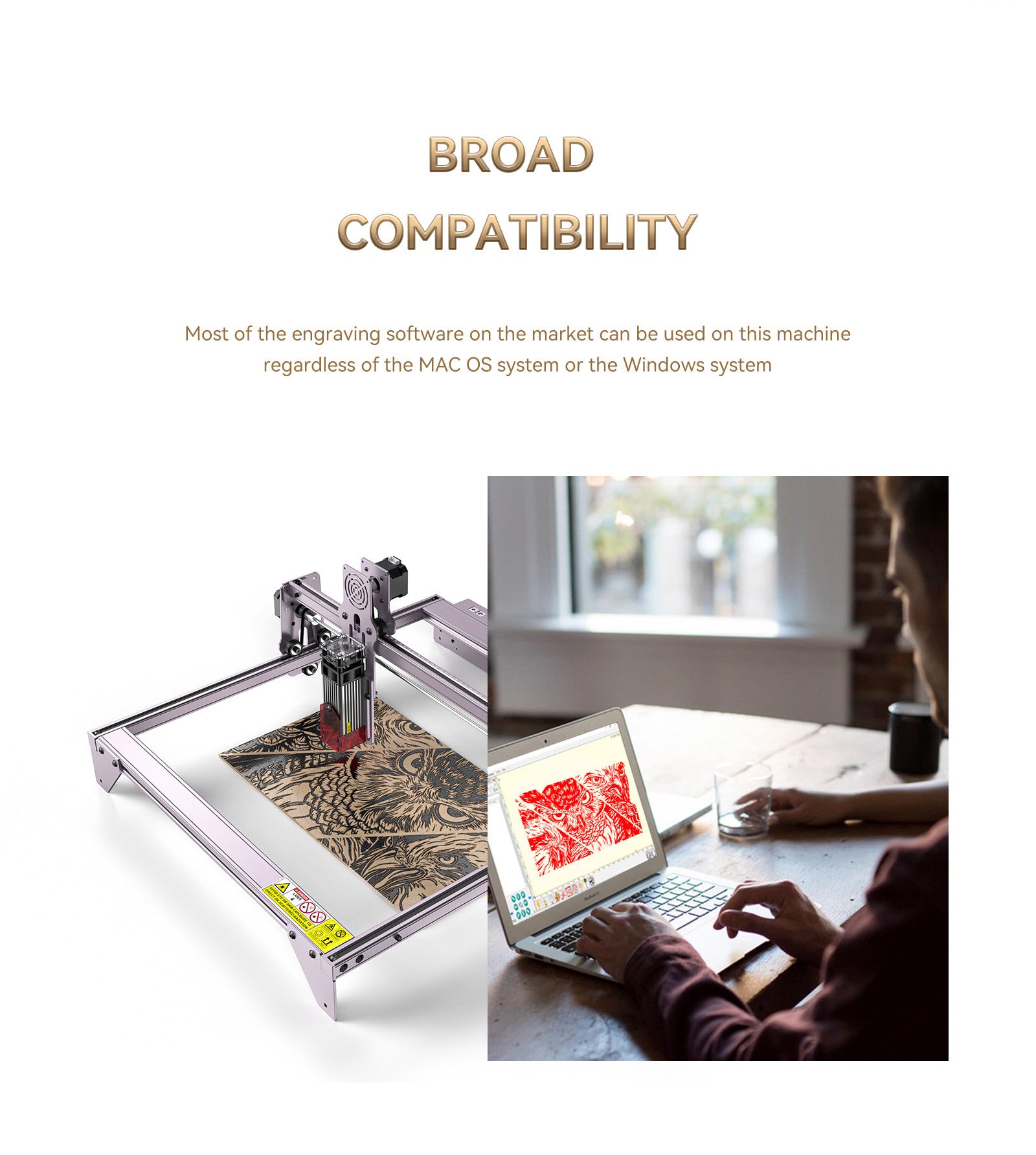 The A5 Pro's expansive compatibility ensures a seamless and user-friendly experience. It is designed to work harmoniously with a range of engraving software options, catering to different user preferences. For instance, LaserGRBL offers a free option, while LightBurn provides a paid alternative. LaserGRBL is compatible with Windows XP/7/8/10/11, while LightBurn extends its support to both Mac OS and Windows systems. The machine also supports a wide array of engraving file formats, including NC, BMP, JPG, PNG, and DXF, further facilitating a hassle-free creative process.
In conclusion, the Atomstack A5 Pro laser engraving machine represents a revolutionary leap in the realm of creative technology. Its unparalleled versatility, precision, safety features, structural design, and compatibility converge to offer users an exceptional tool for turning ideas into reality. Whether you're a seasoned professional or an aspiring artist, the A5 Pro invites you to embark on a journey of limitless creativity, making it the ultimate choice for those seeking to redefine creative boundaries.
Purchase Link

Buy Atomstack A5 Pro Laser Engraver from TomTop for only €154.99

Coupon Code : ED4728
Read also: Elevate Your TV Experience with the Redmi TV SoundBar for only $49.99