Among the leading Chinese companies in the field of electronics, we find Xiaomi, which is based in Beijing, was founded in 2010, and during this period it managed to occupy advanced positions in the field of smart phones along with the oldest and largest companies.
Xiaomi uses in its phones the Android system owned by Google with its interface that it adds to the Android system to add some of its own features, as well as improving the phone interface and others …, and Xiaomi's interface bears the name MIUI, as it recently started sending updates to version 12 of its interface while it started Work on the next release which will be MIUI 13.
In this article, we will provide you with a list of phones that will get this new interface when it is officially launched, as well as the features that MIUI 13 will carry and the date of release, for reference, all that we will present in this article is only expectations based on the approach that Xiaomi is going on.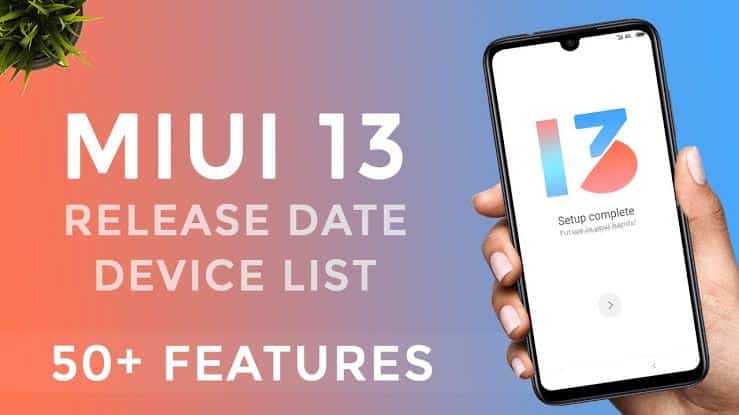 MIUI 13 features
UI improvements.
New and movements.
Improved battery performance
Improved fast charging
Power saving mode feature for longer time
 Add new gestures and functions
New themes
Edit and add instant photo and video filters
Improved Scrolling Screenshot feature
Improved application display list for sharing
Improved and added new features for the Always on display
Include video screen recording feature
The possibility of scheduling the airplane mode
Improved notification system for managing old and new notifications
Improving notifications of social media applications to facilitate response from notifications
Touch sensitivity improvement
MIUI 13 Release date
Xiaomi plans to launch MIUI 13 next June. This new version will be based on Android 11. Xiaomi will also provide the MIUI 13 beta at the beginning of next year 2021, and it should be noted that Xiaomi has started to launch the MIUI 12 update based on Android 11 for its smartphones.
Xiaomi phones that will get MIUI 13
Redmi MIUI 13 device list:
Redmi Note 10 Pro
Redmi Note 10 5G
Redmi Note 10
Redmi Note 10 Pro Max
Redmi K40 Pro+
Redmi K40 Pro
Redmi K40
Redmi Note 9T
Redmi 9T
Redmi 9 Power
Redmi Note 9 5G
Redmi Note 9 Pro 5G
Redmi K30s
Redmi K30 Ultra
Redmi 9 Prime
Redmi 9i
Redmi 9
Redmi 9A
Redmi 9C
Redmi 10X Pro 5G
Redmi 10X 5G
Redmi 10X 4G
Redmi K30i 5G
Redmi K30 5G Racing

Redmi Note 9 Pro
Redmi Note 9 Pro 5G
Redmi Note 9
Redmi Note 9 5G
Redmi K30 Pro Zoom
Redmi K30 Pro

Redmi Note 9S
Redmi Note 9 Pro Max
Redmi 9
Redmi K20 Pro Premium
Redmi K30
Redmi K30 5G
Redmi K20 Pro
Xiaomi Mi MIUI 13 device list:
Xiaomi Mi 10i 5G
Xiaomi Mi 11
Xiaomi Mi 10T Pro 5G
Xiaomi Mi 10T 5G
Xiaomi Mi 10T Lite 5G
Xiaomi Mi Note 10 Lite
Xiaomi Mi 10 Youth 5G
Xiaomi Mi 10 Lite 5G
Xiaomi Mi 10 Pro 5G

Xiaomi Mi 10 5G
Xiaomi Mi 10 Ultra
Xiaomi Mi Note 10
Xiaomi Mi Note 10 Pro
Xiaomi Mi CC9 Pro
Xiaomi Mi Mix Alpha
Xiaomi Mi 9 Pro 5G
Xiaomi Mi 9 Pro
Xiaomi Mi 9 Explorer
Poco MIUI 13 device list:
Poco C3
Poco X3 NFC
Poco X3
Poco M2 Pro
Poco M2
Poco M3
Poco F2 Pro
Poco X2
Black Shark MIUI 13 device list:
Black Shark 3 Pro
Black Shark 3
Black Shark 2 Pro
Black Shark 2
Black Shark 3S
These Xiaomi smartphones may (or may not) get the MIUI 13:
Xiaomi Redmi Note 8T
Xiaomi Mi 9 Lite
Xiaomi Redmi Note 8 Pro
Xiaomi Redmi 8
Xiaomi Mi 9T Pro
Xiaomi Mi 9T
Xiaomi Redmi K20
Xiaomi Mi Mix 3 5G
Xiaomi Mi 9 SE
Xiaomi Mi 9
Join US on Telegram : https://t.me/midealss
Read also : Download Xiaomi Mi 11 Stock Wallpapers 4K Full Resolution