Xiaomi Mi A3 phone this period gets the Android 11 update, but does not update, it is normal for a phone to work within the Android One project on Android 11, but the problem from Xiaomi is that it sent an error in the update this time leading to the death of the device completely, no one knows the reason But many devices around the world now are not working due to the update and because the main board of the device has been completely damaged, in this news we will transfer all the known details about the latest Xiaomi update.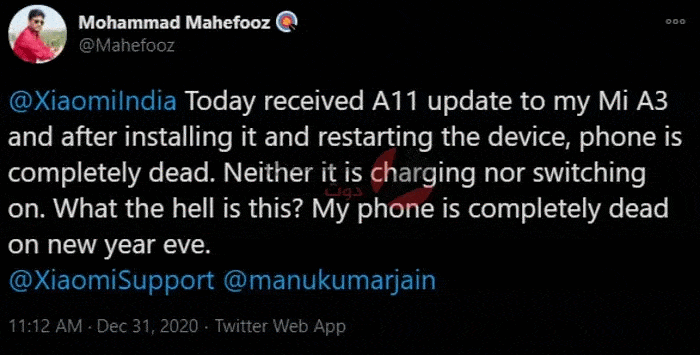 A new update arrived on Xiaomi's phone, but it caused the motherboard to be completely damaged suddenly and without any introduction, the phone does not work and does not accept charging permanently after the update and this is what xda monitored after users' complaints spread on the twitter site, which angered users because their devices were damaged And it stopped working, many users confirmed that this is a malfunction in cutting the device because they could not enter the ADB commands or connect the devices to the computer at all.
There is no official response from Xiaomi global regarding the Mi A3 and Android 11 incident, but in Egypt the company spoke to the official group to interact with users of devices on Facebook that the company will bear the repair of all damaged devices for free, whether they are within the warranty or not, and if you cannot, the company will bear the cost of replacing all devices The damaged device, whether within the warranty period or not, will replace the motherboard for all damaged devices for free, provided that the device was purchased from Egypt and not from another country, the quick response is good and Xiaomi's offer to replace the devices is excellent, but the important question that needs clarification is how a final update can cause In such incidents?
Read also : Xiaomi Mi 11 Features & Details and Prices