As part of its participation in CES Electronics, Asus revealed three new computers dedicated to gamers from the ROG series that feature some completely new features such as a 360 Hz screen for the first time in a laptop.
ROG Flow X13
The case comes in a small 13-inch format and is equipped with up to an AMD Ryzen 9 5980HS processor and NVIDIA GeForce GTX 1650 graphics card. The energy-efficient CPU helps extend battery life, giving the Flow X13 up to 10 hours of gaming on a full charge. It also comes with a lightweight 100W USB-C PD charger that can charge a 60% empty battery in just 39 minutes.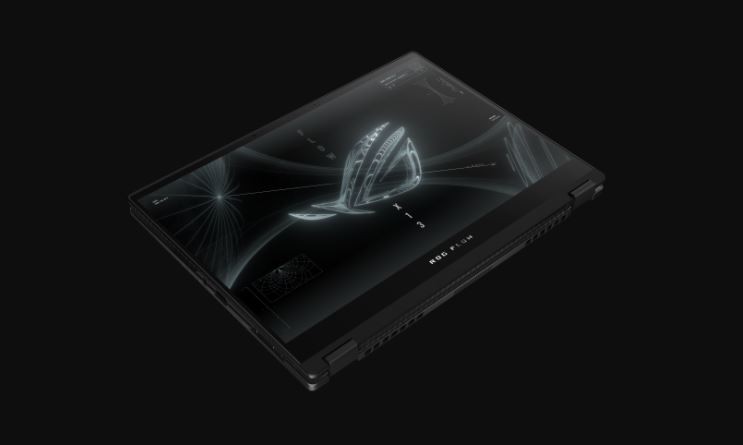 The Flow X13 features a flip design that allows the screen to be flipped 360 degrees for use in various scenarios.
The laptop is available with two screen options either FHD 120Hz or 4K resolution with strong Corning Gorilla Glass and features a narrow-frame design and support for touch and stylus input.
Both screen options have a 16:10 aspect ratio, and support Adaptive-Sync and Pantone certification for superb color accuracy. And Dolby Atmos audio technology for immersive, clear sound.
In addition, the AI ​​bi-directional noise cancellation ensures clear in-game communication and is powered by a processor to have minimal impact on gaming performance. The Flow X13 can be paired with XG Mobile, an external GPU with NVIDIA GeForce RTX 3080 graphics.
XG Mobile Flow gives X13 graphical prowess equivalent to full-size gaming platforms. The external graphics card connection supports a transfer speed of 63 Gbps to make versatility, content creation, AAA games and work on the go easy, as well as powerful games at home.
XG Mobile also includes a USB 3.2 Gen 2 port, which feeds an I / O hub with an additional connection, and a built-in 280-watt AC adapter, which supports both the XG Mobile and the Flow X13 so that users do not need to carry extra power or power adapter. The cooling system in Flow X13 has been finely tuned for high performance in a compact case.
ROG is the first to cool liquid metal AMD processors in mass production laptops. The Flow X13 has three heatsinks and fan outlets, and new Arc Flow fans improve airflow by up to 15% without increasing noise.
The self-cleaning thermal unit also ensures reliable performance over time. ROG offers multiple operating modes so users can set the cooling system for different requirements
ROG Zephyrus Duo 15 SE
Zephyrus Duo 15 SE features the new ROG ScreenPad Plus to give gamers a secondary screen advantage for more usable screen space for gaming and productive tasks.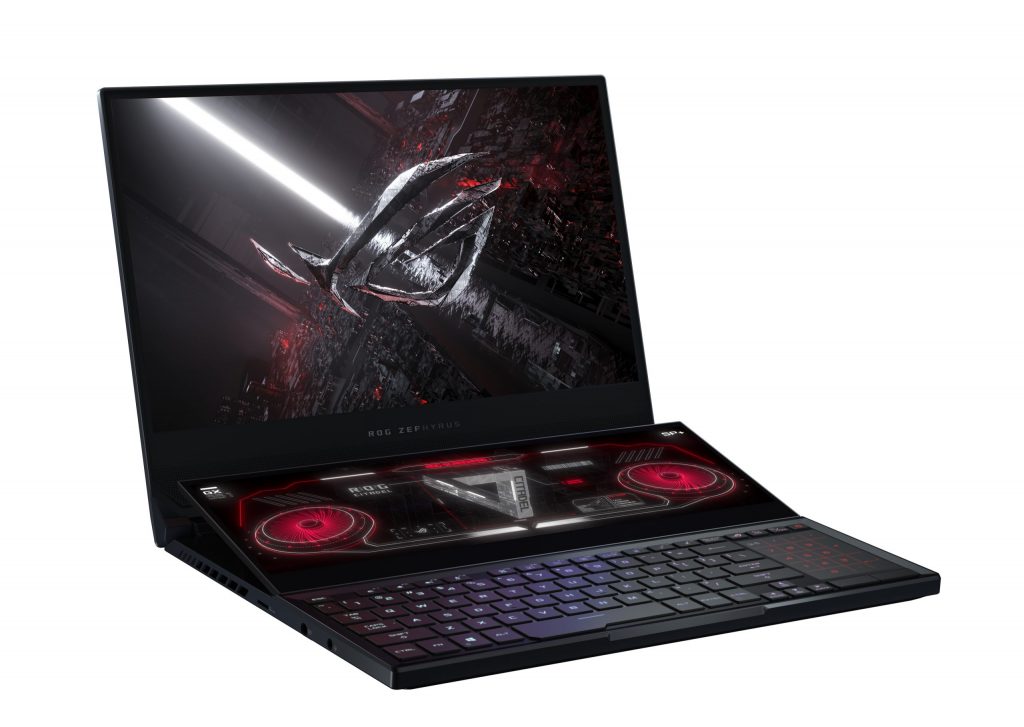 ScreenPad Plus raises a few notches when opening the laptop screen to give the user a comfortable viewing angle. The ultra-slim Zephyrus Duo 15 SE is powered by up to an AMD Ryzen 9 5900HX CPU and NVIDIA GeForce RTX 3080 graphics that comes with a 4K 120Hz display with 100% Adobe RGB color space coverage or a 300Hz FHD screen with a 3mm response time Sec, 100% sRGB color space coverage.
Both panels are validated by PANTONE and feature thin-bezel designs and Adaptive-Sync technology. Gamers can use the secondary ScreenPad Plus to surf the web, read emails, chat via instant messaging apps, or broadcast or record gameplay.
ROG has worked with developers to get additional interactive content on the secondary screen, as well as partnering with XSplit Gamecaster to allow players to monitor the broadcast while playing on the home screen.
Additionally, ROG has worked with Adobe to obtain additional content creation tools for some of its creative programs. Built-in bi-directional AI noise cancellation provides clear communication, while upgraded speakers deliver clear, rich sound.
Dolby Atmos gives users exceptional sound quality when listening to music, as well as providing accurate 3D sound to allow users to select the source of in-game sounds. An upgraded Active Aerodynamic System Plus (AAS +) cooling system allows more power to be fed to the main processor and card processor Graphics without increasing noise levels.
The design provides an air intake under the secondary screen to aid in cooling. It features new Arc Flow fans that increase airflow by 13% compared to the previous generation, conveys heat from the AMD CPU with a liquid metal thermocouple, and uses five heat pipes and four heatsinks with a larger surface area.
ROG Strix SCAR 17
It's a powerful gaming center that can be customized with up to a GeForce RTX 3080 graphics card and up to an AMD Ryzen 9 5900HX processor. It has dual-channel DDR-3200 MHz memory up to 64GB and features new fans and liquid metal cooling. Designed to be the best portable e-sports calculator, the SCAR 17 delivers ultra-fast images on the world's fastest 360Hz laptop screen in FHD resolution with 3ms response time, or WQHD 165Hz DCI-P3 with high color quality and fidelity.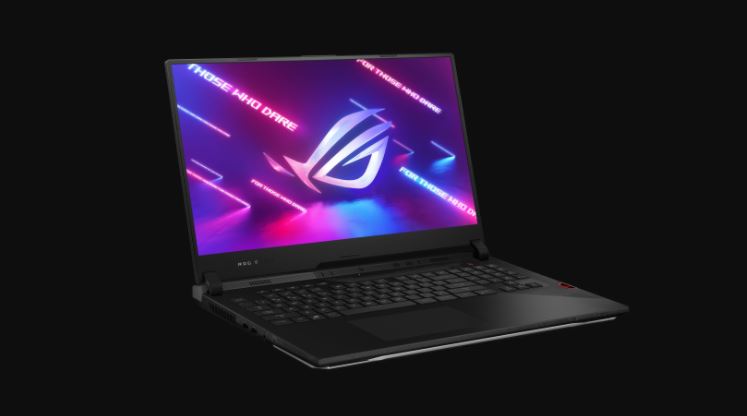 Both options feature Adaptive-Sync technology, and ROG engineers have reduced frame size to deliver a larger screen-to-body ratio for more fun gaming. The SCAR 17 features a symmetrical design and Dolby Atmos technology to give players a competitive edge, allowing them to precisely pinpoint the source of in-game noise such as footsteps or gunfire.
AI bi-directional noise cancellation filters out ambient noise for crystal clear in-game communication, even when playing in noisy environments.
The larger 90Wh battery now provides up to 12 hours of video playback on a single charge, with support for fast charging and compatibility with 100W USB Type-C power adapters.
The SCAR 17's optical mechanical keyboard features RGB illumination for each key, 1.9mm key travel, and zero grip delay for near-instant input. The mouse pad is also 85% larger than that of the previous model, making it easier to use on the go.
The SCAR 17 is more compact than its predecessor, and this new design also includes a high-density RGB lighting strip around the bezel's leading edge, an additional lighting strip under the display, a set of three user-interchangeable hinge covers and a bold font.
The refined cooling system extracts peak performance from the SCAR 17 while reducing noise levels by 3 dB compared to the last generation. Enhancements include the use of a metallic liquid thermal compound on the AMD CPU, new Arc Flow fans with special blade heads that reduce turbulence with an aerodynamic wave pattern and a more efficient self-cleaning cooling system.
Read also : Oppo Find X3 Pro Features & Details and Price