Blackview BL6000 Pro, the world's first 5G and toughest rugged smartphone, is to releases an upgraded version equipped with the latest Android version 11.0 OS in May at $379.08 ($220.91 OFF). The discount promotion lasts from May 22nd to June 8th.
Unmatched Experience with Android 11.0 OS New Features
The latest Android version 11.0 OS introduces brand new features that focus on Improved Visual Experience, Smarter Device Control and Enhanced Privacy.
To be more specifically, the newest Android 11.0 OS changes the way to manage the conversations with the all-in-one notification section and chat bubbles. It's easier to chat and keep up with the new notifications across different apps. Moreover, with the more friendly interface, you get a faster and smarter device control over smart home devices, media plays and more. Furthermore, this new OS gives one-time permissions to limit the app access to the device's microphone, location, and camera to guarantee the privacy security.
It's because of these powerful new features of the latest Android version 11.0 OS that the Blackview BL6000 Pro rugged smartphone makes upgrades from the old Android 10.0 OS to further level up the user experience.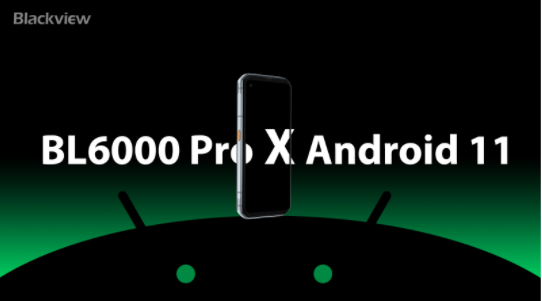 Key Optimizations Based on the Old BL6000 Pro with Android 10.0 OS
Besides the OS changes, this new-gen Blackview BL6000 Pro has also made over 100 improvements and optimizations to provide smoother and more efficient operation. The highlights are as follows: 
Compared with the old BL6000 Pro phone with Android 10.0 OS, the sensitivity of screen touch is moderately reduced to prevent mistouch from accidental presses on the display while not sacrificing the recognition accuracy. 
Moreover, the sliding conflict is improved with more accurate gesture recognition. Faster fingerprint unlock is achievable with a more sensitive sensor panel so you can open the lock screen in a flash. The signal intensity and charging speed of BL6000 Pro are also enhanced to boost the experience.
Android 11 Blackview BL6000 Pro Available at $379.08 ($220.91 off)
For the upgraded Blackview BL6000 Pro with the latest Android 11 OS, it's sold at a staggeringly low price of $599.99. You only pay $379.08 ($220.91 OFF)  from May 22nd to June 8th PT to get this smartphone.
Update the Old Android 10 BL6000 Pro via OTA on June 5th
The users with the old Android 10.0 OS BL6000 Pro mobile phones can also manually make upgrades through OTA update on June 5th . 
Buy BlackView BL6000 Pro for only $379.08
Read also: Grab Blackview A90 Smartphone for only $113 (86$ Off)