Blackview is a global technology brand, who started as a rugged outdoor phone manufacturer in 2013 and gradually branched out into stylish smartphones, tablets and wearable devices. Thanks to its cost-effective products, Blackview has raised the bar on affordable smart device standards. So we're excited to see what comes with Blackview Tab 10.
Blackview Tab 10 Specs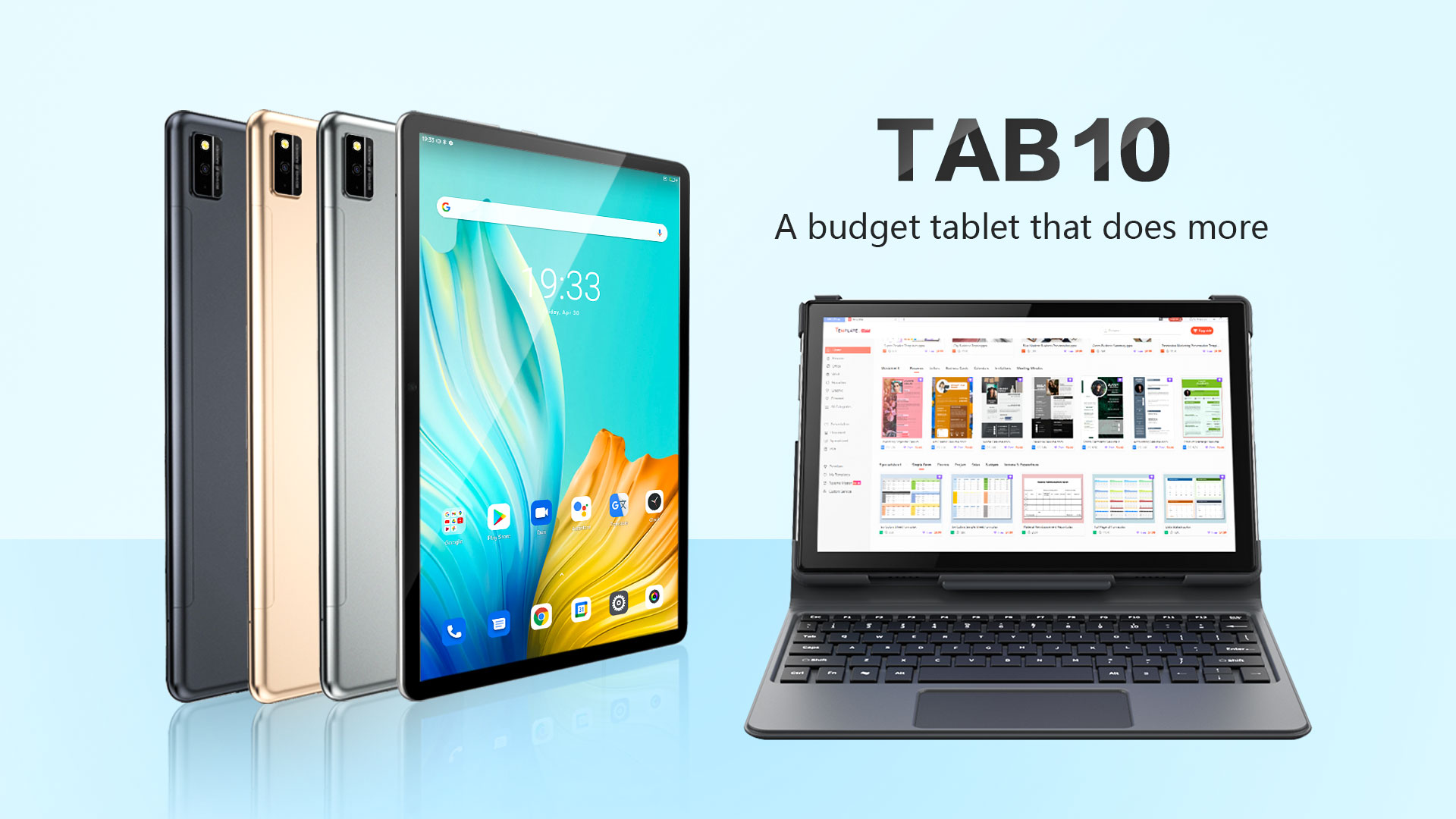 Self-developed OS based on Android 11
For several years, Blackview has been making efforts to give users more control and convenience. It paired Tab 10 with the self-developed Doke_P 1.0 OS, making it one of the first affordable smart device makers to release its own operating system based on Android 11.
Doke_P 1.0 OS makes an optimized Android tablet, delivering exquisite app icons, System Manager, Cold Room, Dark Mode, Game Mode and a range of useful features.
If you have had hands-on experience with it, you would have clearly felt the smoothness and enhanced efficiency. It outperforms the old models from Blackview and is as fast and responsive as any best performers in the market, such as Huawei, Samsung and Apple tablets.
7480mAh, twice as large as average
Compared with other affordable tablets whose battery capacities are mainly around 5000mAh, Blackview Tab 10 delivers long-lasting power with a 7480mAh high-capacity battery. According to the experimental data, it easily supports 5.5hours of game, 6 hours of video, 30 hours of music and 600 hours of standby time. Definitely, it's more than enough for anyone even if you work and study for a long time straight, or follow a TV series nearly until the end of a season.
8.8mm slim and durable aluminum body
Despite a high-capacity battery, Blackview Tab 10 features an ultra slim body housed in a  durable metal cover.
If you travel a lot and want a carry-along companion anytime and anywhere, Blackview Tab 10 is definitely an ideal choice. At only 8.8mm thick, it is noticeably thinner than its rivals, fitting perfectly in hands. And it comes with aluminum finish and curved edge, making it more durable and comfortable to touch while maintaining a stylish and sleek appearance.
10.1 inch FHD+ large display
Featuring a 10.1 inch FHD+display, Blackview Tab 10 brings vivid colours and excellent contrast, helping users capture every detail on their screen, whether it be for study, work or play.
And it is also big enough for a split view, allowing users to fill the screen with two apps, which extremely please productivity enthusiasts. Additionally, the narrow bezel brings users closer to the stories when watching movies, shows and playing games.
Powerful Octa-core MTK8768 processor
Powered by an octa-core MTK8768 processor, Blackview Tab 10 is designed for high-mobility and high-performance, responsive and stable enough to deliver smooth multitasking.
Paired with 4GB RAM and 64GB ROM, and up to 128GB of expandable storage, Blackview Tab 10 allows you to download your favorite movies and store photos, less worrying about being limited by storage space.
Blackview launches Tab 10 with 4GB +64GB and Android 11 at $139.99
Other highlights
Dual 4G SIM: To be reliable anytime and anywhere,  Blackview Tab 10 offers 4G LTE connectivity, which brings convenience for anyone who does not have a reliable Wi-Fi network.
Optional keyboard: For those who use the tablet for working and taking notes in class, they can transform it into a PC-like experience by connecting an optional keyboard. Users can rely on its high performance, enabling all day productivity.
Better cameras than ever:  Budget tablets barely put effort on cameras, but Blackview Tab 10 comes with  8MP front camera and 13MP rear camera, which have a higher performance than its predecessors. It easily captures the wonderful moments in life and makes a video call anytime.
The best tablet won't be the same for everyone. Obviously, for those who have a limited budget and want a tablet for online classes, remote work or just online entertainment, Blackview Tab 10 is a cheap alternative to expensive best performers.
Blackview Tab 10 comes in three colors(gray, silver and gold) and is now available at an astonishingly low price of $139.99 (original price $199.99) from June 7th to June 11th PT. And it will be priced at $149.99 from June 12th to June 20th PT.
Blackview launches Tab 10 with 4GB +64GB and Android 11 at $139.99
Read also: New Blackview BL6000 Pro with Latest Android 11.0 OS Launch at $379.08