In recent years, competition has been exceptionally high across all sectors of the economy. As someone passionate about digital technology, I've seen the same thing happening right now among digital manufacturers. For instance, mobile phones are continually being updated with new functions. When we went out in the past, we needed to have cash and bus cards, but now all we need is a mobile phone. The more functions a mobile phone has, the more battery capacity it needs, and a battery only has so much life left before it dies.
In light of the recent developments, several manufacturers have prioritized the development of faster-charging technology. The foldable AOHI Magcube 100W charger will guarantee that all of your electrical devices continue to be charged and ready for use. This foldable GaN charger offers up to 100 watts of quick charging on a single connection. As a result, it can recharge a 16-inch MacBook Pro from 0% to 100% in just 1.8 hours.
Whether you are a person with a hectic life at home, a student, or a working professional, you rely on your electronic devices throughout the day. It is true for everyone. Because of this, having a problem with their batteries running out of life is an unpleasant issue. However, the AOHI Magcube 100W makes charging simpler since it supplies power to your devices in a short amount of time, is compatible with a great majority of electronic devices, and is incredibly simple to move. Please include it in your working space to resume the task more quickly.
Buying Link

Buy AOHI MagCube 100W Foldable Charger for only $72.99 on Amazon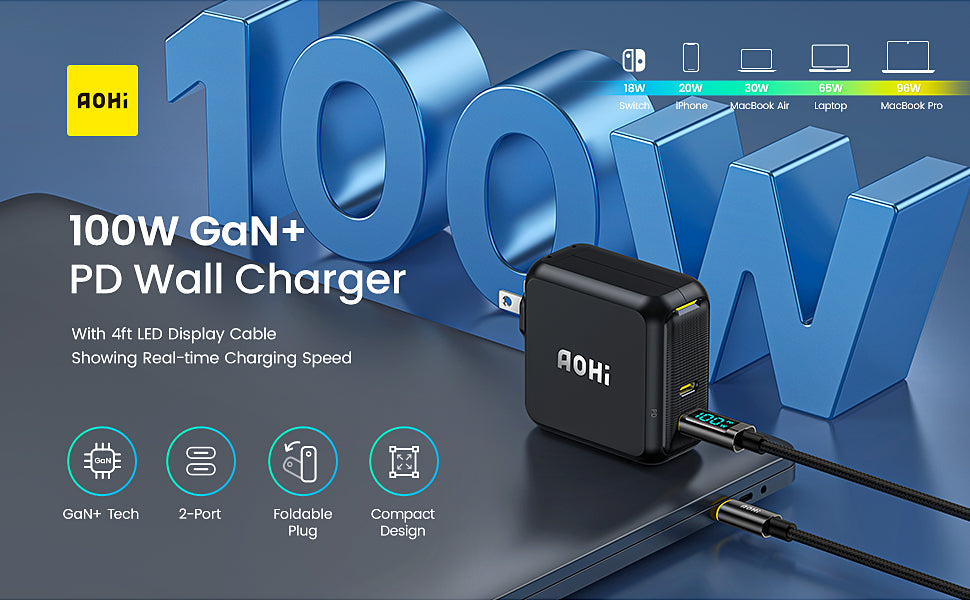 AOHI Magcube 100W Foldable Charger Features:
A USB-C charger with a power delivery system and 100 watts
The AOHI USB C wall charger supports up to 100W PD fast charging when used with a single port. It enables fast charging for a MacBook Pro 16″, taking it from 0 percent to 45 percent in only 30 minutes and from 0 percent to 100 percent in about 1.8 hours. This type of charging is ideal for laptops, tablets, and phones because it is quick and efficient. Our charger can also pack more power into a smaller package thanks to the application of advanced GaN+ technology, all without producing excessive heat.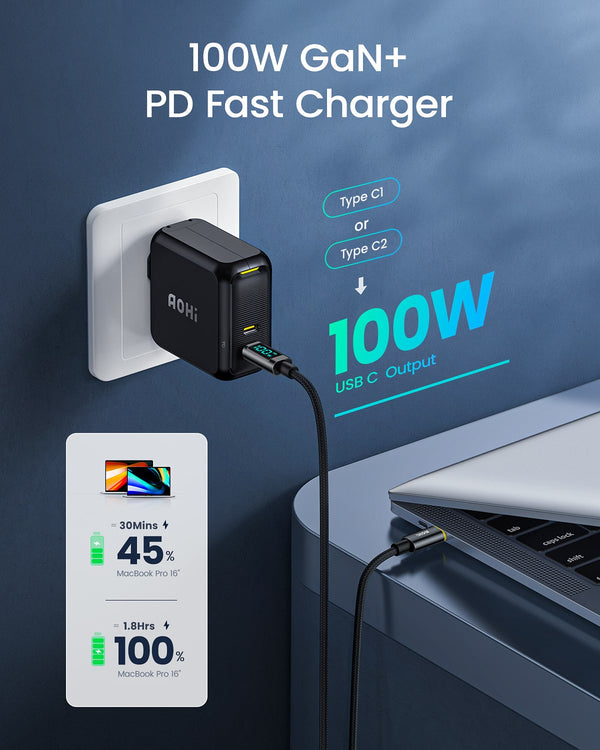 Dual USB-C Ports with Intelligent Power Allocation
The power adapter for PD devices with two ports uses intelligent power allocation, automatically identifying and optimizing the power supply. It not only guarantees that the linked devices always get the best possible charge, but it also enables the simultaneous high-speed charging of two different devices at the same time. You can swiftly charge two computers simultaneously using this 100W PD charger. Alternatively, you may charge one laptop and one phone simultaneously.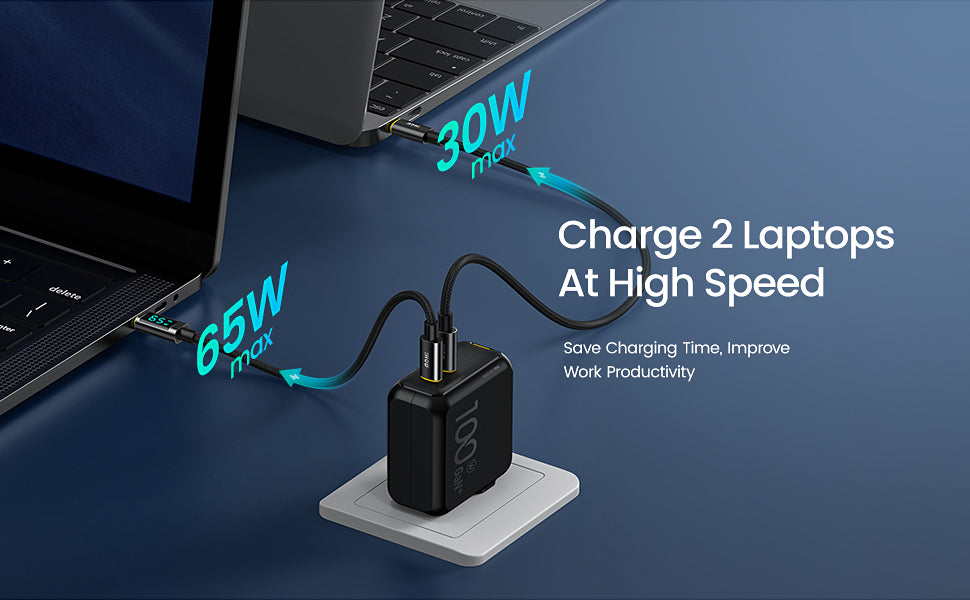 Compact Design & Multiple Safety Protection
The dimensions of this GaN+ USB C rapid charger are 2.36 inches x 2.36 inches by 1.26 inches, and it weighs 0.44 pounds. Its foldable prongs and ultra-compact form allow maximum mobility wherever you go, making it an excellent choice for users at home, in business, and when traveling. In addition, both you and the devices that you are charging are shielded from potential hazards by the charger itself. These safeguards include protection against over-current, over-voltage, over-heating, and short-circuit protection, amongst others.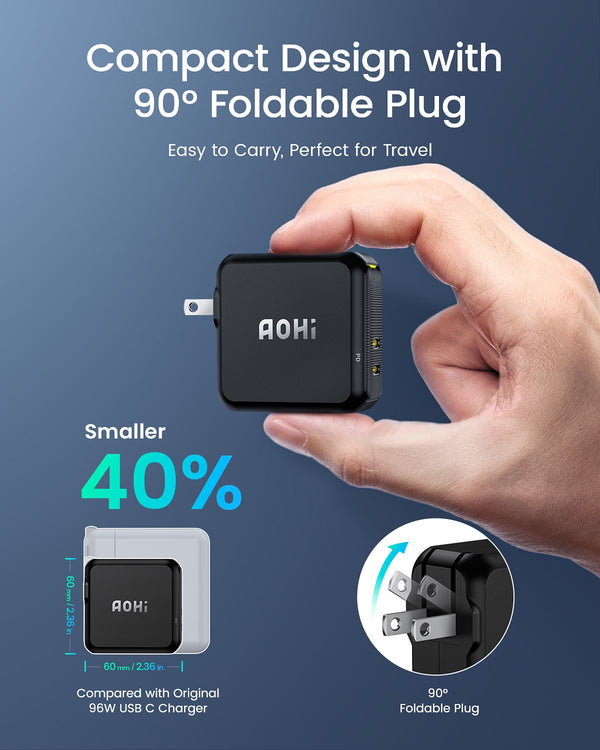 A USB C to USB C LED Display Cable of four feet in length is included
Our 100W USB C charger comes with a 100W USB C to USB C LED digital display cable that is 4 feet in length to provide you with the most convenient and visible charging experience possible. This cable boasts a sleek LED digital panel to monitor real-time power and charging speed, and it supports up to 5A, 100W PD fast charging, and 480 Mbps data transfer speed. It is equipped with an E-Marker chipset, which makes charging quicker and safer.
Comprehensive Compatibility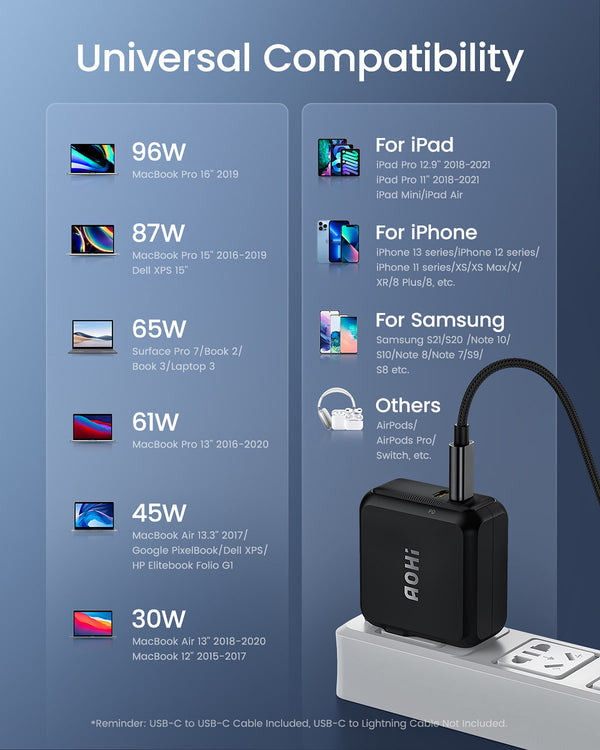 The following electronic devices are compatible with the 100W USB C power adapter, which can supply power at the following levels: 18W, 30W, 45W, 60W, 65W, 87W, and 100W. iPhone 13/13 Pro/13 Pro Max/13 Mini/12/12 Pro/12 Pro Max, Galaxy S21/S20/S10, Note 20/10+, Pixel 3XL/3/2XL, MacBook Pro/Air, iPad Pro/Air/Mini, XPS, ThinkPad, Mate Book, iPhone 13/13 Pro/13 Pro Max/13 Mini/12/12 Pro/12 Pro Max, Your purchase will include the following things at no further cost to you: a single AOHI Mag cube 100W 2-Port USB C Charger, a single AOHI Mag line 4ft USB C to USB C LED Digital Display Cable, and a single user Manual is included in this package.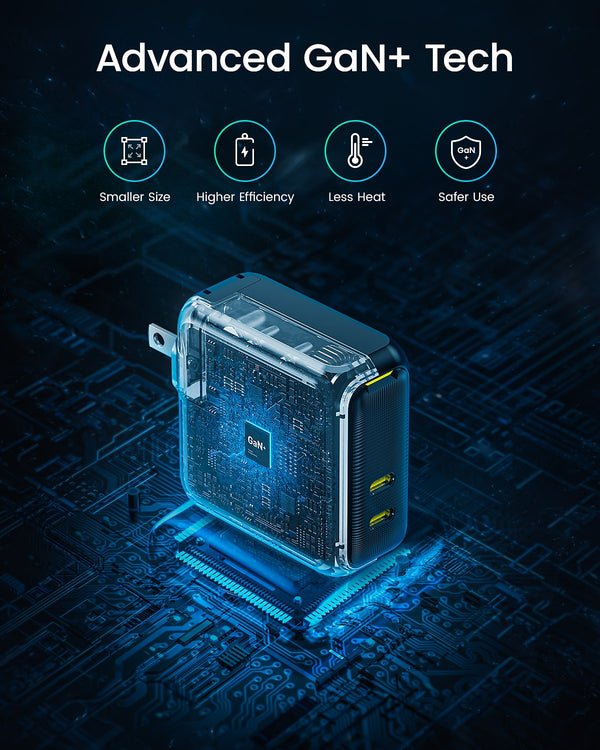 Easily Transportable and Contained Charges at a Rapid Pace for the Majority of Notebooks. It supports quick charging. Its Charging is Visible and Safe, With Three Stages of Charging. It has a 100W LED Display Power Delivery Charging Cable. It is powered by technology based on GaN+.
Buying Link

Buy AOHI MagCube 100W Foldable Charger for only $72.99 on Amazon
Read also: AOHI Magcube 65W PD Fast Charger for MacBook & iPhone for only $43.99 (10% OFF)