The Anycubic Kobra 2 Neo 3D printer is a remarkable addition to the world of 3D printing, boasting a range of features that set it apart from the competition. One standout feature is its impressive maximum printing speed of 250mm/s, with a recommended print speed of 150mm/s. This is a game-changer, as it can reduce print times significantly compared to 3D printers with average speeds of 50mm/s. With this printer, you can complete your projects in over 65% less time while maintaining excellent print quality.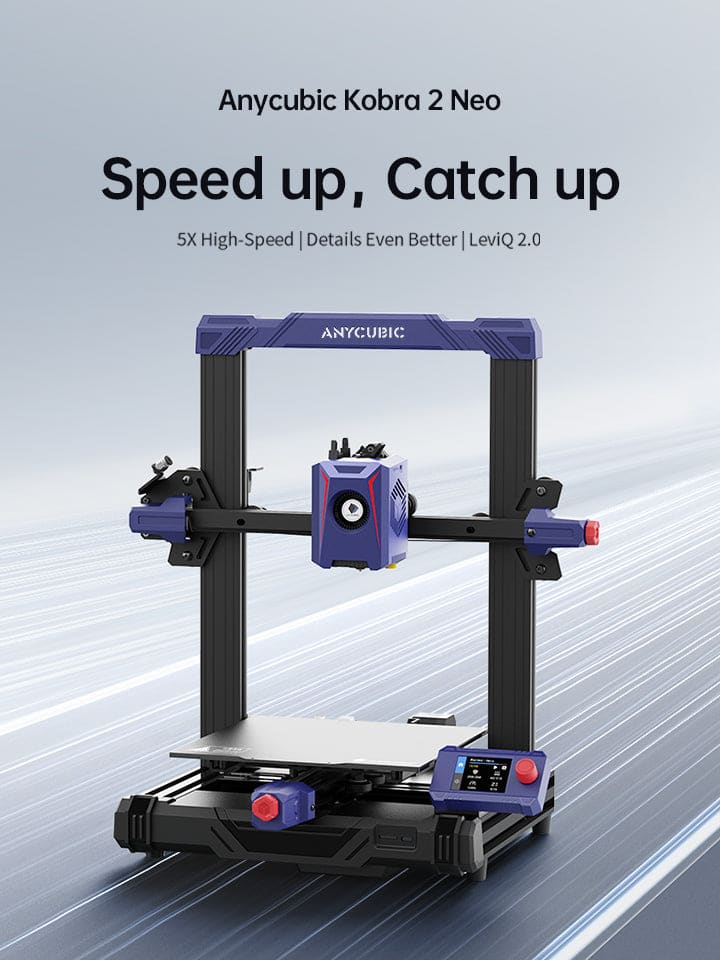 Anycubic Kobra 2 Neo 3D Printer Features :
The printer incorporates a new integrated extruder and a powerful 7000 rpm cooling fan. This combination ensures that filaments are melted quickly through the 60W hot end and rapidly cooled, resulting in precise and well-defined 3D models. Whether you're working with PLA, TPU, PETG, or other filament types, the Anycubic Kobra 2 Neo is compatible with a wide range of materials, making it versatile for various applications.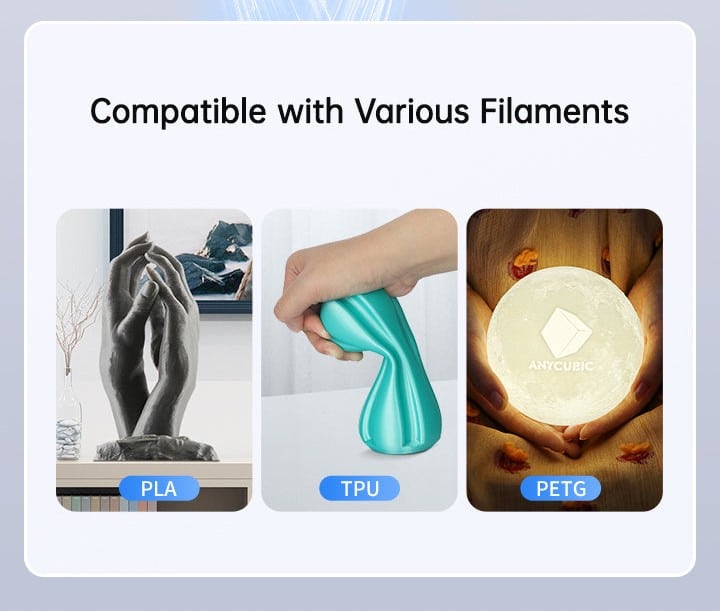 For those who value the finer details in their 3D prints, the Anycubic Kobra 2 Neo uses Marlin firmware's linear propulsion and input shaping functions to reduce spillage and print resonance. This not only enhances print quality but also improves stability, creating smoother and clearer model details. Even beginners can achieve high-quality results right from their first print.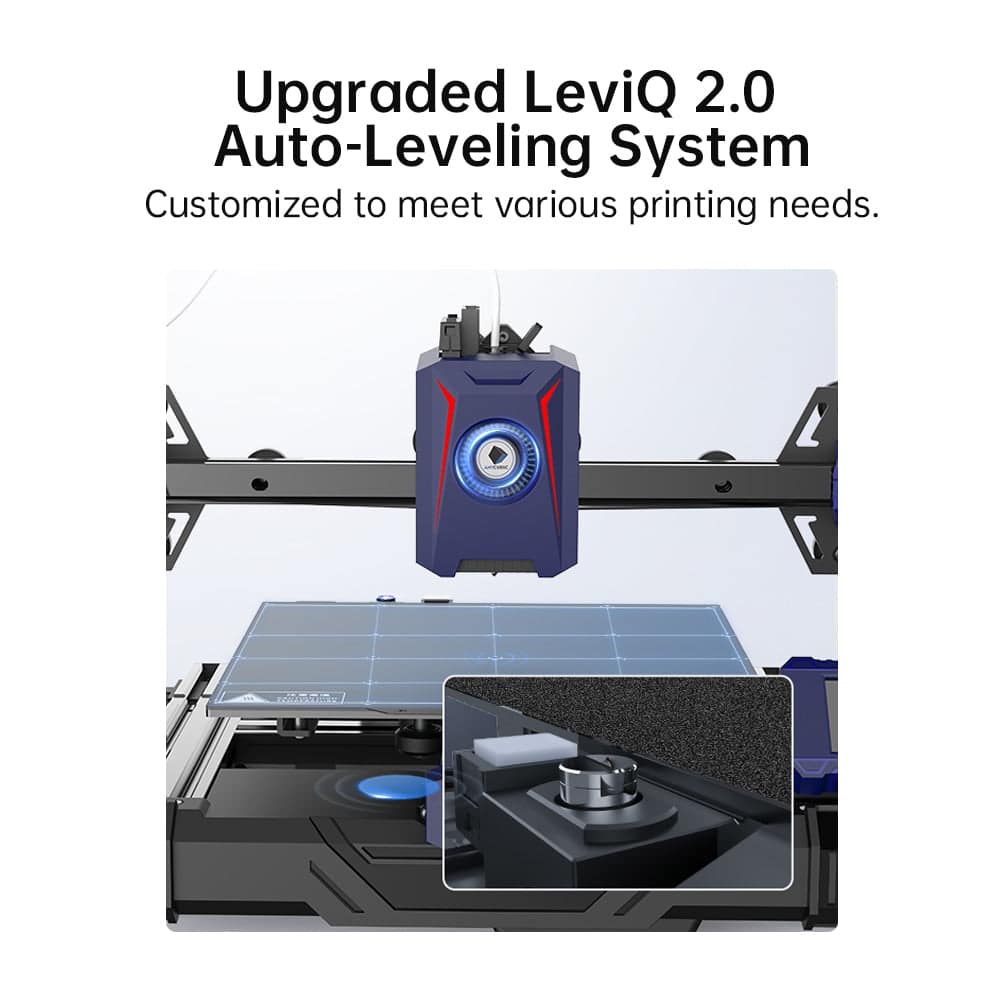 The printer features LeviQ 2.0 auto-leveling, a unique module that intelligently compensates for Z-axis offset after automatic leveling. This Z-axis compensation value can be adjusted to cater to different users and usage scenarios. This ensures an efficient and hassle-free printing experience, making it an excellent choice for novices and experienced users alike.
Anycubic has also revamped the user interface with a 2.4-inch LCD knob screen and new design elements. This provides a more intuitive and easy-to-navigate interface, streamlining the printing process and enhancing user experience.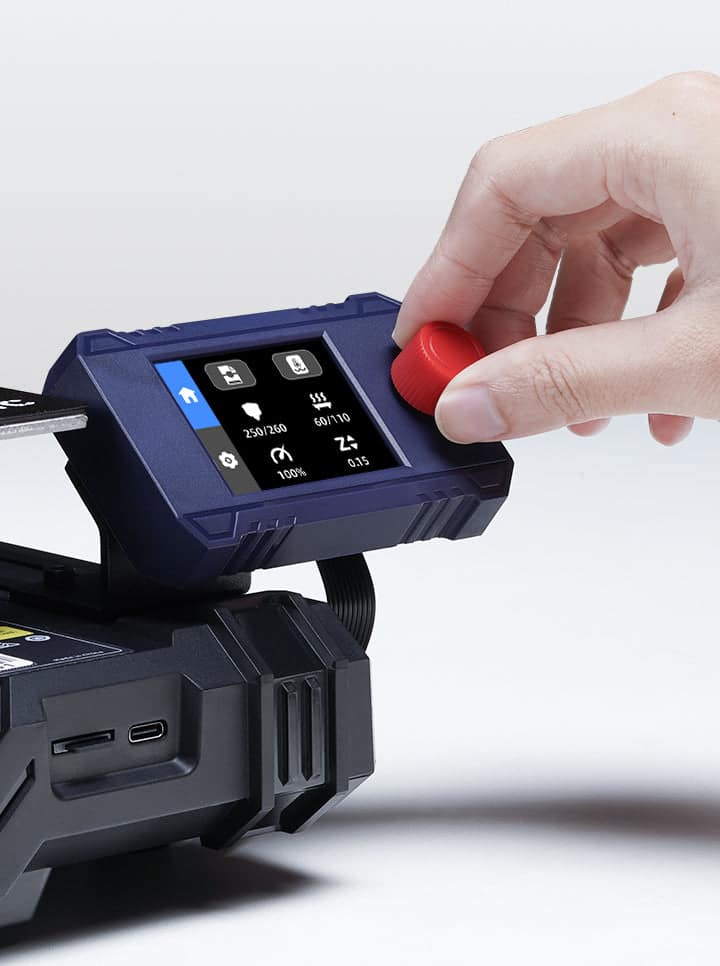 Another standout aspect of the Anycubic Kobra 2 Neo is its all-in-one structure. The entire machine is comprised of just five modules, featuring a gantry frame structure design. This design simplifies assembly and maintenance, making it easy for users to start printing quickly and with minimal hassle.
In conclusion, the Anycubic Kobra 2 Neo 3D printer is a powerful, fast, and user-friendly printer that caters to both beginners and experienced 3D printing enthusiasts. Its combination of speed, compatibility with various filaments, and attention to detail in print quality makes it a top choice for those looking to bring their 3D printing projects to life efficiently and with outstanding results. With its sleek design and user-friendly interface, it's a solid investment for anyone in the world of 3D printing.
Purchase Link

Buy Anycubic Kobra 2 Neo 3D Printer from Geekbuying for only 125€ on 11.11 Deals

COUPON : 89UUOC1FKC
Read also: Get Creality K1 Max 3D Printer for only €794 on TomTop