The Eleglide M1 Plus Electric Bike emerges as a formidable contender in the realm of electric bicycles, seamlessly integrating cutting-edge features to elevate the riding experience.
Eleglide M1 Plus Electric Bike Features:
Powerful Motor & Large Battery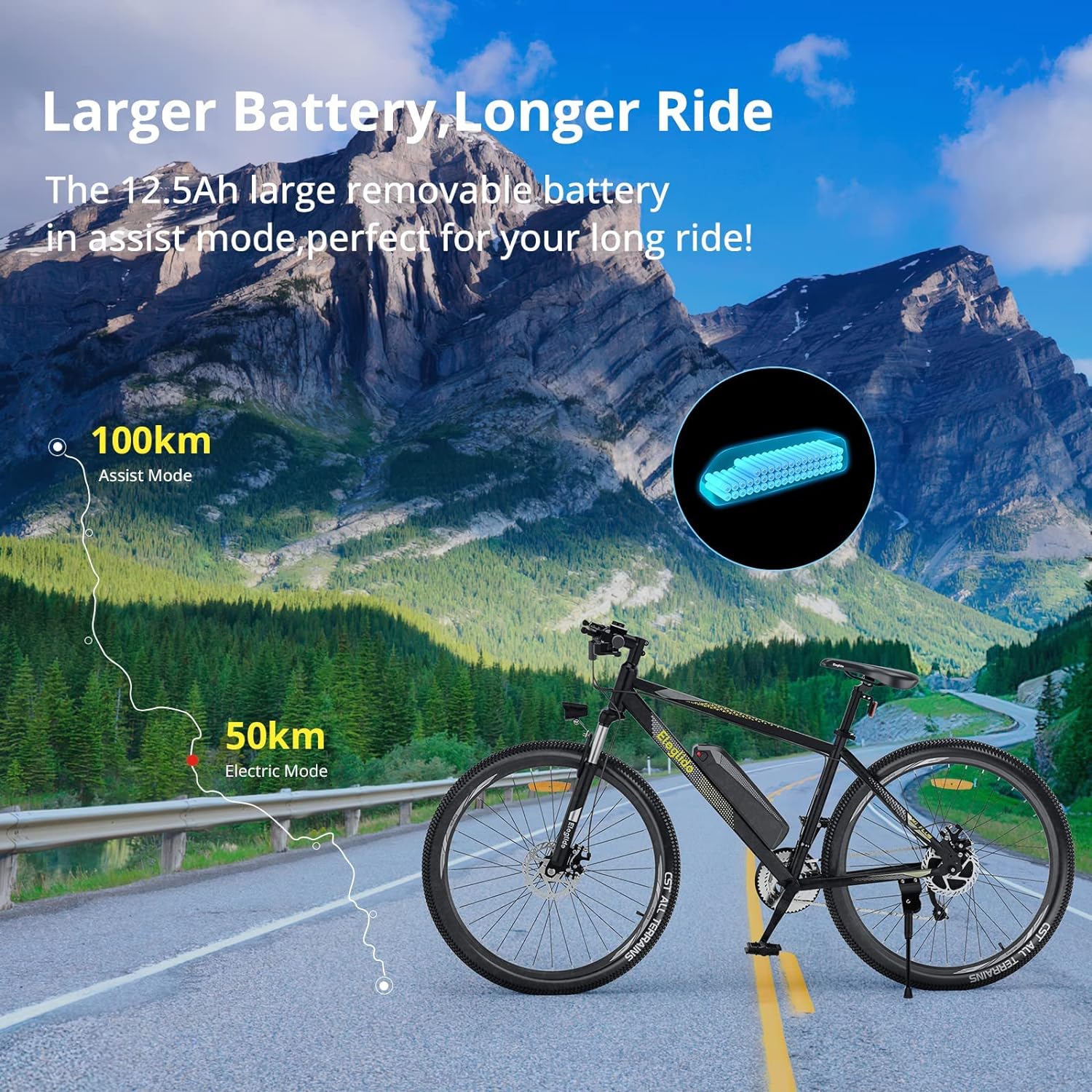 With a commanding 250W brushless motor producing an impressive 45Nm torque, the M1 Plus accelerates to a maximum speed of 25km/h, delivering a thrilling and dynamic ride. Complementing this power is a replaceable 12.5Ah lithium-ion battery, enabling the bike to cover up to 100km (62mi) in assist mode, ensuring extended journeys without compromise.
29″x2.1″ CST Tires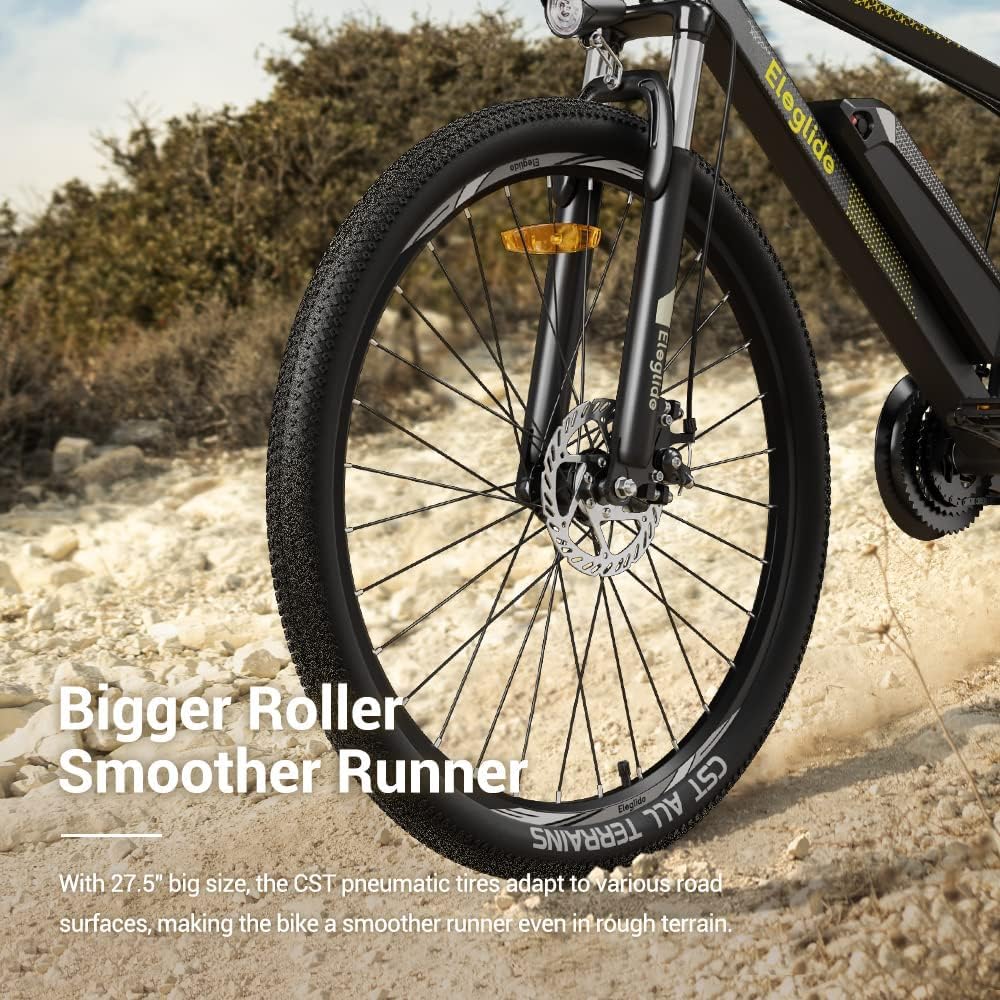 Crafted with 29-inch CST pneumatic tires, the M1 Plus effortlessly adapts to diverse road surfaces, excelling even on challenging mountain paths. The specially designed tire surface minimizes the impact of bumps, providing a smooth and controlled riding experience, enhancing both performance and comfort.
21 Speed Shimano Gear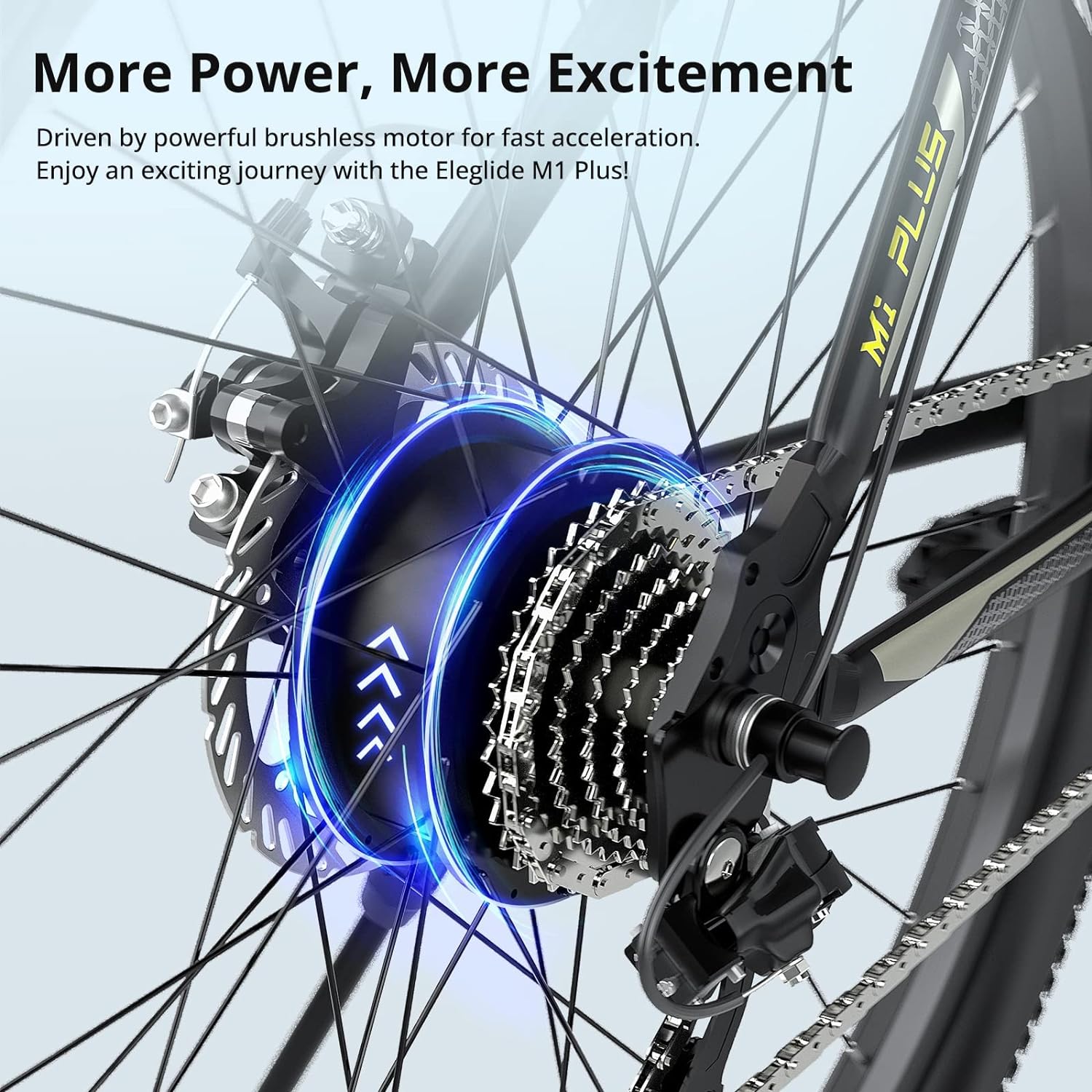 The M1 Plus electric bicycle is equipped with a sophisticated 21-speed Shimano gear system, featuring 3 front and 7 rear gears. This setup offers riders a versatile range of speed options, allowing for a faster and more efficient journey tailored to individual preferences and riding conditions.
Hydraulic Suspension with Lockout
Designed with rider comfort in mind, the hydraulic shock absorber, complete with a lockout feature, ensures a smooth and controlled ride. Effectively absorbing shocks and vibrations, this feature enhances the overall comfort and stability of the bike, particularly on uneven terrains.
5 Assist Levels & 6km/h Walk Mode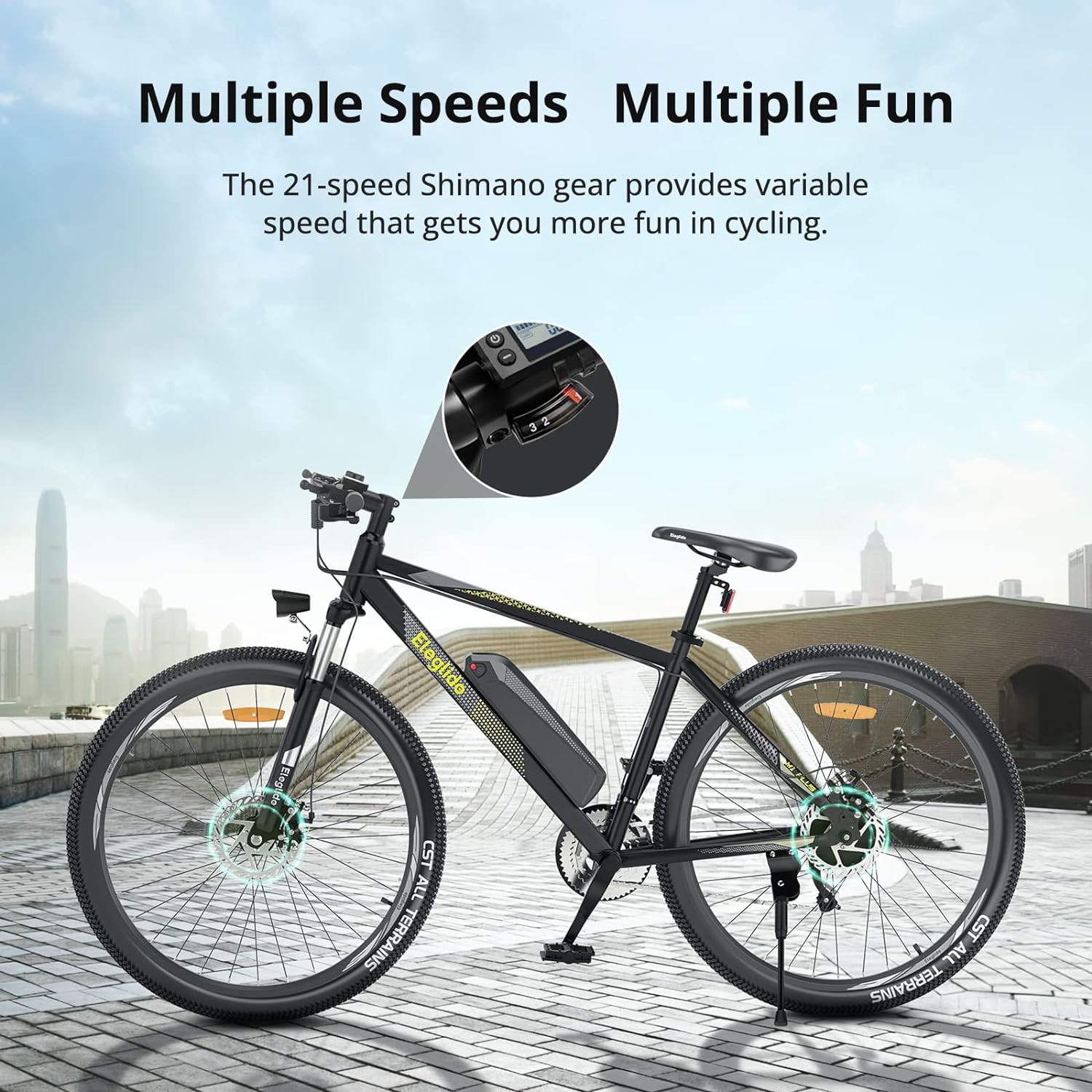 The M1 Plus caters to various riding preferences with its five pedal assist levels, allowing riders to seamlessly switch between speeds ranging from 12 to 25 km/h. Additionally, a convenient 6km/h walk mode facilitates easy maneuvering, adding an extra layer of versatility to the electric bike, especially in pedestrian areas or when dismounting is necessary.
Intelligent LCD Display and Eleglide App Integration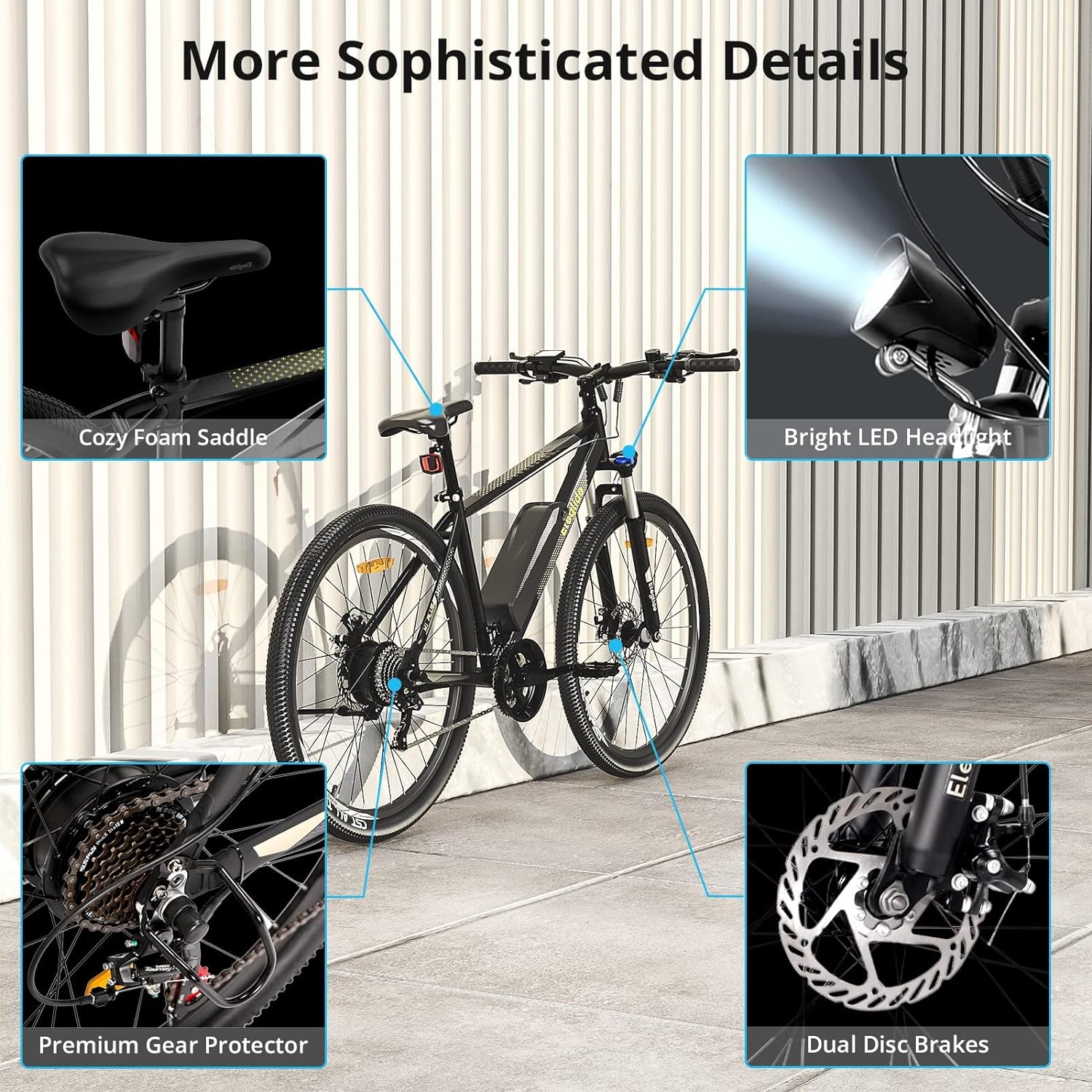 The intelligent LCD display serves as a comprehensive cockpit, offering real-time information such as speed, trip distance, and battery status. This ensures riders stay well-informed during their journey. Moreover, the integration with the Eleglide app opens up a realm of possibilities, allowing users to lock the bike, set a password, adjust screen timeout, and more. This smart connectivity enhances the overall riding experience, making the M1 Plus a sophisticated and user-friendly choice in the electric bike market.
In summary, the Eleglide M1 Plus Electric Bike not only delivers on power and durability but also introduces innovative features that redefine the standard for electric bicycles. Whether you prioritize speed, comfort, or smart connectivity, the M1 Plus stands as an exceptional choice, catering to the needs of both seasoned cyclists and those new to the electric biking scene.
Purchase Link

Buy Eleglide M1 Plus Electric Bike for only €669 from Geekbuying on 11.11 Sales

Coupon Code: NNNM1294127
Read also: Get ENGWE EP-2 Pro E-bike from TomTop for only €899