Apple recently promoted the iPad Pro or "tablet computer" as a replacement for the laptop, saying "Your next computer is not a computer." That is, the next computer that you will buy will not be a computer, and I focused on the points that distinguish the iPad with its advertisements, as it is stronger than most laptops in the market, easy to navigate, use and light in weight. Not to mention its battery, which is better and more efficient than most other devices' batteries, as well as the iPadOS operating system support for the mouse, pen and external storage capacities. These aspects have enabled some users to make the iPad a basic business device. But are these points sufficient to make the iPad a replacement for the laptop?
IPad OS
The iPadOS operating system is built on the strong foundations of the iOS operating system, and it provides a qualitative practical environment designed specifically for iPad users to make a major leap as a standalone operating system. And now iPadOS 14 opens wider possibilities and possibilities thanks to smart updates to the pen, apps, privacy, augmented reality and more.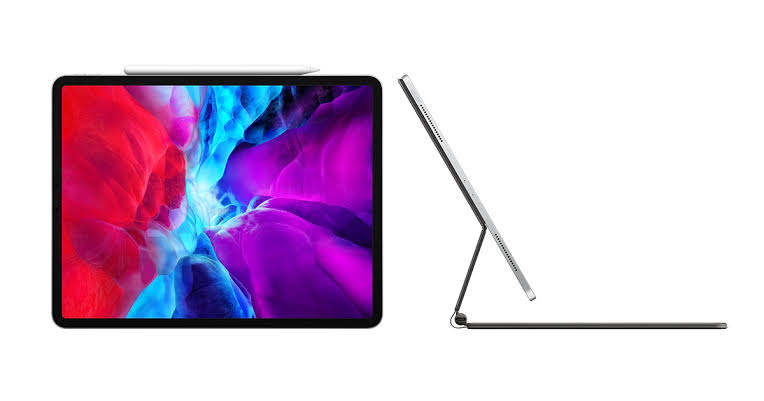 What does this system offer?
IPadOS system offers many advantages to its users, the most important of which are:
Applications
Pop-up menus as well as sidebars allow many applications to be accessed from one place quickly and easily without the need to switch between applications.
search
Search features a new, smaller, easier design that allows you to search the Internet and search for applications faster. Also available search suggestions as you type to get quick results.
Privacy
IPadOS offers greater control over the data that you share and clarity in how it is used. For example, you can get information from the software store that helps you understand the privacy policy that each application follows before you download and use it. Also, a signal appears at the top of the screen when an app uses the camera or microphone. As for geolocation, you can share your approximate location instead of your real location.
Maps
Maps is the best way to navigate while preserving privacy. Maps in the iPad OS allowed discovering new places, shopping, and moving between places easier than ever before.
Augmented Reality
Augmented reality experiences can be viewed according to specific geographic coordinates. You can see them anywhere in the world, in different cities, alongside famous landmarks, and even where you live.
A richer experience with AirPods
The headphones provide a quality listening experience because sound surrounds you however you move. These headphones offer easy navigation between Apple devices without manually switching AirPods. For example, if you end a phone call on the iPhone and then switch to your iPad to watch a movie, the speakers switch automatically.
Files
The Files app includes a completely redesigned sidebar that packs all the basic functions together. You can move to files, external drives, file servers, and folders just like you do when using a laptop. The Files app also supports external disks that use APFS encryption, where you can only enter the password to access the disk content.
Safari browser
The process of surfing the Internet must be fast and safe, and this is what is available on iPadOS that has increased the effectiveness and ability of Safari, while providing new ways to help you protect your privacy.
What distinguishes the Safari browser?
This browser can translate websites in seven different languages. When you visit a website that Safari can translate, you will see a translation icon where you just have to click on it to translate the site.
Safari warns you of passwords that are not secure or vulnerable to being hacked. The browser monitors your saved passwords to ensure they are not subjected to any data breaches. To achieve this goal, Safari uses strong encryption methods to regularly check your passwords against a list of hacked passwords, and this is done in a secure manner that maintains privacy without revealing your passwords information to anyone, even to Apple.
By clicking on the Privacy Report icon; You can view a privacy report where the browser explains how the websites handle your privacy.
The fastest browser in the world and is designed to work specifically on Apple devices, so it knows how to consume energy efficiently and give the battery a longer life, and it is also faster than Google Chrome browser in loading websites.
Safari supports 4K video playback on YouTube, Netflix, and others.
Safari helps protect you with strong security features, including the iCloud chain that automatically stores and fills in passwords, and the password monitor feature that alerts you if the passwords you choose are hacked. It also alerts you when it encounters suspicious websites and prevents them from loading.
Safari syncs passwords, bookmarks, history, tabs and more across various Apple devices. When these devices are close together, you can automatically transfer what you are doing in Safari from one device to another. You can also copy images, videos, or text from Safari on the iPad and then paste them into another application on any other Apple device, or vice versa.
Applications that make the iPad Pro an alternative to your laptop
There are a handful of applications that succeed in converting the iPad Pro into an efficient computer that meets all needs. Here are some of the apps used to boost iPadOS:
Gmail / Outlook
They are two of the most powerful apps for viewing emails without having to open them in the browser every time. Gmail has a storage capacity of 15 GB and is characterized by a high degree of security.
Notes
This app comes with all Apple devices. Notes can create and edit notes, as well as many advanced features, such as adding a schedule, scanning a document with the device's camera, and merging images and video content as well.
Additional features include the drawing feature to facilitate drawing with the pen in an empty area of ​​the screen. It is also possible to insert a map inside a note, arrange notes into folders and protect them with passwords.
PDF Expert 5
If you have to read, edit and annotate PDF files, this is the apt app you need. It is easy to use and allows you to highlight text, write notes and sign files. It also supports a range of different file formats, and lets you track changes just like they happen in Word.
Zipped
An application used to open zip files downloaded from various websites.
Things 3
This practical application helps you organize tasks and organize your portfolio of projects. It is similar to To Do List's task scheduler app.
Snapseed
It is the best app to edit photos before sharing them on social media. It gives you many effects to apply on photos and fulfills all your basic needs related to photo editing. It is an alternative to Photoshop and is characterized by its ease of use.
Roambi Analytics
This application is used for reporting and analysis and enables data to be taken from anywhere – including Excel – and converted into charts and graphs.
An office surprise for iPad users
Microsoft has introduced new features and capabilities to enable users to be productive in more ways. As many updates have been made to the Office to take advantage of them and facilitate work on the iPad.
Touchpad and mouse
Office Word, Excel, and PowerPoint applications have received updates to take full advantage of iPadOS 'touchpad support, as the use of a mouse and keyboard called the new Magic Keyboard from Apple allows easy cursor control, smooth navigation and fine adjustments. When you move your finger across the Magic Keyboard's touchpad, the pointer turns into the tool you need depending on the content you point to. Also, using a mouse or touchpad with the iPad to perform certain tasks such as highlighting a section of text in Word, selecting a group of cells in Excel and moving and resizing graphics in PowerPoint has become easier than before. This experience will help make iPad more capable of doing more work.
Update start screens and menu bar
Microsoft is updating the overall user experience in the office suite with new startup screens and a new menu bar. These enhancements provide a unique user experience that has been proven to help users easily find what they need on the job.
These updates that have reached users are the latest in a series of updates Microsoft will continue to introduce to the Office package designed to take advantage of the capabilities of the iPad, such as the multi-touch screen and versatile accessories, the ability to open multiple documents in Word, Excel and PowerPoint, and additional updates that will reach users in the coming weeks such as Offline files support for iCloud files.
Adobe applications – photoshop
Many of us hear about Photoshop and Illustrator. These programs are examples of Adobe Group programs as they are known to a wide range of designers and entrepreneurs. And as with the Fresco drawing application.
Photoshop on the iPad provides basic retouching, compositing, and more features, and improvements are constantly being added. Photoshop files can be created in full PSD format and stored in the cloud without the need for any conversion, and they will be of the same accuracy and performance regardless of the device you are working on. You can also use the stylus and touch shortcuts to make edits directly to photos. You can also display only the basic tools you use and the panels you need, so you can make use of the iPad Pro screen in the best possible use.
As an added bonus, you can use watercolors or oil brushes to draw lines using extendable vector brushes using Adobe Fresco with Photoshop on the iPad.
Photoshop capabilities on iPad Pro:
Familiar workspace: You can work with layers and the toolbar just as you would on a laptop. You can scroll, zoom, compress and move the image however you like.
ANYWHERE ACCESS: Work on iPad without an internet connection – brushes used and files are automatically synced, and saved to the cloud so you can design at any time.
Retouching: You can modify and enhance images and remove unwanted elements using the features available on the program.
Layers: You can create as many layers as you want in the same way as you would on a laptop using a mini view, so it's easy to organize and move between them.
Overlays: You can combine items to create a new one on multiple layers. You can also make complex selections and use brushes with precise control of your fingers or with the stylus.
Limitations: You can easily select and copy images to iPad. You can also copy and paste selections to create overlays.
Control and navigation on iPad Pro
First: by using the mouse
When you connect a mouse to the iPad Pro, a circular cursor will appear on the screen, at which time you can move the mouse just as you would when using a computer or laptop. You can adjust the speed at which the cursor moves on the screen, along with its other settings.
The mouse pointer changes shape as you move through screen elements; For example, it turns into an I-shaped cursor over the written text, and this indicates the possibility of using the cursor in a text document or selecting and copying words from a web page and pasting them into a note, for example. The pointer disappears after a few seconds of inactivity, so you just have to move your mouse to show it again.
Second: Using the pen
To pair it with iPad Pro; Simply attach the second generation stylus to the magnetic connector on the side of the iPad. In the first generation, remove the cover and connect it to the "Lightning" charging port on the iPad Pro, then click the "Pair" button when it appears. After the pen is paired with the iPad, it remains connected to it, but it loses its connection with it when restarting the iPad, turning on Airplane Mode, or pairing it with another iPad. If you want to use it again, all you have to do is plug in the pen again.
Read also: How to use "Xbox" and "Playstation" Controller on MacBook