Developer Hugo Lispector, who created the El Trackpad app (to control a Mac mouse pointer from an iPhone or iPad), recently released Controlly – a new app that uses Playstation and Xbox consoles as remote controls for the Mac operating system.
Controlly has some major differences from El Trackpad, being a single app that works with controllers wirelessly, while El Trackpad essentially turns iPhone and iPad into a multi-touch trackpad that works with the Mac. Controlly also provides many other features in addition to mouse pointer control.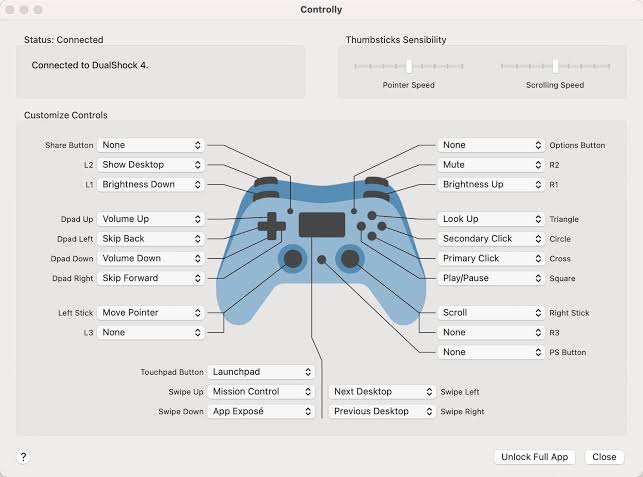 For example, you can not only move the cursor with the analog sticks, you can also assign shortcuts to each button from the console. There are several options available, including brightness, media controls, access to Launchpad, Mission Control, show desktop, and change of volume. The app comes with some functions defined by default for the controllers but users can change them at any time in the settings.
Setting up Controlly is simple and requires no advanced configuration. You just have to install and open the app, connect your Playstation or Xbox console to your Mac via bluetooth, and that's it. It should also work with some MFi certified joysticks. Just keep Controlly open, and you'll be able to move the cursor and control macOS with the controller of choice.
Controlly is now available on the Mac App Store, and requires macOS Big Sur to run. You can try it out for free for seven days and then unlock the full app with a $ 3.99 in-app purchase.
Read also: The iOS 14.5 will allow iPhone users to unlock their phones via the Apple Watch