Lenovo unveiled today the new generation of its gaming phones, the Legion Phone Duel 2, which comes with features to improve the gaming experience such as the presence of two cooling fans, two USB C charging ports, and a front camera pop up in the middle of the phone to ensure a full screen.
The Legion Phone Duel 2 design is characterized by a focus on the middle, where the rear cameras are located in the middle of the phone to help players comfortably play and hold the phone from the sides, as well as the speaker and microphone, in addition to the front camera that emanates from the middle, and it carries 8 buttons to help play. Lenovo says it has developed its phone to be more like a gaming controller.
The Lenovo phone features a 6.92-inch OLED flat screen with FHD + resolution, with a fingerprint sensor underneath, and this screen supports a 144Hz refresh rate and a superior touch sensitivity of 720 Hz, also supports HDR10 + technology, and comes protected with Gorilla Glass 5.
Adds Qualcomm Snapdragon 888 processor with multiple options for storage capacity and memory; It comes with 12 GB, 16 GB, and 18 GB LPDDR5 RAM options. And the option to have a storage capacity between 256 GB and 512 GB of UFS 3.1 type.
The Legion Phone Duel 2 carries with it a battery of 5,500 mAh, supports fast charging of 90 watts, and supports PD technology.
It also provides a camera with a 64MP main lens, and a 16MP wide lens. These cameras support 8K recording and zoom up to 10 times digitally, while the front camera comes with a mechanism that pops up from the middle of the phone with a resolution of 44 megapixels.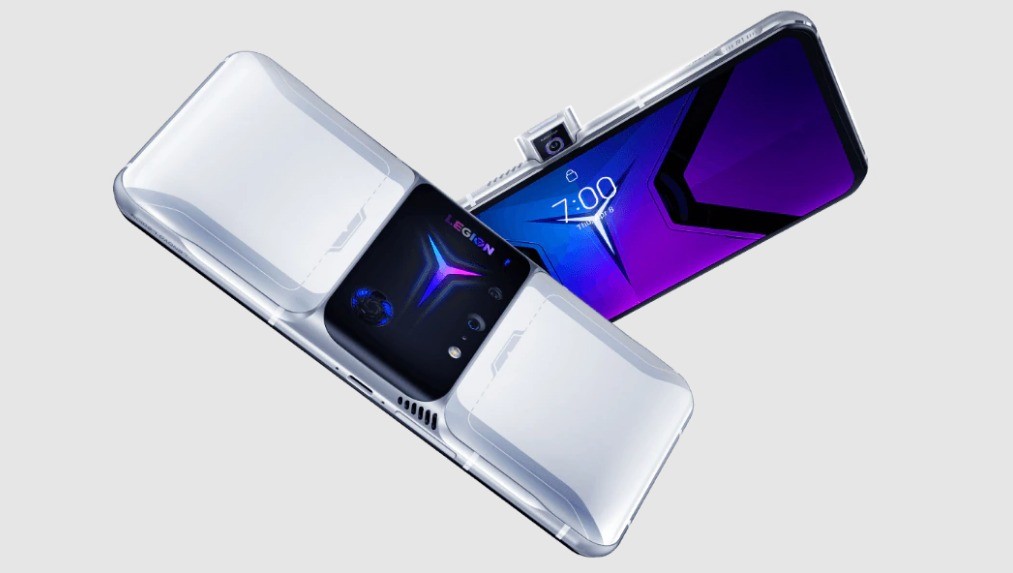 Other specs with the Lenovo Legion Phone Duel 2:
Supporting the fifth generation 5G.
My SIM
Face recognition technology.
Dual GPS technology support.
Bluetooth 5.2.
WiFi 6 support.
NFC support technology.
Stereo headphones.
4 microphones.
Cooling system and two fans.
Vibration system.
RGB lighting.
Selfie camera helps with live broadcast.
Two USB C ports.
Legion Duel 2 will be available at a price of 800 euros for a version of 12 GB RAM and 256 GB storage capacity, 1,000 euros for a version of 16 GB RAM and 512 GB storage capacity, and 1,100 euros for a version of 18 GB RAM and 512 GB storage capacity – or the equivalent of these numbers at local prices for each country.
Read also: Download Nubia Red Magic 6 Pro Wallpapers Full HD Resolution