Samsung released the One UI 4.0 beta update based on the new Android 12 operating system for the Galaxy S21 series of phones earlier this week. The update is currently available in South Korea, the United States, and Germany, but the update is sure to reach more markets very soon.
The new One UI 4.0 beta brings a slightly improved UI design, smoother animations and transitions, and loads of new features! Yes, Samsung has added its own set of features to improve the user experience on Galaxy devices, and here are the five most important features of One UI 4.0.
The 5 most important features of the One UI 4.0 interface
UI animations and transitions are smoother
One UI 4.0 interface looks smoother in Galaxy S21 series when compared to One UI 3. Whether it's animations, scrolling or transitions, everything looks much smoother. Users will be happy to notice this improvement in daily use.
One UI 4.0 offers a lot of privacy-related improvements. You can now check the Permission Usage History feature to see which apps have access to your camera, microphone, and location data. There is a privacy indicator in the upper-right corner of the screen to let you know when any app is using your phone's camera or microphone.
You can immediately disable or enable camera and microphone access with the new quick setting toggle. You can also choose whether the app can access your approximate or exact location.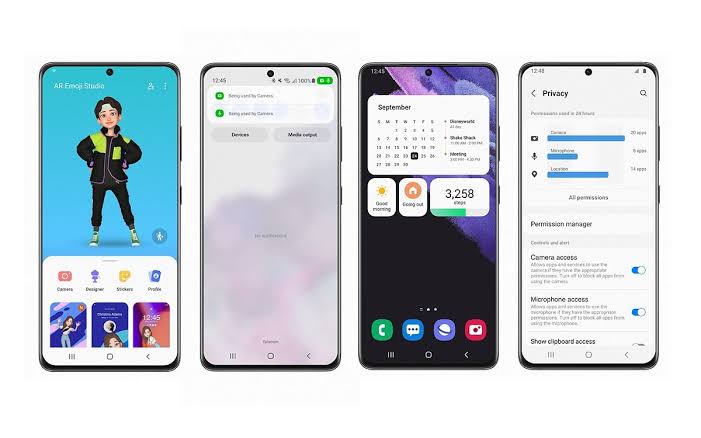 Lock screen improvements
You can now do more right from the lock screen of your Galaxy smartphone. Samsung has introduced the ability to start audio recording with a new lock screen tool. The media player widget on the lock screen now allows you to change the audio output, which means you can choose the audio output for connected Bluetooth speakers, the phone's speaker, Google Cast device, Music Sharing, or Smart View.
Turn on Always On Display when you receive a notification
This is a very useful feature. Everyone without exception loves the Always On Display feature on Galaxy smartphones, but it can consume a lot of power. Therefore, Samsung added the ability to turn on Always On Display only when you receive a new notification.
Camera app improvements
The ability to start recording videos from photo mode has been improved. You can already press the shutter button to start recording video in photo mode, but you can now drag this button to the lock icon to allow video recording to continue even when you lift your finger.
In video mode, the phone starts recording by simply touching the shutter button. Earlier, video recording would start when you touch and let go of the button, which would miss important moments in your life.
Read also: The list of Samsung phones that will get Android 12 Based On One UI 4.0