Running out of battery is one of the major problems recently, especially when you might not have access to a wall outlet to charge your various devices. Thanks to the advancement of technology that helps you with power banks. They are very useful and help keep your phone full of battery without an outlet. When it comes to power banks, there is no better option than AOHI 30000mAh Power Bank. AOHI is dedicated to empowering the smart world and, every time, trying to deliver an exceptional smart life experience. The latest AOHI 30000mAh PowerBank release is the perfect solution for all your device's charging needs. It is great to recharge battery-powered electronics when you are on the go.
Moreover, this power bank is easy to carry, as it is small enough that you can easily fit it in your pocket but larger with a higher capacity. You can change any chargeable device, including phones, tablets, speakers and even laptops. Of course, the best type of power bank will have mAh that is higher than the device you want to change. So your AOHI 30000mAh power bank can provide one full charge for your device without having to recharge your power bank. In addition, this power bank's capacity will help you ensure that you will meet your needs. This short guide will teach you everything you need to know about this amazingly featured power bank.
Buying Link

Buy AOHI 30000mAh PowerBank for only $85.99 from AOHI Official Website
AOHI 30000mAh PowerBank Features:
AOHI 30000mAh portable power bank is the fully featured power bank. It is a compatible power bank that supports fast charging. This power bank not only has a large capacity, but it also supports 100W high power charging. Moreover, it is small in size and compatible with many kinds of fast charge protocols. In addition, AOHI 30000mAh PowerBank's appearance design is exactly the same. Therefore, the two products can easily meet all your daily use scenarios. Here are some of the most amazing features of this fast-charge power bank.
Massive 30000mAh Capacity: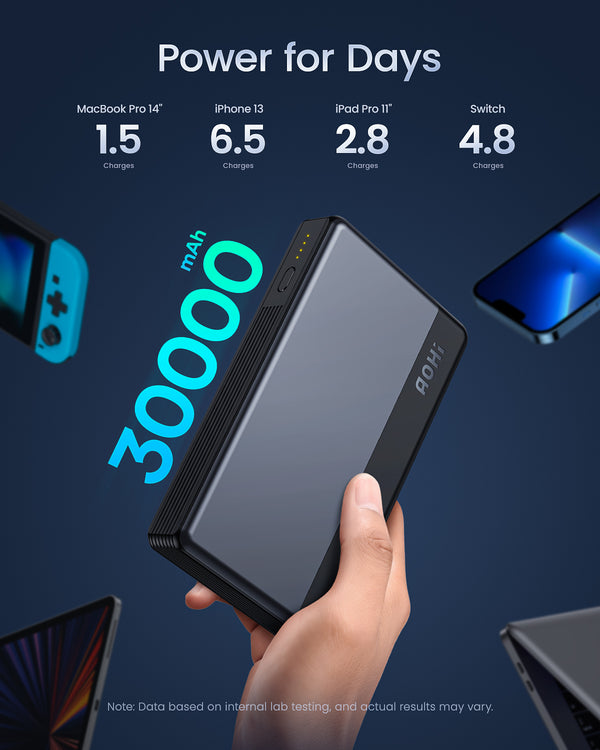 The 30000mAh highest capacity portable charger provides about 4.3 charges for iPhone 1e3, 2.8 charges for iPad Pro 11″, 3.2 charges for Switch and 1.5 charges for MacBook Pro 13″. This capacity allows you to stay powered for days while traveling or on a Business trip without being tethered to a wall outlet. Keep in mind that 30000mAh is the total nominal capacity of the internal battery.
PD 100W Fast Charger: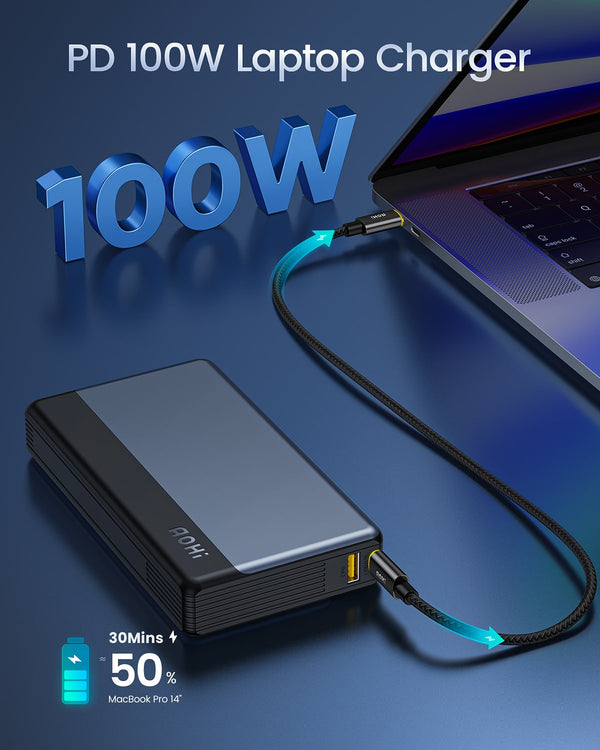 AOHI 30000mAH PowerBank is a portable power bank with 100W power delivery USB-A- A and USB-C ports. This feature provides enough power to fast charge a power-hungry laptop and smartphone at full speed. However, powerful 100 W PD output provides PD fast charging for MacBook Pro 16″ to 50% in just 41 minutes, for MacBook Pro 13″ from 0% to 50 % in about 30 minutes and for iPhone 12 from 0% to 50% in just 16 minutes.
Universal Compatibility: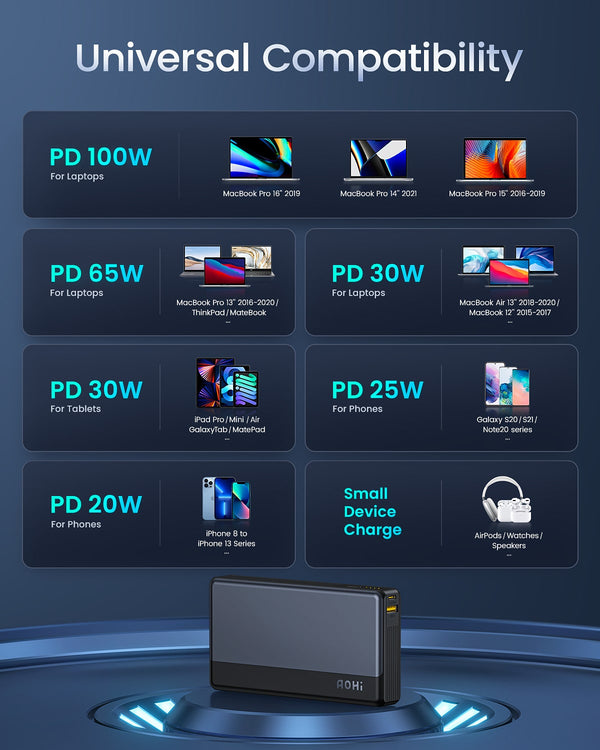 Undoubtedly, AOHI 30000mAh Power Bank is a universal charger Bank. It is compatible with MacBook Pro/Air, ThinkPad, MateBook, iPad Pro/Mini/Air, iPhone 13/13 Pro/13 Pro Max/13 Mini, iPhone 12/12 Pro/12 Max/12 Mini, Airpods, and Galaxy S21/S21 +/S20/S20 +/Note20/Note10, Switch, Wireless Earbuds, Bluetooth Speakers, Smart Watches and many other chargeable devices.
Rapid Recharge and Multiple Protections: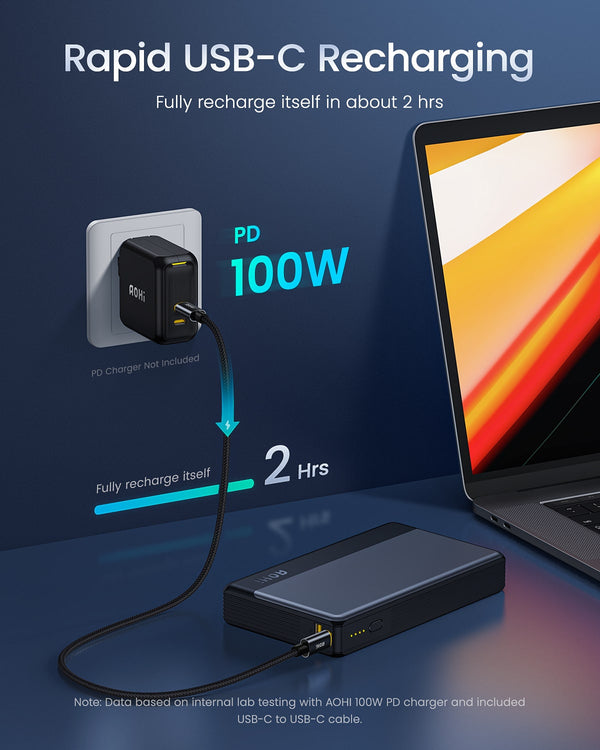 The powerful 100W PD input feature of AHI 30000mAH Power Bank allows you to recharge your devices in just 2 hours fully. Moreover, this multiple protection provider's latest safety system helps you get all-around protection against overcharge, overvoltage, over temperature, short circuit protection and more to ensure your and your devices' safety.
Fast Charging on the Go:
AOHI 30000mAh portable power bank is just 6.02*3.46*0.98 inches in size, and its weight is just 1.17lb. The USB-c PD battery pack for phones and laptops also features a compact and portable design. So, you can easily put it in your backpack or hand carry it and take it with you anywhere to empower your journey. It is ideal for business trips, traveling or other outdoor activities.
Pros of AOHI 30000mAh Power Bank:
The features of this powerful power bank provide you with several benefits. AOHI 30000mAh Power bank is an accessory worth having. If you have a smartphone, laptop, and other electronics that you need to keep charged, you will want to have this amazing power bank. Here are some great benefits of having this powerful power bank.
It is a slim, compact, mighty power bank you can take anywhere with you. The AOHI 30000mAh power bank's dual port helps you fast charge your laptop, smartphone and other electronic devices. It has a colossal 30000mAh capacity that fast charge your laptops. The high-end design and business style of this power bank look great. This power bank has 4 LED battery indicators, so you can easily check how much power is left. The multiple safety protection features protect your device from overcharge, overvoltage, overcurrent, overheating, and short circuits.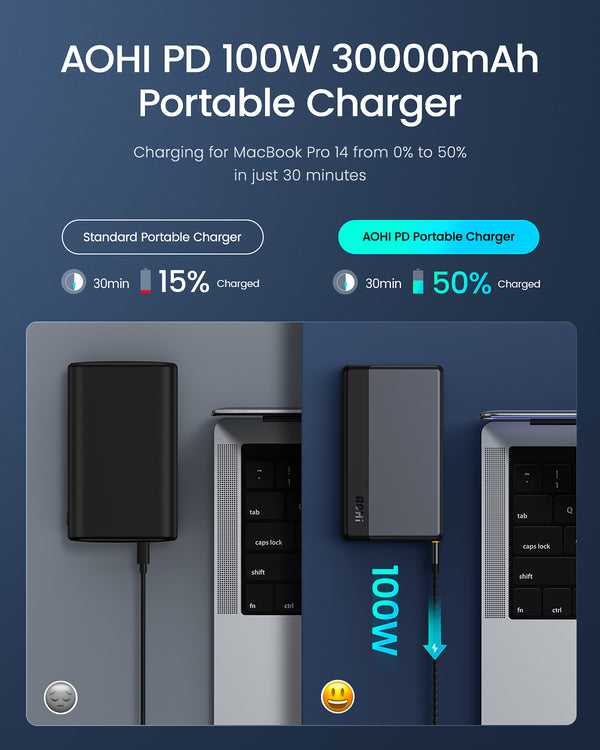 Overall, it is an easy-to-use and long-lasting power bank that keeps you away from the worries of battery anxiety. AOHI 30000mAh Power Bank provides fast charging and higher power, so you can effectively improve your work efficiency.
Buying Link

Buy AOHI 30000mAh PowerBank for only $85.99 from AOHI Official Website
Read also: AOHI 20000mAh Power Bank for iPhone for only $54.99