Apple launched the macOS Ventura and iOS 16 update with a feature that supports the expansion of the ability of the iPhone camera to support the user in Mac computers, where the iPhone camera can support the functions of the webcam camera in Mac computers.
Users can now upgrade the quality of photography and video calls on Mac devices in the macOS Ventura update that supports the use of the iPhone with the new iOS 16 update to work as a webcam via wireless connection to Mac devices, and in the next lines we review how to activate this feature.
Apple introduced "Continuity Camera" for the first time in the macOS Mojave update, allowing you to use your iPhone or iPad to take photos and then view the photos on your Mac.
Today, the feature is witnessing improvements, as it now supports the use of the iPhone directly to work as a webcam, to provide camera performance that outperforms MacBook Air, Pro, iMac or Studio Display cameras.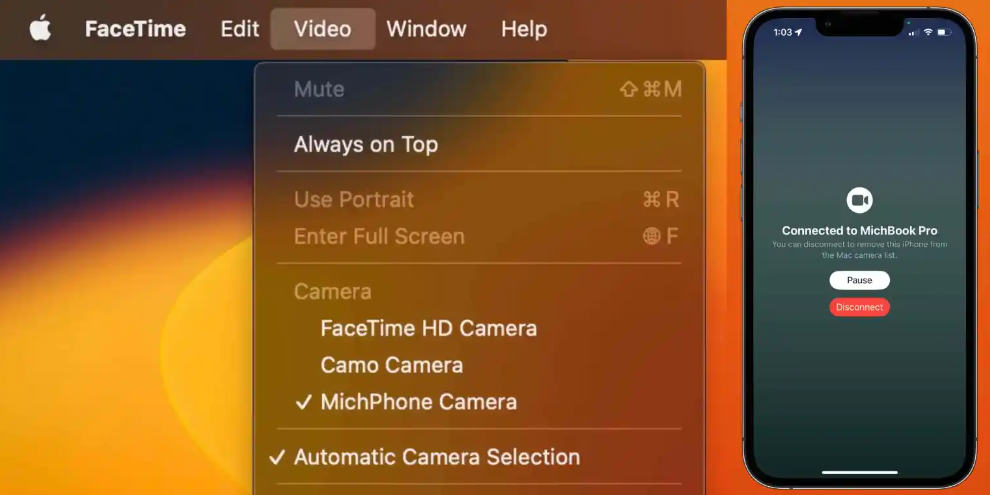 Mac devices, thanks to the "Continuity Camera" feature, can realize the presence of an iPhone for communication and convert the phone's camera to continue working as a Mac camera, so the user will not need to activate the phone's camera at first, and Mac devices can wirelessly connect to the iPhone.
The "Continuity Camera" feature can also provide Mac users with a number of innovative features, including the "Center Stage" feature, in addition to the "Portrait" shooting mode, as well as the new Studio Light effects that highlight the user's face while darkening the background.
It is also possible to click on "Continuity Camera" on Mac computers with the camera with ultra-wide viewing angles on the iPhone to enable the "Desk View" feature that will display the user's face with a real-time top view of the desktop, which is one of the leading features to support the content creator and broadcast Videos via FaceTime.
The new feature is scheduled to be available with the start of the public beta of iOS 16 and macOS Ventura updates for users during the month of July.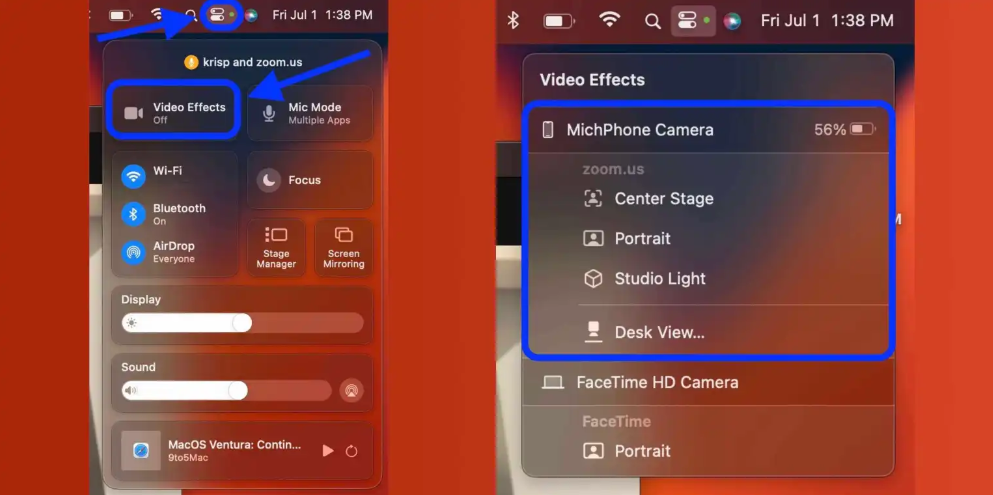 Activate the Continuity Camera feature to turn your iPhone as a webcam:
Run iOS 16 and macOS Ventura, then make sure Bluetooth and WiFi are activated on your Mac and iPhone
Make sure to sign up with the same Apple ID on your Mac and iPhone
Continuity Camera is turned on by default on devices, and you can go to Settings on the iPhone and from there to General and then the AirPlay & Handoff tab, from which you can put the Continuity Camera Webcam tick to make sure the feature is turned on.
Put your iPhone close to your Mac while you are running FaceTime, Photo Booth, Zoom, or any of the camera apps, so the iPhone back camera will switch to work directly as a Webcam, or the iPhone can be used from the menu.
Read also : Download MacBook Air 2022 Wallpapers full resolution 5K