Samsung has started sending the One UI 5.0 beta interface to many of its flagship phones, as reports revealed that some phones have started getting the new update.
Samsung Galaxy S22 One UI 5.0 Update Details
The Galaxy S22 series, which includes the S22, S22+, and S22 Ultra, has started getting One UI 5.0 beta in Germany, with the update coming with the firmware build number S90xBXXU2ZHV4.
One UI 5.0 introduces the new features that are part of Android 13, the user experience will be improved with smoother animations.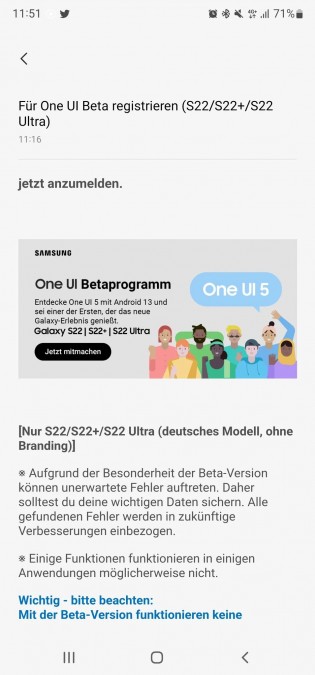 Optical character recognition is enabled in the gallery, which allows you to copy text from screenshots, in addition, some suggestions will appear based on the text, for example it allows you to take a picture of a phone number or a web address.
The changelog mentions things like a gesture to enable split-screen multitasking, options to filter notifications from annoying apps, improved sound and vibration settings, better document search, new features for Bixby Routines, new emojis as well as the option to make videos with two New AR emojis and stickers, the ability to create your own from photos, etc.
The camera app now displays a graph in Pro mode. There is a new zoom bar that lets you zoom in with one hand and food mode is enabled for the zoom lens. The watermark feature allows you to stamp the time and date on each photo or other user-selected information.
Samsung DeX is also improved, especially the taskbar. There's a new search button there and clicking on the date will bring up the calendar widget, notifications from apps will appear as red dots on the taskbar. Right-clicking an app provides quick access to select functions. Also, keyboard support has been improved with spelling correction and emoji input.
One UI 5.0 stable release is expected in October, and we'll likely hear more about the new version next week at the Galaxy Unpacked event.
Read also: Samsung Starts rolling out One UI 4.0 for Galaxy S21 & Galaxy Z Flip 3 and Z fold 3 based on Android 12